WA: Sam Wainwright - Seat of Fremantle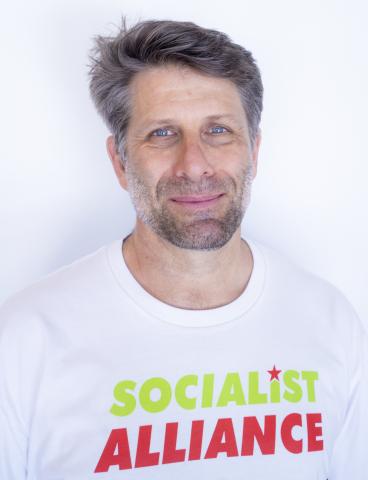 Sam Wainwright lives in O'Connor with his partner Janet. He is a disability support worker and former Fremantle councillor. Before that he was a wharfie for over 12 years. Sam is proud to have supported Fremantle council's contribution to opening up an honest discussion about the significance of January 26 and the reality that modern Australia was founded on violence and dispossession.
"This is the least we can do. It's time for us to become a republic with a constitution based on a treaty with Indigenous Australians, a bill of rights and that enshrines the protection of nature."
How to vote Sam Wainwright, Socialist Alliance for the seat of Fremantle
Passionate about sustainable transport, Sam is a founder of the Fremantle Bicycle Users Group and Fremantle Road to Rail. He said, "Neither the federal or state governments have serious plans for expanding public transport anywhere south of the river or west of the Kwinana Freeway. It's time to break from freeway madness and invest in liveable cities."
While the climate crisis is getting worse, life has been getting harder for working Australians and the wealth inequality is growing. The existing economic and political system is incapable of supporting people to live with dignity or coexisting with the natural environment.
"We have to fundamentally restructure the economy to serve social and ecological well-being. For that to be possible, we need to bring large monopolised sections of the economy into democratic community ownership. Only Socialist Alliance is confronting that reality, and in voting for us, you will be helping build the grassroots movements for change"
How to vote Sam Wainwright
Image