Labor fails on AUKUS, housing and taxation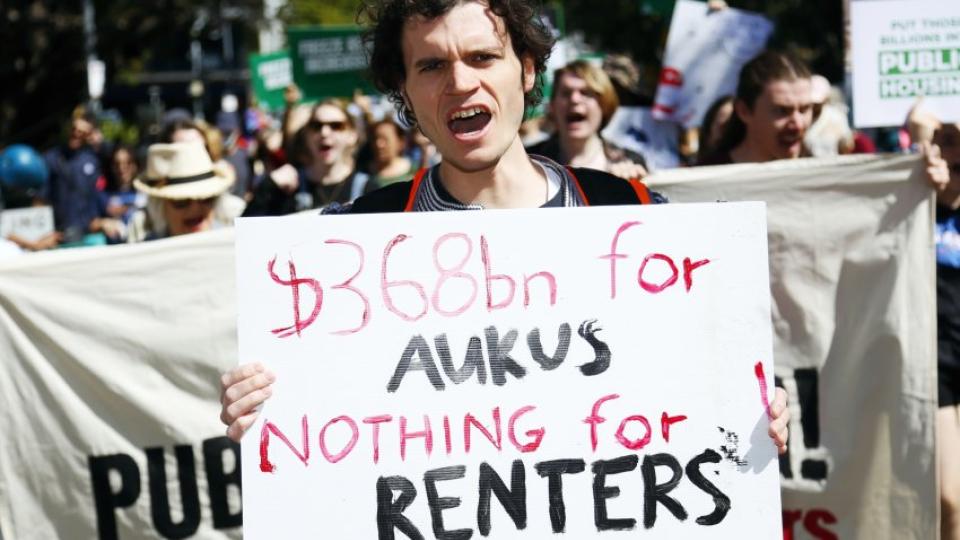 ​"We're not in the Labor Party for mere gestures," Prime Minister Anthony Albanese told Labor's 49th national conference on August 17. In a swipe at the Greens, Albanese said "long-term government" is counterposed to "protest" and "grand gestures".
Albanese dangled the notion of longevity in government and a "better future" as pay off for Labor's support for the controversial AUKUS nuclear submarine deal and Labor's refusal to budge on rent caps or a freeze.
It was also a salvo against the CFMEU's push for a super profits tax to fund more social and affordable housing, and a warning to any delegate wanting Labor to reconsider support for the Coalition's Stage 3 tax cuts for the rich.
Albanese cited the National Broadband Network and the National Disability Insurance Scheme as projects, begun by Labor, that were undermined by the Coalition. By contrast, Medicare was set up by the long-serving Bob Hawke Labor government and remains to this day.
Albanese's argument contains multiple major flaws. First, he fails to deal with urgent social and ecological needs: the housing crisis and the climate catastrophe.
Renters are facing record-breaking rent rises — almost 10% in the last year — as the housing crisis worsens. Public housing wait lists are growing, as is homelessness, the emergence of tent cities and people having to sleep in their cars.
Blaming the Greens for making this worse is disingenuous: even if Labor's Housing Australia Future Fund bill was to pass, its plan, if implemented in full, would worsen the housing crisis.
Labor's safeguard mechanism on the climate utterly fails to deal with the crisis we face today.
These crises demand urgent action now. But Labor's loyalty to its big business mates outweighs any loyalty to working people.
Secondly, Labor could perhaps be forgiven for a gradualist agenda if it was indeed a program of serious reform. The fact is that Labor is continuing many of the Coalition's policies, including policies Labor objected to when it was in opposition.
This conference has put to bed any notion that Labor may change its position on the Stage 3 tax cuts. These, combined with the end of the Low-Middle Income Tax Offset, mean that a large majority of workers will be paying more tax by 2025 than they were in 2022.
The fact that many of the policies it now supports were initiated by the Coalition makes it worse. This is neoliberalism at its most emblematic: a large majority have to be made to suffer to boost the fortunes of the rich.
Albanese read a list of achievements from his government's first 15 months. These demonstrate that the Coalition is worse. But these "achievements" amount to a rectification of some of the Coalition's worst excesses.
They were done because it is in the interest of smooth functioning capitalism (for example, the Robodebt Royal Commission) or they were the bare minimum needed to appear different (raising rent assistance by a couple of dollars a day).
The implication of Albanese's line of argument is that Labor could not win popular support without having conservative policies. This is his rationale for workers putting up with the Stage 3 tax cuts and the AUKUS nuclear submarines.
In fact, the contrary is true. The August 22 Essential Poll found three quarters of those surveyed favour capping rents to inflation, if not an all-out rent freeze.
But, considering Labor is in government in all mainland states, only 37% felt positive about Albanese as Prime Minister (compared to 27% for Opposition Leader Peter Dutton). This is far short of any genuine enthusiasm for a government that really looked out for ordinary people against the big end of town.
As Greens housing spokesperson Max Chandler-Mather told an August 19 housing rally, Labor is "trying to crush your hope".
"They're trying to tell you that [rent caps and more public housing is] asking for too much. Why are they doing that? They're doing that because ultimately they know that you have the power.
"The only times in history when we have won anything for working people is when people like you have stood up and fought back."
Socialist Alliance believes that the only way to solve the problems working people face today is to fight back against both the Liberal and Labor versions of managing capitalism for the super rich.
[Alex Bainbridge is a member of the Socialist Alliance national executive.]