Workers need unions to take action over inflation, cost-of-living pressures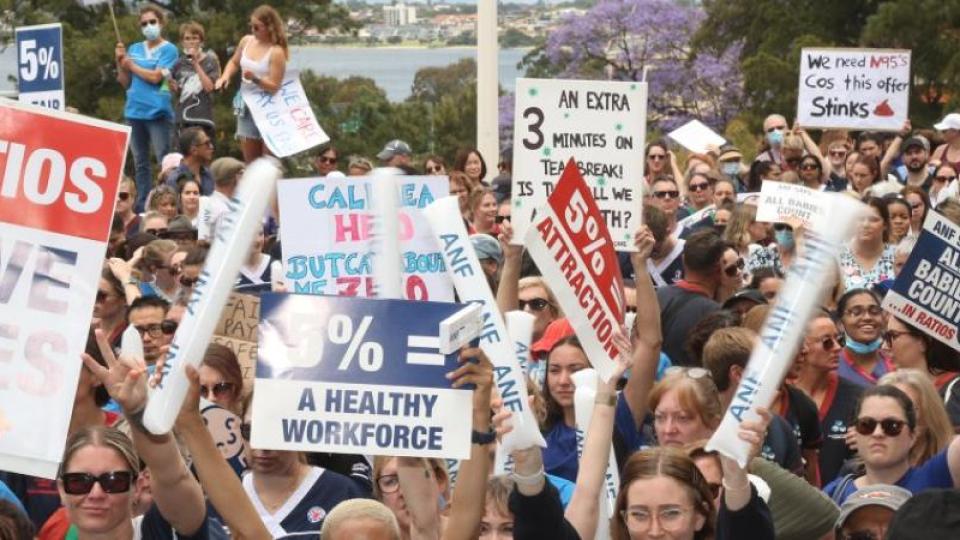 Rising costs of living and interest rates amid a longer period of stagnant wages mean most people are experiencing the current period as if they are already in a recession.
 
Every day the media reports increasing demand on charities for food, rent support or help with energy bills. People are skipping meals to make ends meet.
 
The numbers of people defaulting on mortgages and living in cars has risen, as have grocery and energy bills, rent and house prices.
Calls to Lifeline and similar services have smashed records.
Meanwhile, many corporations and the four Big Banks are doing very well — some even recording record profits.
This is what is driving up inflation, despite what corporate Australia, the Reserve Bank of Australia and their mouth pieces, such as The Financial Review (AFR), argue.
The AFR claims inflation is being driven by "the massive budget and monetary stimulus" that "pumped up household incomes during the pandemic".
Jim Stanford from The Australia Institute's Centre for Future Work has exposed this as a lie.
His research concluded that profits — not wages — have pushed up inflation, arguing that corporate profits are behind approximately 69% of inflationary rises.
Many big companies, in particular monopolies or those with few competitors, are "price makers": they determine their prices because they can, and buyers can take it or leave it.
For example, Coles just announced its profit had jumped 11.4% ($616 million) in the six months to the end of December. Woolworths' profit was $907 million, up 14% on the last financial year.
Yet, shoppers at Coles and Woolworths have been hit with substantial food price rises — 7.7% on average.
Qantas, the largest beneficiary of government support during the pandemic, declared a record $1.42 billion in profit.
The Commonwealth Bank reported a record half-year profit of $5.15 billion, up 9%, some of which was bagged from higher interest payments as mortgage rates rise.
BHP's annual gross profit for the last financial year was a whopping $54.603 billion — a 13.23% rise from the previous year.
Meanwhile, according to the Australian Bureau of Statistics, wages only grew by an average of 3.3% throughout last year.
The federal and most state governments claim to want wages to rise. But caps on public sector wages remain and this flows onto other sectors, helping hold workers' wages down.
But while wages are not indexed to price rises, incomes will never keep up with the rising costs of living.
The supposedly independent RBA uses monetary measures to protect and boost businesses, pushing the fiction that the "trickle-down" theory works.
A fair society would not tolerate workers' incomes and conditions going backwards, while the rich and powerful 1% continue to amass huge wealth.
There are barriers to creating a fair society, but they have to be overcome. Harsh anti-union laws make it hard for unions to take industrial action for rises and better working conditions. And it is harder to hold mass meetings to discuss and plan campaigns for improvements in wages and conditions, in part because the legal restrictions on unions are so exacting.
However, unless unions challenge these laws, and state caps on wages, the status quo will prevail and workers will continue to lose out.
We must push for wages to be indexed to automatically rise to match rising costs of living. There should also be caps on the cost of energy and water, especially for low-income earners.
Labor must scrap the Coalition's Stage 3 tax cuts and use the funds, estimated at a massive $243 billion, to support those on welfare and workers experiencing hardship.
Workers across many sectors are looking for union leadership to win improvements. As last year's mass stop-work meetings for a decent pay rise, organised by the Australian Nursing Federation (ANF) Western Australia showed, they were well supported.
The union's membership also decided to push for a $4500 immediate cost-of-living payment and safe nurse/midwife-to-patient ratios.
Back then, polls showed wide public support for a better deal for nurses. The same is true for other states, such as New South Wales, where nurses and teachers have been striking for a fair pay rise.
It would be very difficult for governments — especially Labor — to fine or arrest nurses, teachers and aged-care workers, for taking strike action to ease the tremendous cost-living-pressures they face.
Given how many are being crunched by the cost-of-living crisis, public sentiment would be on the unions' side.
[Mary Merkenich is a long-term unionist and member of Socialist Alliance.]