Students of Sustainability conference, a light on the hill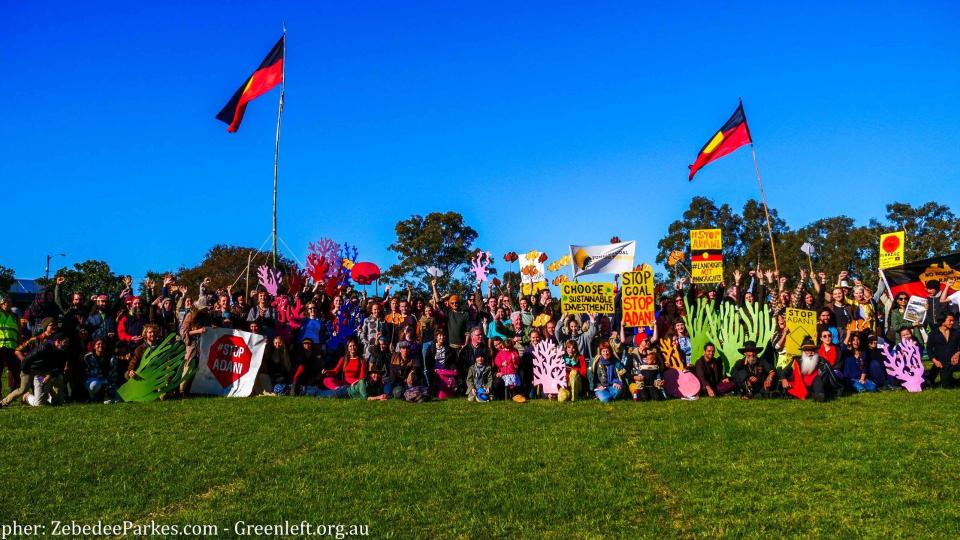 Students of Sustainability (SoS) is an annual student conference organised by the Australian Student Environment Network (ASEN).
This year's SoS conference was held in Newcastle on Awabakal and Worimi land at the Hunter TAFE campus from June 30 to July 5. Conference attendees camped on the campus oval for four days of workshops and plenary sessions, stunts and actions, film screenings, field trips, guerrilla gardening, an anti-fashion show, an open mic night and a dance party.
The conference has a broad interpretation of student as "anyone willing and eager to learn" which means that conference participants are not only university students, but also TAFE students, high school students, First Nations elders and environmental and social justice activists.
The conference featured more than 140 workshops and plenaries.
The opening plenary for the conference discussed Adani's Carmichael mega coalmine in the Queensland Galilee Basin and what activists are doing to stop it. Biri Country elder Kenny Peters Dodd and family, Moira Williams from Stop Adani Brisbane and a community campaigner from 350.org spoke about the national Stop Adani campaign, which is promoting three tactics to stop the mine from going ahead.
The first tactic is to build the movement by encouraging people to link up with their local Stop Adani group. The second is to prevent the Commonwealth Bank from financing the mine. The third is to "change the politics" by lobbying federal and state MPs ahead of elections next year.
The second plenary session included a discussion on protecting land rights and calls for treaties. First Nations activists discussed the failure of the government's constitutional recognition solution to achieve real rights for First Nations people.
The final plenary took up the question of Just Transitions in the Hunter Valley. Dodd said just transitions needs to include consultations with First Nations peoples, dignified jobs and collective community ownership of industry and power supply.
The need for system change was a recurring discussion throughout the conference, which led to debates about how to change the system. Conference participants were enthusiastic about practical next steps, wanting to know what they could do when they went back to their home towns, cities or campuses.
One of the conference organisers Tim Buchanan told Green Left Weekly: "It's really good to have [the conference] in Newcastle because I think SoS is primarily a capacity building conference.
"That means through organising the conference for a solid eight months beforehand you are able to bring a lot of people who want to skill up and are interested in helping into the community and they can apply their skills where they want to.
"We're in the city with the biggest coal port in the world and we're a regional area. SoS usually goes to the big cities so it's good for us and we've learnt so much."
Buchanan said about 600 people registered for the conference.
On the final day of SoS, 200 conference attendees shut down 11 Commonwealth Bank branches across the Newcastle region as part of the Stop Adani campaign. Activists sang, danced, waved coral and "deposited" coal at the bank's front door.
Commonwealth Bank stuck a statement to the walls of its branches, which said: "We have taken the decision to temporarily close some of our Newcastle branches ... given the potential disruption the protests are expected to cause."
The conference echoed the youth movements that have sprung up around Jeremy Corbyn in Britain and Bernie Sanders in the US. While youth in Australia are disillusioned with the status quo, recent events in Britain and US are stirring excitement.
Instead of writing off the disillusioned masses of youth who stand to lose everything from runaway climate change, the conference was concerned with how to pull them into action. Youth disengagement with politics as usual shows that Labor and the Coalition have nothing to offer when it comes to climate change and increasing wealth inequality.
But if SoS is proof of anything, it is that about 600 young people in this country do care about the future, they are interested in politics, they are looking for alternatives to a system that is broken and they have hope that another world is possible.