Penalty rates cut an attack on young workers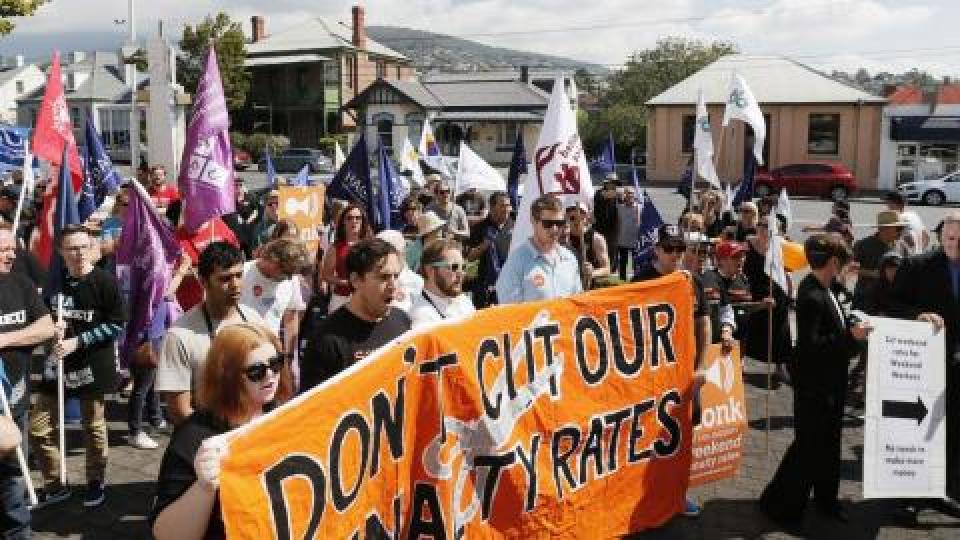 The so called Fair Work Commission made the decision on February 23 to cut Sunday and public holiday penalty rates, affecting nearly 500,000 workers in the retail, hospitality and fast food sectors.
The cuts to public holiday penalty rates will take effect from July 1, however it has not yet been decided when the cuts to Sunday rates will take effect.
The Australian Work and Life Index is a national survey of working Australians. Research has indicated that close to 40% of young workers rely on penalty rates to survive.
Penalty rates have been in place for close to 100 years, since a 1919 ruling that workers should receive an additional payment for working unsociable hours. Despite the history of paying workers a fair wage, the Fair Work Commission's decision comes at a time when wage growth in the private sector is at an all-time low and cannot keep up with the rising cost of living.
It is not surprising that the industries targeted have the most workers under the age of 25. It is also not surprising that the industries targeted have relatively low union density, and in the case of fast food workers, are represented by the Shop, Distributive and Allied Employees Union (SDA), which has made its own contributions towards cutting penalty rates in dodgy enterprise agreements.
This is a another example of the deliberate undervaluing of the work that is done by a majority youth workforce, similarly to the junior rates system that makes it legal to pay workers under the age of 21 less than the minimum wage. Australia is one of a small handful of countries that has a junior rates system that effectively undermines the minimum wage. Australia has the lowest youth wage in comparison to minimum wages in the world.
On the day of the decision Victorian Trades Hall Council secretary Luke Hilakari said the penalty rates cut "is going to be the greatest cut to working people's wages since the Great Depression".
A mass union campaign is needed to fight against these cuts and get on the front foot before penalty rates disappear in other industries as well.
Early indications of a campaign taking hold look positive, with the Young Workers Centre hosting a packed out campaigning meeting at Victorian Trades Hall on March 15 with promises of actions to come. The new Retail and Fast Food Workers Union has formed to challenge the SDA and provide real representation for young workers in these affected industries.
In addition, newly elected ACTU secretary Sally McManus has promised to start a campaign against these wage cuts. She said: "I believe in the rule of law when the law is fair and the law is right, but when it's unjust I don't think there's a problem with breaking it."
There are plenty of unjust, anti-worker laws that need to be and can be challenged with grassroots democratic campaigning in the months to come.