No more rip offs! Young workers need fair wages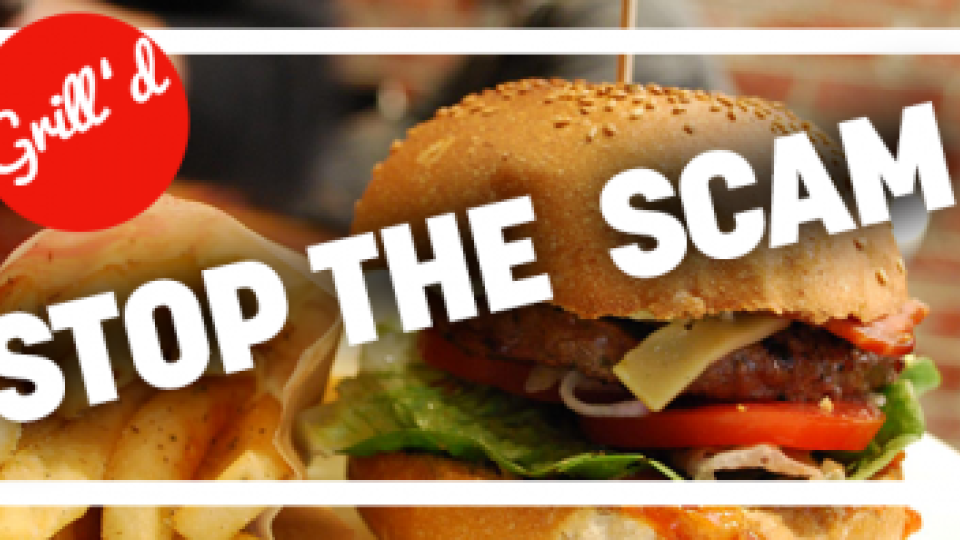 The Young Workers Centre at Victorian Trades Hall released a new petition on Facebook on November 17 calling on burger restaurant chain Grill'd to "Stop the scam".
A Grill'd employee has come forward, accusing the chain of using traineeships as an excuse to pay lower wages. Employees are being signed up to hospitality certificates, but the business refuses to schedule regular training sessions.
Therein lies the scam: by not scheduling training sessions, employees cannot complete the traineeship and the employer continues to pay low traineeship wages.
This is not the first time Grill'd has been under scrutiny for its pay rates. In July last year, it came to light that Grill'd was employing workers on Work Choices era contacts that paid below award wages with no penalty rates.
It came to light thanks to one employee, Kahlani Pyrah, who was sacked after speaking up about being paid below award wages. Thanks to Kahlani taking the matter to court with the support of her union, United Voice, Grill'd employees now have an up-to-date agreement that is in line with the award.
Penalty rates
However, despite the lack of penalty rates and being paid $1–$10 an hour below the award, the contracts that were in place at Grill'd were legal. In the same way,  signing employees up to work-based traineeships and paying them trainee-level wages is legal.
This is the critical point for all young workers to understand — just because something is technically legal, does not make it fair or right. The second critical point is all young workers need to join the relevant union and challenge something if you think it is unfair, whether that is rates of pay, safety or other conditions in the workplace.
Another example is the Domino's Pizza enterprise agreement written in 2009, which expired in June 2013. More than three years later the employer and the union, in this case the Shop Distributive and Allied Employees' Association (SDA), have not managed to negotiate a new agreement. But why would they, when the employer can legally pay their employees below the award, and worse, below basic minimum adult wage?
In January this year, an 18-year-old delivery driver for Dominos was forced out after sharing a petition on Facebook calling for better wages. To add further insult to injury, his manager targeted another young driver who had shared the petition in a post on Facebook book, asking "What the go was".
The manager then went on to say, "In regards to your concern, I hope you can use the way you feel to empathise with me. [The] way you claim to be treated is exactly how I feel when not one but a group of my staff members do not show me the respect and appreciation I deserve when I go above and beyond to ensure I create a fun and professional workplace which follows the laws and policies outlined by Domino's and Fair Work."
So, in other words, workers should just cop shitty wages, because to do anything less is disrespectful and might make your manager feel a bit sad. How ridiculous!
The SDA and Dominos have been in discussion for well over 12 months now, and still there is no new agreement. However, such lack of representation is no surprise. The SDA has come under fire for negotiating agreements that eliminate penalty rates.
Paternalism
The SDA bargains on behalf of hundreds of thousands of workers at major fast food and retails outlets, such as McDonald's, Woolworths and Coles, to name just a few. With such bargaining power, one would expect these workers to be some of the best-paid workers in the country. But no. In the past 12 months the SDA's proposed agreement with Coles was rejected by the Fair Work Commission because it would have left workers worse off overall due to getting rid of penalty rates.
Founded more than 100 years ago, the paternalistic SDA has been controlled since the 1950s by a small Catholic cabal inspired by the founder of the National Civic Council, Bob Santamaria. From 1976 to 2014 it was dominated by its socially conservative national secretary Joe de Bruyn, who Gough Whitlam famously called "a Dutchman who hates dykes". He is now national president.
Regardless of its — mostly young — membership's views, the SDA has embraced a socially and morally conservative role in Labor Party debates, opposing abortion, euthanasia and, until recently, progress towards equal marriage.  
But the recent wages scandal has badly damaged its reputation in the labour movement and among its members.
The SDA is set to be challenged by the new kid on the block, the Retail and Fast Food Workers Union (RAFFWU). The new union has been formed by disenchanted SDA members, along with other supporters including Josh Cullinan who uncovered the widespread underpayment of Coles' employees.
Hopefully RAFFWU will get enough support from other unionists and activists to get off the ground and start recruiting members to challenge employers and the stranglehold the SDA has on the industry.
A shake up is definitely needed so that young workers can not only receive a fair wage, but also so they can see the relevance of unions in fighting for their rights at work.