AUKUS: Morrison's 'shared values' spell destruction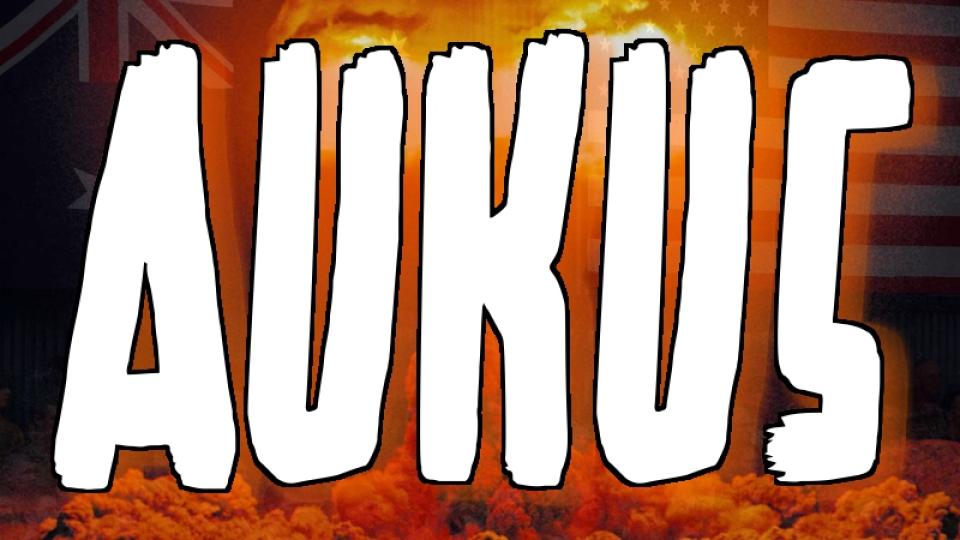 AUKUS represents a deliberate and dangerous escalation of the United States-led confrontation with China. Socialist Alliance is committed to terminating the new pact, along with ANZUS, and removing all US bases from our soil.
Prime Minister Scott Morrison claims that he scrapped the $90 billion deal with the French consortium Naval Group because of the superior operational capability of British or US-supplied nuclear submarines.
This is clearly false.
The new plan has no detail regarding cost or delivery date. Furthermore, Morrison had no intention of asking the French if they might change the specifications of the Attack class submarine, which was based on a French nuclear submarine.
Instead, the decision is primarily a political one. First, it completely commits Australia to following the push by former Republican president Donald Trump, and continued by Democrat President Joe Biden, of "containing" China.
The US policy is not just based on encircling China militarily. It is driven by a determination to block China's economic development.
Western powers have been happy enough to subcontract much of their lower-value manufacturing to China, particularly the dirty and polluting activity. But they have no desire for China to become a competitor in the extremely high-value high tech areas of the global economy. 
While still not having an economy anywhere near as industrialised or technology intensive as the rich countries, China now ranks alongside the more industrialised developing countries such as Turkey, Mexico and Brazil. Furthermore, the Chinese leadership is consciously seeking to develop areas where the country might be able to match, or even overtake, the imperialist powers.
Trump, and now Biden, have made it clear they intend to block this and, through AUKUS, Australia is signaling its full support for this aggressive posture.
It is no surprise that China wants to break out of this encirclement.
Morrison's cancellation of the submarine deal with France also affirms Australia's alignment within the hardening divisions between the main imperialist power blocs.
Australia already had a privileged relationship with the other Anglo-imperialist powers, expressed by its Five Eyes intelligence-sharing partnership and enthusiastic participation in the invasions of Afghanistan and Iraq, along with the US and Britain.
It is a mistake to reduce this tight military relationship to its historic, cultural or linguistic features. There is also a high interpenetration of foreign direct investment among them. 
Consequently, while the immediate economic and long-term strategic interests of the ruling class in these three countries are not identical, they strongly overlap. Desperate for a Brexit dividend, Britain has also doubled down on this relationship.
In this context, AUKUS also confirms the second-tier status of the European powers from the point of view of the US, for whom they are both allies and competitors.
With the Australian government keen to waste more than $90 billion of taxpayers' money on submarines in a confrontation with China, it is no surprise that the US worked hard to ensure that money would get pumped into its own industrial-military complex rather than the French one.
A consequence of this new war drive is that Australia may not secure a free trade agreement with the European Union. It may well lose more markets in China too.
The way Morrison has rushed down the path of aggravating both China and Europe, and throwing everything in the basket with the US, has even provoked criticism from former prime ministers, like Paul Keating and Malcolm Turnbull, who favour a more cautious approach.
Socialist Alliance's criticism is much more fundamental.
Australia's foreign and military policy is not a force for good in the world. Australia is one of a small clutch of imperialist powers that extracts vast wealth from the 85% of the global population who live in the less developed countries.
This unequal world order is maintained through violence. Any less developed country, regardless of the political character of its government, that tries to break free and chart its own course is met with crushing sanctions, interference and, eventually, war.
Morrison says that AUKUS is motivated by "shared values". He's right. They are the values that underpinned Australia's participation in the illegal and immoral invasions of Afghanistan and Iraq, both of which were wars of terror that laid waste to both countries and created the basis for the emergence of terrorist outfits.
Climate change is the major threat to human civilisation. We simply cannot afford to waste billions of dollars on war machines to prop up a violent world order and fuel a cold war with China. It is neither morally nor materially sustainable.
[Sam Wainwright is a co-convenor of Socialist Alliance.]