Social and economic justice must be at the centre of the fight against COVID-19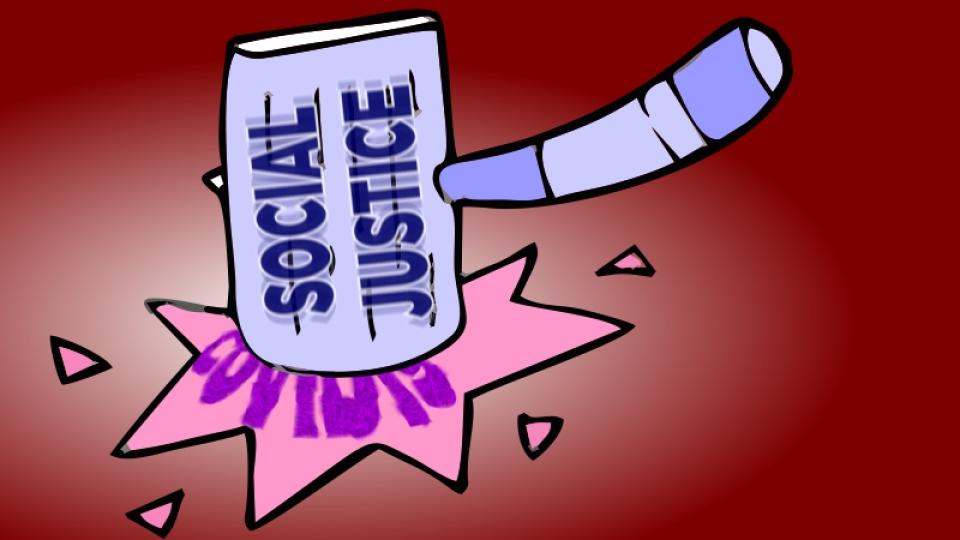 Australia's early success in dealing with COVID-19 was, in part, due to the country's isolation and good luck.
As the breakout of the Delta variant continues to grip Sydney, it's obvious that the corporate-profits-first logic is incapable of dealing with the challenge efficiently or fairly.
It is almost inconceivable that, when the largest city is in the grip of the most dangerous COVID-19 outbreak the country has seen and the consequent lockdown, the federal government has chosen not to reintroduce JobKeeper and JobSeeker-style payments.
Not only does this dangerously undermine public health by making it harder for people to survive lockdowns, both financially and psychologically, it also gives more space to the far-right conspiracy theorists that held centre-stage at the recent "Freedom Day" rallies.
Many are rightly outraged by the threat these rallies posed to public health, particularly when they have suffered during lockdown, like everyone else, but accepted the need to do so for the public good.
However, a focus on "naming and shaming" the individuals involved, dobbing them in to the police and deriding them for their stupidity is simply counter-productive.
It is hard to know how much the protests were motivated by genuine hardship and how much by far-right libertarian conspiracy nonsense. Clearly, both were at play and reinforcing each other.
In any case, the best response is a proactive public health campaign that places economic and social justice at its centre.
Unfortunately, no one is less qualified to lead such an approach than the crop of pro-capitalist politicians ruling Australia.
So what could have been done differently?
If Prime Minister Scott Morrison and the state premiers had prioritised quarantine arrangements that actually work, rather than ones that have become centres of transmission, if the vaccine roll-out had not been bungled, if adequate personal protective equipment (PPE) had been supplied to at-risk workers and if there had been guaranteed financial support for all those who needed to self-isolate, then we may have avoided this and other recent lockdowns.
Furthermore, if New South Wales Premier Gladys Berejiklian had implemented a more extensive lockdown covering the whole city when the outbreak first flared up in Sydney's East, it may not have spread to the South West and the Greater Sydney lockdown might have been over by now. Most importantly, it might have saved lives.
That's a lot of "ifs".
The only guarantee against future lockdowns is mass vaccination.
That needs to begin not just with those who are at greatest risk from the symptoms of the virus but also those who, because of their work, are at greatest risk of catching and further spreading it.
As the Sydney outbreak rolls on, there are signs that simply declaring and enforcing an ever harder lockdown to achieve zero transmission may simply not work – not quickly anyway.
NSW Health has conceded that the virus is now being transmitted by essential workers, both to each other and to their families.
These are the other frontline workers who cannot work from home, but have not yet been prioritised for vaccination based on their occupation or age.
They stack supermarket shelves, work in warehouses, deliver parcels and much more. They're also disproportionately poorer, migrant, young and, in the case of Sydney, concentrated in the South and South West.
In this context, the suggestion by Morrison and some Labor premiers that the army be deployed to enforce the lockdown was worse than useless. This would be a waste of resources, distract from public health measures and add to the stigmatisation of working class and migrant communities.
Mobilising the army to assist with public emergencies is one thing, but involving it in policing civilians would set a dangerous precedent.
Furthermore, there is no useful place for the Labor-Liberal populist point-scoring in this fight.
The residents of Sydney are not responsible for the failings of the Morrison and Berejiklian governments.
The categorical rejection by premiers of other states that some of their Pfizer vaccine stocks might be redirected to mass vaccination efforts in Sydney hotspots is nasty parochialism: it is reminiscent of the way rich countries have already hoarded vaccines for themselves at the expense of the world's poor.
Of course there is no shortage of AstraZeneca that could be used. But given the mixed and contradictory messaging, and unnecessary fear-mongering about that vaccine, the federal government has not taken responsibility for communicating the urgency and necessity to get vaccinated.
Despite the early bungling, it should not actually be that hard, given that every single one of us will eventually either catch COVID-19 or be vaccinated, and one of those outcomes has a vastly higher risk of death!
Imagine what the components of a truly comprehensive and socially just emergency response to the Sydney outbreak might look like:
Positive public health messaging in multiple languages, not moralising name-and-shame campaigns or heavy-handed police interventions.
Ensure every worker keeps their job and ordinary-time wages are maintained during the crisis, regardless of citizenship or visa status.
Permanently raise JobSeeker to $600 a week and establish a permanent fund that provides sick leave to workers that don't have it to cover testing, vaccination and self-isolation.
Immediately expand crisis accommodation for all those sleeping rough or fleeing family violence.
Provide free childcare for those who have to keep working and support for households with online learning.
Ensure essential workplaces are COVID-19-safe with necessary PPE supplied and empowering workers to walk off the job if their employer fails to provide it.
Establish new walk-in vaccination centres and teams to visit essential workplaces and at risk people in their homes to ensure every single person in the hotspots is vaccinated in a matter of weeks.
Create facilities for anyone who cannot self-isolate at home without the risk of passing the virus on to the rest of their household.
None of this is pie-in the-sky.
If the federal and state governments treated COVID-19 with the urgency it requires – a whole of government and community mobilisation – everyone in the country could receive their first dose in a matter of months.
Taken together, these measures would largely starve the far right COVID-19 conspiracists of oxygen.
The challenge and opportunity is much the same on a global scale.
Speaking to Democracy Now, Yale University epidemiologist Gregg Consalves estimated that the United States alone could ensure the whole world was vaccinated in less than 12 months if its government actually made it a priority.
None of us will be truly safe until we are all safe.
As with every other aspect of our economic and social existence under capitalism, we have to fight like hell to make it happen.
[Sam Wainwright is a national co-convenor of the Socialist Alliance.]