Abbott government reeling from Liberal defeat in Victoria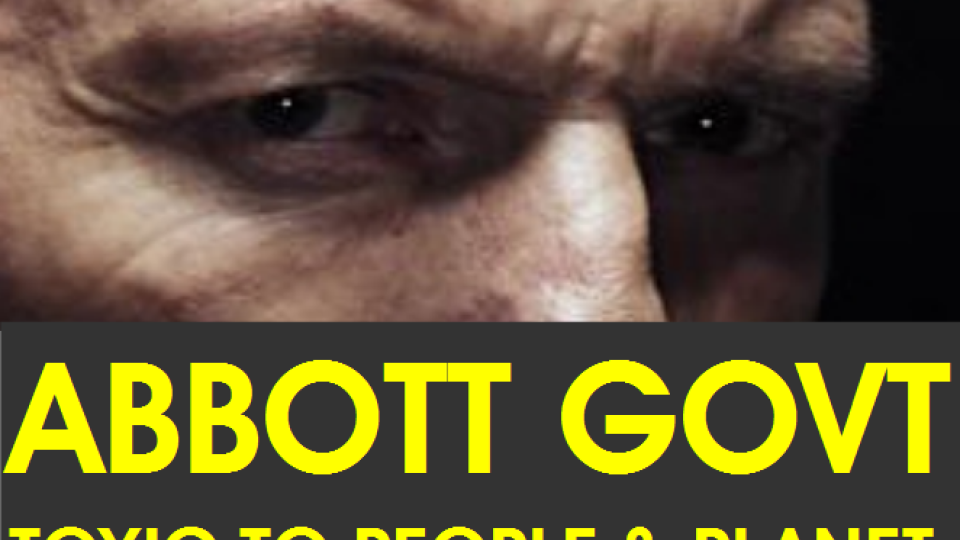 As parliament wound up for the year, the Coalition government was desperate to salvage a symbolic "win" in the Senate to save some face. It was reeling from the defeat of the one-term Liberal government in Victoria, which was seen as a vote against Prime Minister Tony Abbott in the second most populous state in Australia.
Abbott got this "win" with a last-minute Senate approval for a raft of new powers for the immigration minister to deal with refugees in detention and the reintroduction of Temporary Protection Visas (TPVs). This passed through the Senate on its last day of sitting for the year after the government made a deal with billionaire politician Clive Palmer's small and dwindling Palmer United Party.
But this "win" cannot hide the fact that the Abbott government's political agenda is a shambles and has become deeply unpopular. By its own estimate, about $28 billion in cuts in government spending over the next three years is still being blocked by the Senate.
Economic conditions are rapidly deteriorating says the Australian Bureau of Statistics. Real gross domestic income per capita has fallen for the past two quarters and economic growth is slower than expected.
A survey by Essential Research released on December 2 showed that 66% of Australians thought Abbott was "out of touch with ordinary people", 62% thought he was "arrogant" and 61% thought he was "narrow-minded". Only 30% thought he was "trustworthy".
Abbott's public relations disasters at the G20 summit in Brisbane last month probably enhanced this negative public perception of him. But 56% also said Abbott had broken his election promises and had not "fundamentally kept faith with the Australian people".
The same survey showed Abbott would lose an election held now and there was considerable support for the Senate's continued blocking of key measures in Abbott's anti-people May budget.
The survey showed 68% support for Senate's blocking of the $7 Medicare co-payment for GP visits, 65% support for blocking the 20% cut to university course funding, 56% support for blocking university fee deregulation, 51% support for blocking the lowering of the Renewable Energy Target and 72% support for blocking fuel tax increases.
It also showed that more people (48%) supported the Senate blocking the introduction of a six-month waiting period for under-30s before they can get the dole.
In short, the Abbott government's agenda of anti-people cuts to social spending is not only significantly blocked in the Senate, but this has popular support.
In an end-of-year message to workers, the secretary of the Australian Council of Trade Unions (ACTU) Ged Kearney said: "Thanks to your efforts, Tony Abbott is leaving Canberra [for the Parliamentary Christmas recess] without having passed one piece of his anti-worker agenda.
"So let me say, congratulations! Together we have pushed hard against changes to the Fair Work Act that attack penalty rates and make it easier for bosses to cut pay and conditions. In the last few months, more than 20,000 emails were sent to cross-bench Senators and more than 1000 phone calls were made asking them to vote no.
"If Tony Abbott and [employment minister] Eric Abetz thought that they could get these changes through this year, they would have taken the opportunity. Your hard work stopped them.
"We have also seen a full-frontal assault on the institutions that maintain Australia's high living standards like Medicare and affordable tertiary education. Together we fought back and made a difference. It hasn't been easy but we have made an impact."
But Kearney's message reveals the big missed opportunity this year to actually force out the Abbott government. In March this year, there were large rallies around Australia reflecting popular support for the Labor party, the Greens and other opposition parties and independents to totally block Abbott's anti-people budget.
If Labor and the Greens had voted against the main budget appropriation bills, the Abbott government would have been heavily pressured to call an early election in which the Coalition would very likely have been thrown out of government.
Labor and the Greens decided not to do this, but only to block selected unpopular measures in the Senate. The Abbott government was saved from an early end.
In all this, the ACTU showed shameful timidity and no real leadership. The mass protests against the budget in March — and in May and August in several big cities — took place without the support of the ACTU or the Labor party. They were organised by new coalitions of concerned individuals with no institutional support. Yet the response was huge.
Some of the trade unions were shamed into mounting a few token "Bust The Budget" rallies and marches in Melbourne and Sydney and the response from the union ranks was strong. But there was no follow-up. They refused to listen to calls from cross-union delegate mass meetings for continuing mass rallies to "bust the budget" backed up with industrial action.
In the new year, the Abbott government plans to reformulate its anti-people cuts into a form it can sell to Palmer's PUP before presenting these measures to parliament. Palmer and other conservative independents are beginning to be bought off one by one, so we may yet see some of the worst of the Abbott cuts implemented.
There is no room for complacency and there is no real answer to this danger but to respond with people power actions that remain politically independent of the Labor opposition. The ALP, in any case, supports a "lite" version of the basic anti-people neoliberal agenda of the Abbott government.