A socialist plan for rural and regional COVID recovery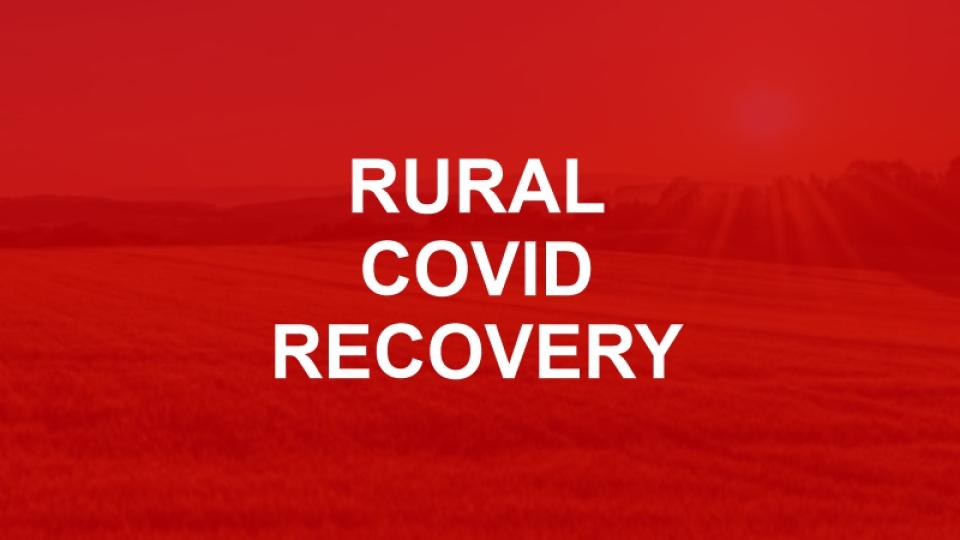 Morrison's 'gas-led recovery' is failing regional Australia
Introduction by Elena Garcia
Regional communities across Australia are facing three intertwining crises: ecological, economic and social.
They have been left in a dire situation as a result of severe droughts, water speculation, catastrophic bushfires, COVID-19 shutdowns, and the assault by mining companies and corporate irrigators on First Nations lands, waterways and food bowl areas.
Despite this, federal and state governments have no genuine plan to assist the regions. Instead, the federal government is funding a supposed "gas-led recovery" that will only further destroy agricultural land and waterways while providing little to nothing in the way of jobs.
These governments also have no real answer for the millions of tons of fruit and vegetables going to waste due to the lack of workers to harvest them. This has contributed to rising food prices and farmers going broke or being pushed to further rely on destructive synthetic inputs and toxic chemicals in place of more labour-intensive agroecological methods.
Trade unions have been calling on the government to guarantee a minimum wage for horticultural workers, provide wage subsidies for struggling farmers, and organise COVID-safe transport and accommodation for those willing to move for work.
Instead, the federal government has ended JobKeeper, provided no financial subsidies for wages or the cost of transitioning to sustainable farming practices, and sought to deflect blame onto the unemployed.
With no jobs, rising house prices and basic services at breaking point, many people, in particular the young, are being forced to leave the regions. This is the opposite of what should be happening.
We need to encourage people to stay or move to regional Australia to help grow food; to care for catchments, waterways, soils and biodiversity; to minimise wildfire risks; and to get water and carbon back into the soil.
The Socialist Alliance has some clear, specific solutions for addressing the triple crisis facing regional Australia.
To this end it has put forward a regional COVID recovery plan based on guaranteeing a reliable income for all; funding environmental rejuvenation and the transition to sustainable farming; and greatly expanding access to community, transport, housing and basic services.
Only such an approach can begin to tackle the situation in regional Australia today.
----
A socialist plan for a regional COVID recovery
Economic recovery requires a reliable income for all
Establish a nationally-run and government-controlled labour exchange service that recruits seasonal workers, both locally and overseas, who receive at least award wages and conditions and can organise to defend and extend their pay and conditions.
Establish a Land Army to assist with fire and drought recovery and the transition to more labour-intensive regenerative agriculture systems. The federal government should pay for and organise transport and accommodation, and ensure workers receive at least award wages and conditions and can organise to defend and extend their pay and conditions.
Guarantee a living income for everyone in regional Australia, regardless of employment status, that is set at no less than the minimum wage. Decent incomes not only lift people out of poverty but are crucial to the survival of local businesses and services, which in turn helps creates more jobs in the regions.
Provide farmers with incentives to transition to arid-friendly crops and regenerative methods. This includes funding research, technology, education and machinery required to underpin regenerative agriculture.
Assist in the establishment of mobile abattoirs to process livestock on-farm for on-selling, and to humanely shoot and hygienically process feral carcasses in regional areas. This would help control feral animal plagues that destroy the environment, native species, stock and farms.
Encourage the establishment of farmer-owned cooperatives for purchasing inputs and marketing produce. Protect them by law from corporate takeovers.
Nationalise major supermarkets and convert them into cooperatives under farmer, transport worker and community control. Fairly compensate franchisees. Support direct-farm-ordering distribution networks.
Create a Land Trust to buy farmland from retiring farmers at a fair price and ensure it is sold or leased to new farmers and cooperatives at a similarly fair price. Keep farmland for food and biodiversity, not urban and industrial development.
Re-create state-owned rural banks that provide long-term low-interest loans for upfront production and sustainable regenerative farming costs.
Re-create state-owned rural insurance programs to enable farmers and communities to survive the increasingly severe and frequent climate events without crippling insurance premiums.
Re-create state and national soil conservation, regeneration and dung beetle programs. Fund the research and development of drought-resistant crop varieties that can be sold at subsidised prices to farmers. Provide free expert advice to farmers on best-practice drought-resistant land use and general regenerative agriculture practices.
Environmental rejuvenation
Immediately phase out coal and gas mining activities. Support workers to transition to other jobs. End the pollution of waterways and land. Fund the rehabilitation of polluted soil and water through a levy on the mining industry.
Subsidise farmers to transition from industrial agricultural methods and factory farming to long-term sustainable regenerative practices such as biodynamic agriculture and permaculture.
River communities need deciding power over rivers. This must include First Nations communities who have been the Traditional Guardians of river health. Nationalise big corporate water holdings. Share water more equitably between farming, communities and the environment. Prioritise food production over mining in water allocations. No free water for mining.
Ban water speculation and trading. Ensure a fair price to river communities and sustainable farmers. Provide tanks and filtration systems to all stakeholders in river communities. Fund tertiary water recycling.
Industries that pollute waterways, water catchments and groundwater must be halted immediately and made liable for clean-up costs. Jail water thieves and nationalise their water licenses.
Ban floodplain harvesting. End irrigation pumping during low-to-medium flows.
Prosecute and ban operations of mining and agribusiness corporations that pollute water, sanction banks that fund their operations, and fine politicians that allow them to do so. Make politicians, senior civil servants and corporation officers personally accountable for their decisions, with heavy fines or jail terms proportionate to the damage done.
Prevent corruption of water allocation and put water allocations under community stakeholder control. Create an Independent Federal Commission Against Corruption, with independent funding and powers to investigate and prosecute.
Build community infrastructure and expand transport, housing and basic services
Establish a public housing fund to train building trades apprentices and build homes in regional areas. Install insulation and double glazing to climate-proof homes.
Subsidise post-disaster reconstruction to ensure buildings are climate-proof and powered by renewable energy.
Expand renewable energy generation and storage projects in regional Australia, including through solar installations, complete with batteries and accompanying smart community load-sharing management/energy sales software. Develop small farm wind turbines and large offshore wind turbines. Set up small hydro developments on higher ground.
Assist the national roll-out of electric vehicles and tractors along with charging infrastructure. Remove taxes on electric vehicles to encourage take-up.
Continue bulk billing access to phone/digital consultations with all health specialists.
Expand the satellite broadband services so everyone can access unlimited high speed broadband internet for education and other services.
Expand regular free mobile dental and medical clinics to make free medical services accessible to everyone.
Re-nationalise our railways, re-open closed lines and expand regional railway networks so as to minimise truck movements to those linking farms to rail and regional distribution centres, thereby more fairly sharing the cost of moving freight while reducing greenhouse gas emissions, diesel particulate pollution, road accident trauma and road maintenance costs. Bring back night trains for moving livestock and backhaul freight on the grain lines.