Stop Israeli war crimes in Gaza!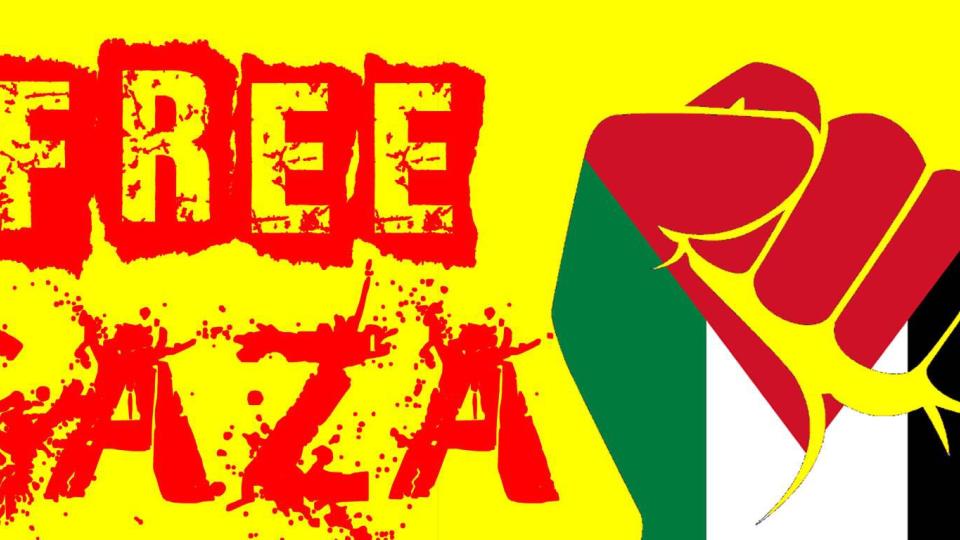 Joint statement by Asia-Pacific socialists, July 14, 2014 In the past week, Israeli military forces have escalated their offensive on the Gaza Strip. Israeli warplanes have increasingly targeted houses, civilian-populated areas and civilian facilities in the Gaza strip. Israeli warplanes have destroyed a number of houses while their residents were inside, without any prior warnings, killing and wounding many Palestinian civilians. The Israeli government has cynically exploited the killing of three Israeli youth and used this to whip up a racist hysteria against Palestinians and the Hamas government in Gaza. It has done this without producing any evidence about who was responsible for those killings. A campaign of indiscriminate violence against Palestinians has been incited and one Palestinian boy has been tortured and burnt to death. Now even more indiscriminate retribution has been inflicted on the civilian residents of Gaza. Collective punishment is a violation of international humanitarian law. The ruthless military offensive conducted by Israeli forces has nothing to do with "self-defence", but a genocidal aggression on Gaza and intensification of bloody repression against Palestinians who had been constantly denied their right to self-determination by the Zionist regime. The undersigned organisations:
Strongly condemn Israel's latest attack on Gaza, Palestine and demand that it stop its attacks on Gaza and respect international law including the UN resolution 242 which demands Israel withdraw from the Gaza Strip, the West Bank and East Jerusalem, territories which Israel has illegally occupied since 1967.
Call upon all governments to immediately withdraw their ambassadors from Israel, cut diplomatic ties and end all military and defence ties with Israel.
Call for the intensification of the economic boycott, disinvestment and sanctions campaign against Israel.
Signed by:
Socialist Alliance, Australia
Parti Sosialis Malaysia (PSM), Malaysia
Partido Lakas ng Masa (PLM), Philippines
Socialist Aotearoa, New Zealand
Communist Party of India (Marxist-Leninist) - Liberation
Partai Rakyat Pekerja (PRP), Indonesia
Socialist Alternative, Australia
Partai Rakyat Demokratik (PRD), Indonesia
Solidarity, Australia
Awami Workers Party, Pakistan
Fightback - Aotearoa/New Zealand
Left 21, Hong Kong
Social Action for Change, Cambodia
Committee for a Workers' Party, South Korea
Partido ng Manggagawa (Labor Party), Philippines
Nava Sama Samaja Party (NSSP), Sri Lanka
Left Voice, Sri Lanka
International Socialist Organisation, Aotearoa/New Zealand
Japanese Revolutionary Communist League
Radical Socialists, India
Politik Rakyat, Indonesia
Communist Party of Bangladesh (ML)
United Kashmir People's National Party ( UKPNP)
Pioneer, Hong Kong
To add your group's name to the list of signatories please email
PSM International Bureau
. * * * INDONESIAN TRANSLATION:
Hentikan kejahatan perang Israel di Gaza!
Senin, 14 Juli 2014 Pernyataan Bersama Kelompok Kiri Asia Pasifik Dalam seminggu terakhir, pasukan militer Israel telah meng-eskalasi serangannya di Jalur Gaza. Pesawat-pesawat tempur Israel semakin sering menembaki rumah-rumah, wilayah yang padat penduduk sipil dan fasilitas sipil di Jalur Gaza. Pesawat-pesawat tempur Israel telah menghancurkan sejumlah rumah ketika penghuninya masih berada di dalam tanpa memberikan peringatan dini apa pun sehingga membunuh dan mencederai banyak warga sipil Palestina. Pemerintahan Israel secara sinis mengeksploitasi pembunuhan tiga remaja Israel untuk melancarkan histeria rasis terhadap rakyat Palestina dan pemerintahan Hamas di Gaza. Ini dilakukan tanpa memberikan bukti apa pun tentang siapa yang bertanggung jawab terhadap pembunuhan tersebut. Suatu kampanye kekerasan yang tak pandang bulu terhadap rakyat Palestina telah dikobarkan dan seorang anak lelaki Palestina telah disiksa dan dibakar hidup-hidup. Kini aksi balas dendam yang semakin menjadi-jadi dan tak pandang bulu dilancarkan terhadap penduduk sipil Gaza. Hukuman kolektif adalah pelanggaran terhadap hukum kemanusiaan internasional. Ofensif militer kejam yang dilakukan oleh pasukan Israel sama sekali tidak terkait dengan upaya "mempertahankan diri", melainkan suatu agresi genosidal terhadap Gaza dan intensifikasi represi berdarah terhadap warga Palestina yang hak menentukan nasib sendiri-nya (right of self determination) dirampas oleh rejim Zionis. Organisasi-organisasi yang bertandatangan di bawah:
Mengecam keras serangan Israel akhir-akhir ini ke Gaza, Palestina dan menuntut Israel untuk menghentikan serangannya ke Gaza dan menghormati hukum internasional, termasuk resolusi PBB no 242 yang menuntut Israel untuk menarik diri dari Jalur Gaza, Tepi Barat dan Yerusalem Timur, yakni wilayah-wilayah yang diduduki oleh Israel secara ilegal sejak 1967
Menyerukan kepada semua pemerintahan untuk segera menarik utusannya dari Israel, memutus hubungan diplomatis dan mengakhiri semua hubungan militer dan pertahanan dengan Israel.
Menyerukan untuk mengintensifkan kampanye boikot, divestasi dan sanksi terhadap Israel.
(Klik
link ini
untuk melihat versi asli. Daftarkan organisasi ke
Biro Internasional Partai Sosialis Malaysia
.) * * * CHINESE TRANSLATION BY CHOO CHON KAI: 亚太左翼团体联署声明 停止以色列在加沙的战争罪行! 2014年7月14日 过去一个星期来,以色列军队对加沙地带的攻击升级。以色列战机不断瞄准轰炸民房、平民聚居的地区及公共设施。以色列战机在无任何预警下摧毁多间仍有居民在里面的房屋,杀害并伤及很多巴勒斯坦平民。 以色列政府利用三名以色列少年被杀害的事件,煽动针对巴勒斯坦人及加沙哈马斯政府的种族主义憎恨情绪。这是在没有提出任何证据证明凶手的情况下作出的举动,挑起了肆意暴力对待巴勒斯坦人的运动,并导致一名巴勒斯坦少年被酷刑折磨及活活烧死。现在以色列当局还对加沙的平民展开更加肆意妄为的复仇行动。集体惩罚是违反国际人道法的行为。 以色列军队进行的残酷军事攻击,跟"自卫"没有关系,反而是向加沙进行着种族灭绝的侵略,并进一步血腥镇压一直以来遭犹太复国主义政权否决民族自决权的巴勒斯坦人。 联署本声明的团体主张: - 强烈谴责以色列对巴勒斯坦加沙的攻击行动,要求立即停止攻打加沙,并遵守联合国242号决议案,也就是敦促以色列撤出自1967年以来被其非法占领的地区,也就是加沙地带、西岸及东耶路撒冷。 - 呼吁所有国家政府立即召回各自驻以色列的大使,中断跟以色列的外交关系,并终止跟以色列的一切军事与国防合作关系。 - 呼吁国际社会加强经济抵制、撤资及制裁以色列的行动。 联署团体: 澳洲社会主义联盟 马来西亚社会主义党 菲律宾劳动群众党 纽西兰社会主义奥特亚罗瓦 印度共产党(马列主义)解放派 印度尼西亚劳动人民党 有意联署团体,请电邮联系社会主义党国际局:int.psm@gmail.com KHMER TRANSLATION: បញឈប់ឧ្រកិដកម្ឋ ស្រង ម គមេនតំបន់Ǔកសǜ េសចកី្តែថ្លងករណ៍រមអួ នកកន់និននករេឆ្វងនិយមេនតំបន់Ǖសុីប៉សុីហិក្វ ៃថងទី១៤ ែខកកកƽ ឆនំ២០១៤ កលពីសប្តហ៍មុន កងកម្លំងេយធអុី្រǒែអលបនតំេឡើងរទឹិធរបស់ខ្លួ នរេǎភេល ំ ើតំបន់ដី េ្រជយǓកសǜ (Gaza Strip)។ យនេǓះចមប ្ត ំងរបស់អុី្រǒែអលបនបេងើនករប ក ំផិ្លចបំផ្លញ េគហƽ្ឋន ពលរដ្ឋសុីវលិ និង្រទពយសមបតិ្តរបស់្របជជនសុីវលក ិ នុ ងតំបន់ Ǔកសǜ។ យនេǓះ ្ត ចមបំងរបស់អុី្រǒែអលបនបំផ្លញេគហƽ្ឋនជេ្រចើនេនខណៈេពលែដលមចស់លំេនƽ្ឋនទំង េនះកំពុងែតǒនក់េនខងកនុ ង េƽយគមនករ្របកសǕសននជមុន េហើយែដលបនសម្លប់ ពលរដ្ឋសុីវលរបស ិ ់ប៉េឡសីនអស ទ ់ជេ្រចើននក់ផងែដរ។ រƽ្ឋភិបលអុី្រǒែអលបនេធើ្វទេងើ្វមិនគបបីេƽយេកងសម្លប់យុវជនអុី្រǒែអលចំនួនបីរបូ េហើយបនេ្របើកលលបិចេនះកនុ ងករអុជǕលេទេលើករេរសេអ ើ ើងពូជǒសន៍្របឆំងនឹង្របជជន ប៉េឡសីនទ េហើយនិងរƽ្ឋភិបលǓម៉សកន ុ ងតំបន់Ǔកសǜ។ ទេងើេនះបនេធ ្វ ើ្វេឡើងេƽយគមនភស្ត ុ ǂងជក់ǎក់បញជក់ថនរǁែដលជអនកទទួលខុស្រតូវចំេពះឃតុកមមេនះេឡើយ។ យុទធនករ មួយៃនអំេពើហិងǜដ៏្រចបូ្រចបល់្របឆំង្របជជន ប៉េឡសីន្រត ទ ូវបនបងកចǎចល េហើយេកមង ្របុសប៉េឡសីនមទ នក់្រតូវបនេធើ្វទរណ្ឌកមម និងដុតសម្លប់េទៀតផង។ បចច ុ បបននមនករបងកភព ្រចបូក្រចបល់ែដលមនករចងគំនុំជ េ្រចើនបននិងកំពុងបងកឲយមនរបួសេលើ្របជជនសុីវលǓិ ក សǜ។ ករេថកលេទសជរមគួ ឺជកររេǎភចបប ំ ់មនុសƞធម៌អន្តរជតិ។ កររេǎភប ំ ំពនែដលគមនធម៌េមǂ្តបងកេឡើងេƽយេយធអុី្រǒែអលគមនេហតុផលអីព្វ ី ករករពរខ្លួ ន ប៉ុែន្តជអំេពើ្របល័យពូជǒសន៍ដ៏េឃេឃ្របឆំងនឹង្របជជន ប៉េឡសីនែដល ទ សិទិធកនុ ងករកំណត់ខ្លួ នឯង្រតូវបនបន្តបដិេសធេƽយរបបហƞិនីស (ចលនអកកន ន ់ǒសន និយម្រជុលជូវសី ឬ Zionist) ។ ǒថប័នែដលបនចុះហតថេលខេលើេសចកី្តែថងករណ ្ល ៍រមេនះទមទរដ ួ ូចតេទ៖
េថកលេទសយ៉ងƽច់ខតចំេពះករǏយ្របǓររបស់អុី្រǒែអលនេពលថីមៗេនះ េទេលើតំបន់Ǔកសǜ ប៉េឡសីនទ និងទមទរឲយមនករបញឈប់ករǏយ្របǓរ របស់ខ្លួ នេលើតំបន់Ǔកសǜ េហើយេគរពចបប់អន្តរជតិǍប់បញច ូ លទំងេសចកី្ត សេ្រមចរបស់អងគករសហ្របជជតិេលខ២៤២ ែដលបញជឲយអុី្រǒែអលដកេចញ ពីតំបន់ដីេ្រជយǓកសǜ ្រពំ្របទល់ែវសែបង (West Bank) និង្រកុងេយរǎឡ ូ៉ ឹម ខងេកើត ែដលអុី្រǒែអលបនឈ្លនពនេƽយខុសចបប់កនុ ងឆនំ១៩៦៧។
អំពវនវដល់រƽ្ឋភិបលននដកេចញឯកអគគǍជ ឬ រដទ្ឋ ូតេចញពីអុី្រǒែអល ផ្តច់ទំនក់ទំនងករទូត និងបញឈប់Ǎល់ទំនក់ទំនងេយធ និងករពរជតិជមួយ អុី្រǒែអល។
អំពវនវឲយេធើ្វកររតបណឹ ឹ្តងករេធើ្វពហិករេសដ្ឋកិចច ករវនិិេយគទុន និងយុទធន ករទណ្ឌកមមេសដ្ឋកិចច្របឆំងអុី្រǒែអល។
URDU TRANSLATION:
غزہ پر اسرائیلی جنگی کاروائیاں بند کی جایئں
گزشتہ ایک ہفتے سے اسرائیلی فوج نے غزہ کی پٹی پر اپنی کاروائیاں تیز تر کر دی ہیں. اسرائیلی جنگی طیارے مسلسل شہری آبادی، شہری مراکز اور رہائشی علاقوں کو نشانہ بناے ہوے ہیں. اسرائیلی جنگی جہازوں نے متعدد گھروں کو بغیر کسسی انتباہ کے نشانہ بنایا ، جس کے سبب ان میں مقیم کئی فلسطینی شہری جانبحق اور زخمی ہوے. اسرائیلی حکومت ان حملوں کو تین ساسرائیلی نوجوانوں کی ہلاکت کا رد عمل بیان کرتی ہے جبکے در حقیقت یہ فلسطینی نسل کشی اور اسکی حماس دشمنی کی ایک کڑی ہے. اسرائیل نے ان حملوں کا آغاز بغیر کسسی ٹھوس ثبوت کہ کیا ہے. فلسطینیوں کہ خلاف بلا امتیاز تشدّد کی لہر چل پڑی ہے جس کی شروعات ایک نوجوان فلسطینی کو شدید جسمانی تشدّد کہ بعد زندہ جلا کر مارنے سے کی گئی . اس واقعے کہ بعد غزہ کے مقیموں پر ظلم و بربریت کے پہاڑ توڑ دیۓ گئے. اس قسّم کی اجتمائی سزا بینلاقوامی قوانین کی شدید خلاف ورزی ہے.
اسرائیل کی ظالمانہ فوجی کاروائیوں کا تعلق ذاتی دفاع سے ہرگز نہیں ہے بلکے یہ صیہونی حکومت کی ان مجرمانہ کاروائیوں کا تسلسل ہے جن کے سبب فلسطینی کئی دہائیوں سے حق خود ارادیت سے محروم ہیں.
دستخط کنندہ تنظیمیں
* غزہ پر تازہ ترین اسرائیلی حملے کی بھرپور مذمّت کرتی ہیں اور مطالبہ کرتی ہیں کہ بینلاقوامی قوانین کی مد میں یہ حملے فورا بند کیے جایئں . اور اقوام متحدہ کی قراردادوں کہ پیش نظر ١٩٦٧ میں قبضہ کیے گئے غزہ، مغربی کنارے، اور مشرقی یروشلم کے علاقوں سے اسرائیل کے فوری انخلا کی حمایت کرتی ہیں.
*تمام ہمکومتوں سے اپیل کرتی ہیں کہ اسرائیل سے ہر قسّم کہ سفارتی تعلقات قطع کیے جایئں اور اس کے ساتھ کسسی قسم کے دفاعی اور فوجی روابط قائم نہ رکھے جاییں.
* اسرائیل کے معاشی بائیکاٹ میں شدّت لائی جائے ، اور اس کہ خلاف اقتصادی پابندیاں عاید کی جایئں.
دستخط کنندہ
سوشلسٹ الائنس، آسٹریلیا
پارٹی سوشالس ملایشیا ، ملایشیا
پرتیدو لکاس نگ ماسا ، فلپین
سوشلسٹ اوتیروا ، نیوزیلنڈ
کمیونسٹ پارٹی آف انڈیا،
پارتی رکیات پترجہ ، انڈونیشیا
سولیدریتے ، آسٹریلیا
عوامی ورکرز پارٹی ، پاکستان
فائٹ بیک ، نیوزیلنڈ
لفٹ ٢١، ہانگ کانگ
سوشل ایکشن فار چینج ، کمبوڈیا
کمیٹی فار ورکرز پارٹی . جنوبی کوریا