Nationalise General Motors Holden plants & retool them to create green jobs!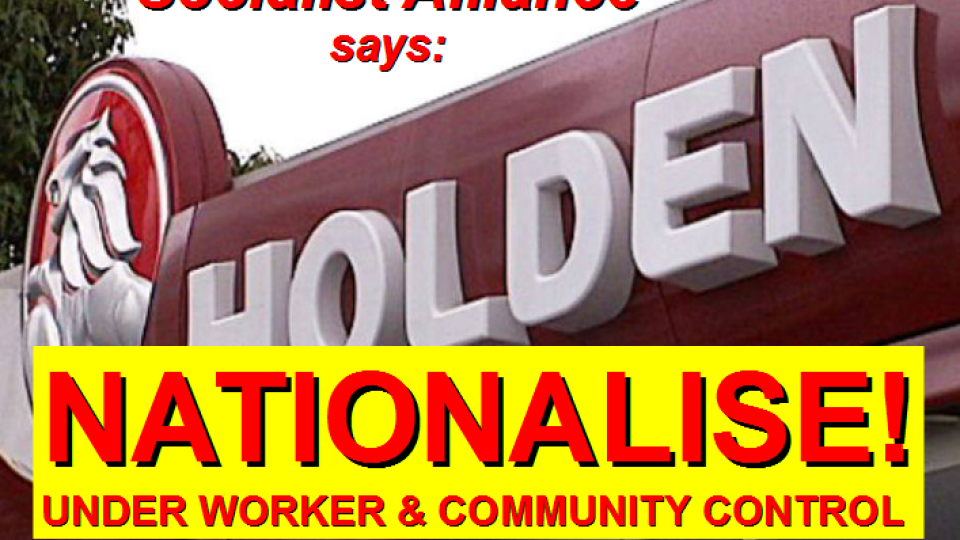 In response to the
announcement
by General Motors from its corporate headquarters in Detroit that it will discontinue vehicle and engine manufacturing and significantly reduce its engineering operations in Australia by the end of 2017, the Socialist Alliance calls for the immediate nationalisation of GM Holden plants under workers' and community control. This process should be extended to Ford as well as Toyota, which has already warned it cannot survive if the other two car companies close down. Under public ownership and control, the entire car industry should be re-tooled to manufacture public transport vehicles, electric cars and infrastructure for a rapid shift to renewable energy. The
GM statement
admitted that 2,900 jobs would be lost over the next four years, including 1,600 from the Elizabeth, South Australia, car plant and around 1,300 from Holden's Victorian workforce. Even more jobs in dependent industries would also be destroyed. The plants can be re-tooled to produce wind turbines and other equipment for renewable energy production, as well as trams, trains and other vehicles and infrastructure for a sustainable transport system. This would not only save jobs, it would make these socially and ecologically valuable jobs. Workers in the car industry have the skills and expertise in logistics, production engineering, designing for production and quality control that could be applied to production which helps us break from a fossil fuel-dependent economy. This is urgently needed to address the climate change crisis. The crisis in the car industry calls for urgent action by the ACTU and manufacturing unions. There should be emergency meetings of Holden workers to consider strong action to defend jobs and the future of their industry. Strong industrial action needs to be put on the agenda — including workers refusing to leave the plants, and taking their own measures to ensure the future of their jobs. GMH has admitted to have been subsidised by the public over the last 12 years by at least
$2.2 billion
. On this basis the GMH plants should be considered public property. If the workers took control of the GMH plants and ran them for the benefit of the community they would be doing our society a great service.
For further comment contact Peter Boyle 0401 760 577 or Susan Price 0400 320 602