We need a new movement to push Hanson back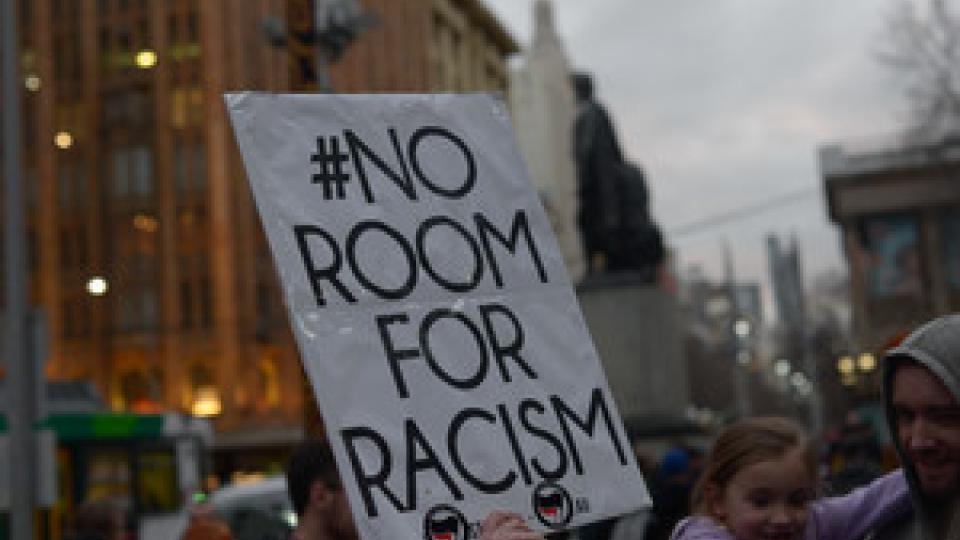 While the votes are still being counted and the deals brokered, the resurrection of Pauline Hanson's racist party has sparked concern and outrage.
Pauline Hanson's One Nation party has won at least one, possibly three Senate seats: Hanson claims it could be as many as six. It polled the fourth highest nationally of all parties contesting the Senate, after Liberal, Labor and the Greens,.
The election platform One Nation presented was blatantly racist and anti-Muslim, and poses a threat to civil rights.
Since winning her Queensland Senate seat, and being feted by the corporate media, Hanson has insisted her racist views are widespread and that she is speaking up for "ordinary Australians". In fact, her party has an extreme and reactionary platform, which is based on racist scapegoating and xenophobia.
It wants a royal commission into "Islam", a ban on the burqa and niqab in public places, surveillance cameras in mosques, a ban on halal certification, an investigation of all Muslims receiving welfare payments and to stop all Muslim immigration.
She has also regurgitated her old refrain about ending the "Asian invasion" of "our suburbs".
Hanson's resurgence is a reminder that racism is alive and well across Australia, due, in part, to a colonial history that has neither been acknowledged nor remedied, and the major parties' bipartisan racism towards refugees and asylum seekers.
As the wealth gap grows — a 2015 Ofxam report found that 1% of the population have more wealth than the poorest 60% — the major parties prefer to scapegoat rather than admit that trickle-down capitalism is a failure.
The rise of Paul Hanson's One Nation also comes at a time when the far right is organising across the world: Republican contender Donald Trump has staked his candidacy on Muslim bashing; the xenophobic right's support of Brexit led to a rise in racist attacks across Britain; and a neo-fascist nearly won the Austrian presidency.
It is no coincidence that Hanson secured her Senate seat in Queensland, the state with the highest rate of youth unemployment. This, and the growing wealth divide between the haves and the have-nots, is the material reason why xenophobia and racism can grow quickly.



In 1996, when Hanson was first elected to parliament, Resistance high school students organised a series of protests against her racist diatribes which, back then, were mainly aimed at Asians.
Often the anti-racists would outnumber Hanson supporters. In 1997, at a 3000-strong protest outside a One Nation meeting in Newcastle, Hanson singled out Resistance as "one particularly unsavoury group who follows me everywhere".
Sean Healy, then-Resistance national convener, said at the time: "If it weren't for the counter-demonstrations, the massive anti-racist sentiment would remain passive, racism would remain unchallenged, and Pauline Hanson would get away with presenting her racist politics as in some way legitimate.
"The only way we're going to defeat Hanson's One Nation is if the counter-mobilisations not only continue, but become even bigger."
In 1998, Marina Carman, a national spokesperson of Resistance's anti-racism campaign, made the important point that the protests have to grow to be politically powerful.
"Our protests will be peaceful. They are not aimed at seeking to close down One Nation meetings, but will be a focus for people to show their opposition to One Nation's policies."


Resistance also organised nationwide high school student strikes and walk-outs when Hanson was touring, mobilising students in their thousands to take action on their campuses.
This is part of what we need to do again. Hanson may be emboldened by a spate of small reactionary groups rallying against refugees, Muslims and the building of mosques. While anti-racist groups have easily counter-organised, we need to take stock of the political challenge posed by the resurgence of Hansonism.
Small groups counter-mobilising against the far right will not be enough. We need to go well beyond the tactic of "occupying the space" or "kicking the fascists off the streets" and get back to organising mass counter protests against Hansonism.
A serious left response also requires us to build the movements to welcome refugees, and treat them with dignity. It requires us to build bridges with our Muslim sisters and brothers. It requires us to work harder in involving our unions, our campuses and our high schools. Together, we can defeat this new racist challenge.
[Mia Sanders is a National Co-convener of Resistance: Young Socialist Alliance.]