It's never too late to fight for the climate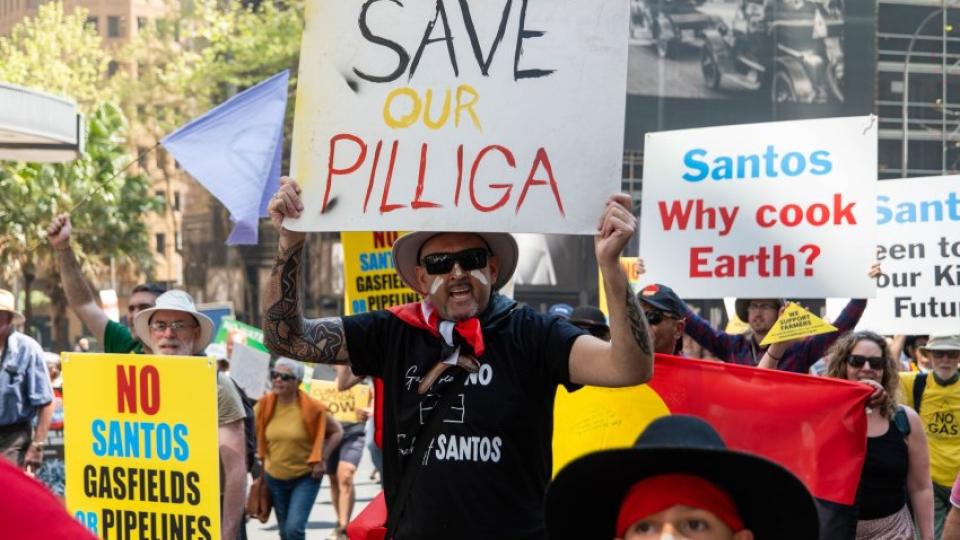 The Federal Court ruled on October 11 that the government does not have to consider climate impacts when deciding whether to approve new fossil fuel projects. Environment minister Tanya Plibersek celebrated the court win alongside two coal companies.
Less than a week later, 60 fires broke out in a 24-hour period in Queensland.
Two weeks and 1000 fires after that, emergency management minister Murray Watt illustrated the art of stating the obvious telling the ABC: "The number of fires and the scale of them is quite worrying for this time of year."
The coming summer will be the first of the current El Niño climate pattern, which typically results in hotter global average temperatures. Thus, the bushfire risk will be greater in the coming Australian summer than the last two (and greater again the year after that).
Labor MPs purport to be tackling the climate emergency but their policy measures are making the problem worse.
For instance, Plibersek has approved four new coal mines since May last year and more than 10 fossil fuel projects overall. After the government's court win, more are on the way.
This is despite fossil fuels unambiguously being the cause of climate crisis.
"Mark my words: it's all still just getting started," NASA climate scientist Peter Kalmus argued in July, referring to the level of climate breakdown. "So long as we burn fossil fuels, far, far worse is on the way."
"The only way out of this heat nightmare is to end [fossil fuels]," Kalmus wrote. "No amount of tree planting, recycling, carbon offsetting, or wishful carbon-capture thinking will ever change this."
Recent analysis by leading climate scientist James Hansen and colleagues underscores the seriousness.
Global warming in the pipeline was published on November 2. The paper argues that "under the present geopolitical approach to greenhouse gas emissions, global warming will exceed 1.5°C in the 2020s and 2°C before 2050".
"Impacts on people and nature will accelerate as global warming increases weather extremes."
The paper devotes a big focus to assess the role of aerosols in disguising the level of global heating that has already happened. Aerosols are fine particles, including the air pollution that comes from burning fossil fuels.
Aerosols have a slight cooling effect. This means that global heating would already have been much worse without the air pollution generated by burning fossil fuels.
(Deliberately creating aerosols is not a solution. Air pollution already kills 8 million people a year, according to NASA. More significantly, the heating effect of burning fossil fuels is bigger than the cooling effect of the aerosols.)
Discussing the paper before its formal publication, Hansen and his colleagues argue that the record-breaking temperatures in the current El Niño "implies a strong acceleration of global warming" which, they explain, is likely due to "a decrease of human-made aerosols as a result of reductions in China and from ship emissions".
"Thus, if this El Nino peak is as high as we project it will be … the 1.5°C global warming level will have been reached, for all practical purposes."
This is worrying enough, however climate change is only one of nine "planetary boundaries".
Planetary boundaries define a safe operating space for humanity and include climate change, biosphere integrity, biogeochemical flows (nitrogen and phosphorous cycles), ocean acidification and others.
For the first time, new research in September mapped out all nine planetary boundaries. "Six of nine planetary boundaries are being transgressed," the researchers concluded, "while pressure in all those boundary processes is increasing".
"Next to climate change, integrity of the biosphere is the second pillar of stability for our planet," according to co-author Wolfgang Lucht. "Our research shows that mitigating global warming and saving a functional biosphere for the future should go hand in hand."
Despite the bleak news they deliver, climate scientists such as Peter Kalmus are still fighting. "I have not given up, and I never will," he said. "No matter how much we've lost, it will never be too late to fight."
The nationwide November 17 student-led climate strike and the November 24–27 blockade of the Newcastle coal port are opportunities to be a part of this fight. It's never too late.
[Alex Bainbridge is a member of the Socialist Alliance national executive.]