Why the warmongers hate Assange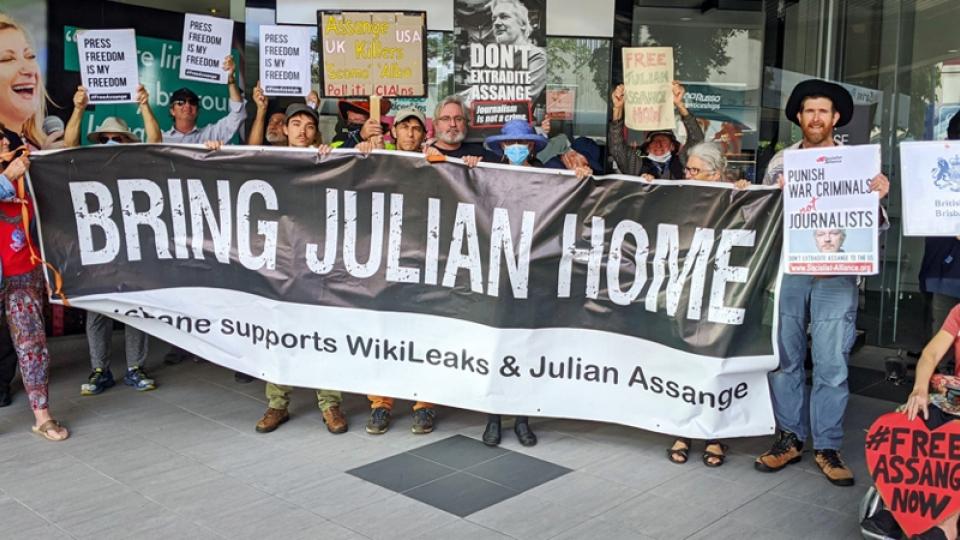 In a dramatic turn of events, the United States Department of Justice's claim that its attempt to extradite whistleblower Julian Assange is based, in large part, on evidence that the Wikileaks founder directed a complex hacking operation has exploded.
It underscores the fact that the pursuit of Assange is founded on a gross manipulation of legal process – every step of the way.
US authorities made much of the testimony of Icelander Sigurdur Thordarson, who volunteered for Wikileaks as a teenager over 2010–2011. In his original statements Thordason, who was connected to hacking networks at the time, claimed that he had been directed by Assange to hack the computers of senior officials and members of parliament of various NATO countries.
However, in a June 26 interview with the Icelandic newspaper Stundin, Thordarson recanted, saying that Assange never asked him to carry out hacking operations. The paper reported that there is no evidence that Assange even knew of Thordason's connection to hackers either.
Barrister and human rights advocate Greg Barns reported recently that Thordarson's reliability as a witness was already under a cloud because of his conviction, in Iceland in 2013-2014, for offences including fraud, theft and sexual assault.
Furthermore, in May 2019 the US Department of Justice offered Thordason an immunity deal relating to further possible offences in Iceland.
Commenting on this latest twist, former British Labour leader Jeremy Corbyn said on his Facebook: "Today Julian Assange will spend his 50th birthday in Belmarsh — a maximum security prison in London. He is suffering from ill health and has two young children. Recent investigations show that a substantial part of the case against him was fabricated. The jailing of a journalist and publisher by the UK (and the ongoing efforts by the US to extradite him) show these governments are determined to suppress inconvenient truths."
It is worth recapping the systematic manner in which the Swedish and British authorities manipulated their own supposedly independent legal systems to persecute Assange.
First, the Swedish police rushed to tell the media that they were investigating Assange for two possible cases of sexual assault – even before interviewing him.
Assange at the time was on a flight returning to Sweden from Germany during which his laptop computers mysteriously disappeared.
A report by Nils Melzer, the United Nations Special Rapporteur on Torture, revealed that while the two women at the centre of the story are real, neither said they had been assaulted.
The Swedish police never had any intention of questioning Assange, let alone pressing charges. They held off closing their phony investigation to keep a cloud of suspicion hanging over him and to create a basis upon which to demand his extradition to Sweden and then the US, thereby exposing him to the risk of a lifetime in solitary detention.
Secondly, Assange's lawyers in Sweden continuously pressed authorities there to either question him in Britain (which is routine) or guarantee that he would not be extradited to the US if he returned to Sweden. They declined to do either.
Swedish authorities finally closed the case when Lenin Moreno became President of Ecuador. He cut a loan deal with the US in return for agreeing to expel Assange from the country's London embassy. With a new pathway for Assange's extradition to the US opened up, they were free to quietly drop the whole charade.
Third, Assange is not a US citizen and the crimes the US alleged he committed did not take place on US soil. The US has no right to impose extraterritorial legal authority over the whole world.
While the decision by a UK court on January 4 that Assange could not be extradited to the US because of the threat to his health was welcome, it was clearly a face-saving exercise.
It remains the case that only a vassal state that has subordinated the independence of its own legal system to the interests of the US would even contemplate taking the extradition request seriously.
The US government has been granted an appeal by the British High Court. Assange remains in detention six months later having been refused bail.
The withdrawal of US troops from Afghanistan is a reminder that authorities are determined to make an example of Assange for revealing evidence of war crimes and other misdeeds committed by the US and its allies in that country and Iraq.
The post-September 11, 2001, US-led invasions laid waste to great swathes of the Middle East, leaving millions dead and millions more displaced.
It's not just freedom of expression and the ability of journalists and whistleblowers to expose crimes committed by our governments that are at stake. The US and its closest allies, including Australia, reserve the "right" to unleash untold violence and terror via illegal military interventions in any less-developed country they choose.
To do this they need the consent, or at least the indifference, of populations in the US, Britain and Australia. They spend a lot of effort trying to convince us that it's all being done for democracy, or some greater good, and not for corporate interests.
Exposing the reality of these invasions threatens to undo all this. This is also why Assange must be defended. He and Wikileaks played an important role in exposing the war criminals.
[Sam Wainwright is a national co-convenor of the Socialist Alliance.]