Court case victory reflects power of school strikes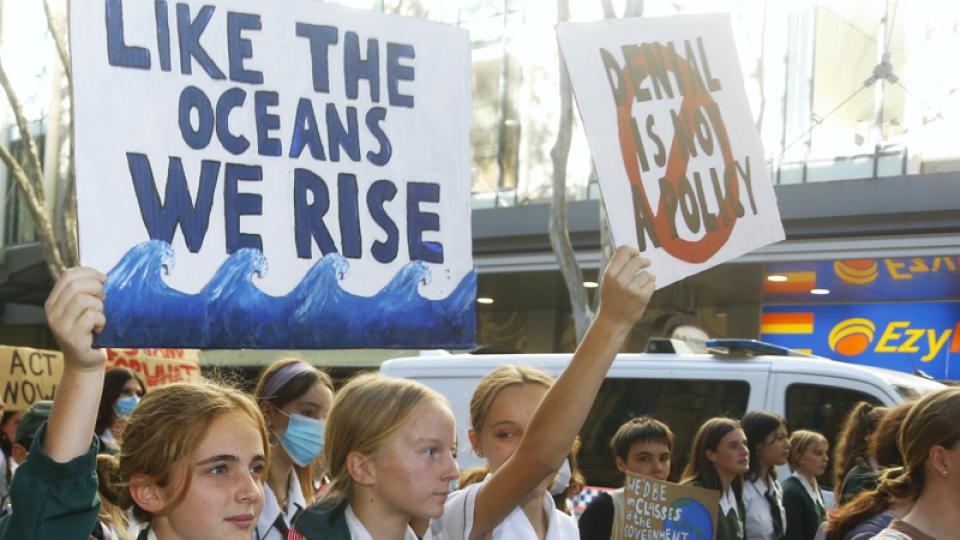 Eight teenagers who took a class action lawsuit against a major extension to the Vickery coal mine, near Gunnedah in New South Wales, won a landmark victory on May 27.
The high school students, part of School Strike 4 Climate Australia, challenged federal environment minister Sussan Ley in the Federal Court, arguing that she has a duty of care to protect children from the harmful effects of climate change.
The students, represented by Equity Generation, sought an injunction on the Vickery coal mine extension: any approval of the mine extension, they argued, would be a breach of ministerial duty of care.
Federal Court Justice Mordecai Bromberg did not issue an injunction against the mine in his ruling. However, he found that the minister did have a duty of care to young people. Bromberg said if the minister approves the mine, it may constitute a breach of this.
The ruling lays a robust legal foundation for the likely federal approval of the mine to be challenged in a follow-up court case.
Swedish climate activist Greta Thunberg congratulated the school strikers for their win, describing it as "a huge win for the whole climate movement".
Wins like this are a promising step forward because they give confidence to climate activists to continue campaigning. We should never put all our eggs in the "legal action" basket, but equally we should recognise that these kinds of legal precedents can open the door to further victories.
This ruling should be seen in the context of the slew of climate strike protests during 2018–19, culminating in the huge September 20 climate strikes of 2019.
Big protests swept all major cities and various regional centres as part of that global day of action, in what will be remembered as one of the largest political demonstrations in Australian history.
School strikers once again took to the streets on May 21, mobilising thousands.
Although the court system claims to be politically independent, time and again at state and federal levels it rules in favour of the fossil fuel industry because laws are made with corporate interests in mind. The courts are one component of institutional corporate rule.
But successive mobilisations of students and workers fighting, literally, for their futures, sends a powerful message to parliaments, law courts and boardrooms that we will not tolerate inaction on the climate emergency. Criticism of the system reached a high in 2019.
Such protests challenge governments' decisions to invest in, and approve, fossil fuel megaprojects which, when stripped of management speak and lip service about "environmental offsets" and "scope 3 emissions", are throwing fuel on the climate emergency fire.
Australia is one of the world's leading climate criminal countries: Climate Action Tracker has rated the country's climate action to meet the Paris Agreement as "insufficient".
Arguing that legal action insufficient to meet our climate goals does not downplay the work of progressive legal practitioners, who mostly work pro bono, and who know how to test laws and set new precedents.
Progressive lawyers also play an important role defending climate protesters against attempts by the state to hand down ridiculously big fines and even jail time for the "crime" of protesting against the destruction of our future.
However the government and coal industry will never be stopped just by court rulings. No doubt they will consider legislative change or other means of undermining, side-stepping or ignoring this latest court victory. The NSW government has a long record of changing laws after environmental victories in court, and the federal government may follow suit in this case.
But every such step they take only adds potential fuel to the rising tide of dissent.
Just because the federal government has the power to move the legal goalposts does not mean it can act with impunity.
If Ley approves the Vickery expansion, despite the court's findings, there will likely be a High Court challenge. The ruling may also give rise to further litigation against fossil fuel corporations and governments who expand fossil fuel production.
A rising tide of people power with deep roots and solid bones has the potential to shake the system to its core.
The ongoing campaign for a safe climate is a marathon. We need to keep mobilising, in big numbers in the streets, because only this has the potential to force a break between government and the fossil fuel lobby.
This would be just what the doctor ordered.
[Zane Alcorn is a member of the Socialist Alliance.]