Oppose Qld Labor's Joh 2.0 anti-protest laws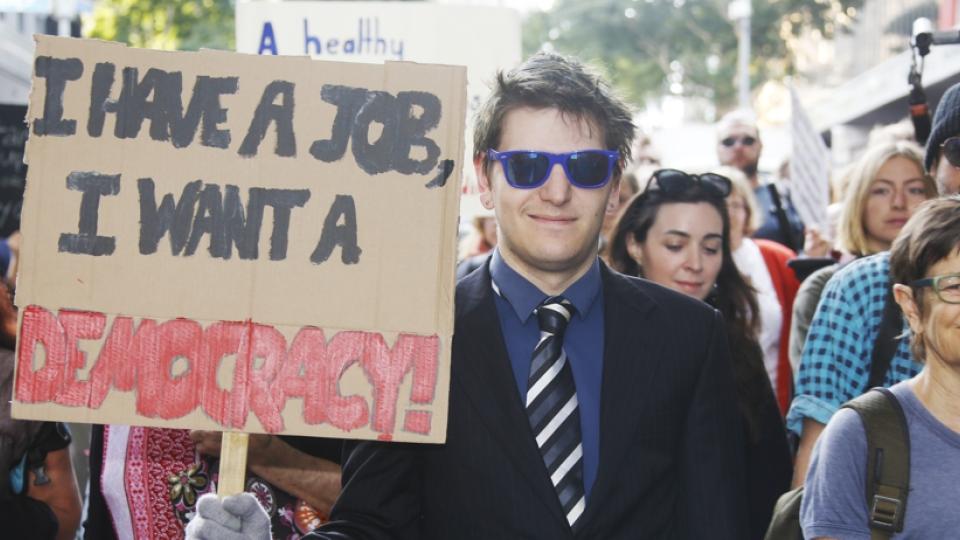 The Queensland Labor government's decision to enact new anti-protest laws to protect new coal and gas projects is a reminder of who the government believes it is in power to serve.
Premier Annastacia Palaszczuk's justifications for giving police more powers to treat protesters like criminals are eerily similar to those of notoriously authoritarian Nationals Premier Joh Bjelke-Petersen.
Strip search powers to look for devices used to lock on to machinery and roads is a particularly nasty element of the government's new suite of anti-protest measures.
Palaszczuk tweeted on August 19: "Blocking roads is dangerous, reckless, irresponsible, selfish and stupid. The sinister tactics some protesters are using are dangerous and designed to harm."
Her efforts to make out that those who disagree with Adani's coal mine in Central Queensland are somehow "sinister" reflects just how much influence the coal oligarchy wields over Queensland Labor.
Its recent move to adopt a more "coal friendly" platform, explained as an attempt to connect to workers, is further evidence of its close ties to the industry.
A 2018 Grattan Institute report showed the growing influence of the mining lobby on major parties. It found that there had been 191 contacts between the state government and lobbyists hired by the industry. It also noted the sector had donated $598,822 to the two major parties between October 2012 and April 2018, and secured 66 meetings with the premier, deputy premier or treasurer in the 15 months to March last year.
A follow-up analysis by the Guardian found a further 23 meetings between paid lobbyists for the mining and energy sector and the Queensland government since April last year. That included lobbyists hired by Adani, who met with a department head, but listed the subject of the meeting as "commercial-in-confidence".
The Queensland government's approvals to expand coal mines in the Bowen and Surat basins, and final approval to the Adani coal mine, are more evidence its main interests lie with mining corporations.
As are its decisions to release more land in the Bowen Basin for coal exploration, and essentially declaring the whole state fair game for coal seam gas exploration.
But as more people realise just how short the time frame to reduce carbon dioxide emissions is, they are also becoming active. This has led to more actions being organised which, in turn, is attracting a greater range of people.
Palaszczuk may try to make out that these people are "sinister", but the reality is they are ordinary people who, perhaps, have been prompted to protest by their children or grandchildren who are already taking peaceful, disruptive action. They sense all other avenues have been exhausted and that this is their best bet to get their views across.
And it is working, because the coal lobby is furious. Time is money, and delays at mines and other critical infrastructure sites eat into profits.
That is why they want to deter those thinking of joining protests.
They also want to jail activists who protest on private land or commercial property. This is aimed at animal rights activists protesting factory farming, but it could easily be extended to target activists staging sit-ins at mining contractors' offices and mine sites.
Palaszczuk is facing dissent on these new laws, but has so far refused to reconsider her government's slavish pro-mining agenda.
She would do well to reflect on the outcome of the Bjelke-Petersen-era repression, which was directed at the mass community-led campaigns against symbols of Apartheid in South Africa, uranium mining and the sacking of the South East Queensland Electricity Board workers for defending their rights at work.
The police laws did not succeed, Apartheid ended and uranium is still not mined in Queensland.