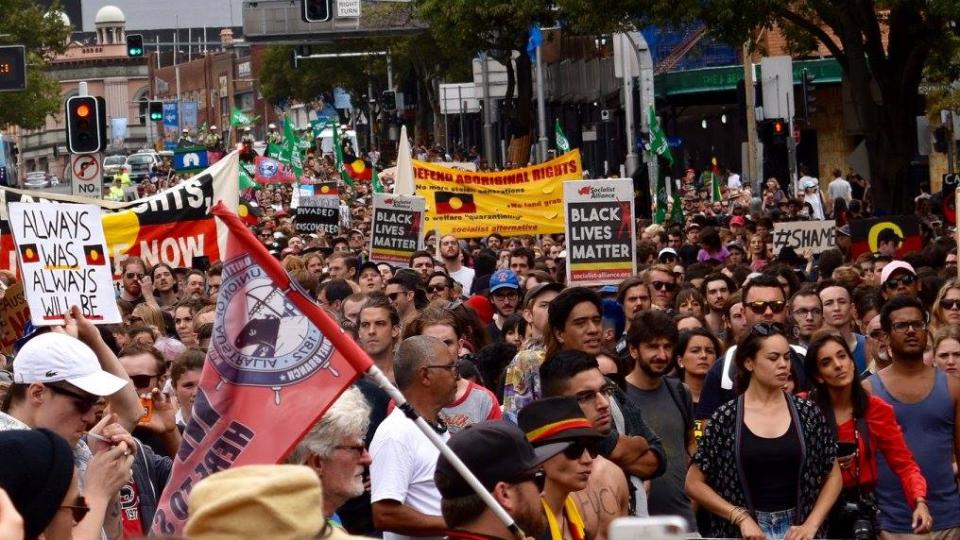 If you've had the misfortune to watch former Labor leader Mark Latham's video on changing the date of Australia Day you'll know how desperate the debate has become.
Latham presents a world of full surveillance, where citizens live in fear of their secret lamington and lamb celebrations of our wide, brown land being discovered by the unseen politically correct police — followed by a call by Alice Springs town councillor and Warlpiri woman Jacinta Price to not be ashamed to celebrate Australia's national day.
It takes a special sort of individual to take a debate about moving a national holiday and turn it into creeping fascism — but if anyone can do it, it's Latho.
And sure enough the Daily Telegraph and other sections of the tabloid media were able to find Aboriginal leaders like Indigenous Advisory Council member and Bundjalung man Warren Mundine to support his position.
Mundine told 2GB on January 16: "This all needs to stop. It irritates me that every time it comes up, every year, you get the same old people coming out and arguing the same old cases, trying to divide the country when we should be trying to work together."
And, treating him like the secret Prime Minister, 9 News reported on January 1 that Tony Abbott condemned the proposal by the Greens to change the date, saying there were 364 other days in the year to be "politically correct. "Why can't they just accept that January 26 is the best available day to celebrate all that's good about life in Australia," he said.
Greens leader Senator Richard Di Natale said there should be a national holiday when Abbott retired from parliament. "That would bring the country together like few other national days," he joked.
The November 26 decision by radio station Triple J to listen to its audience and change the date of its Hottest 100 from Australia Day to January 27 seemed to mark a shift in public consciousness.
It showed that the nationalist tide — which forced celebrations on the day the First Fleet arrived in Botany Bay and Captain Arthur Phillip claimed the country on behalf of the British Empire and began the dispossession and genocide of Aboriginal people that followed — was waning at last.
Changing the date would not change the nature of Australia Day. It would not undo the genocide and dispossession that Australia is built upon. But it would begin the process of telling the truth about what happened in Australia's founding.
If we can begin that, the more substantial changes to shift the balance between Black and white Australia may be more likely to succeed. We could begin to move forward on the question of a Treaty, or the very modest proposals in the Uluru statement.
But recent history shows the conservatives who hold political power in Australia will fight tooth and nail against any such move forward and they will fight it first through symbolic positions, such as Australia Day.
When promoting the campaign to change the date, Greens MP Lidia Thorpe told 9 News on January 16: "We can't celebrate a day that marks a day of invasion, a day of mourning. This country needs to own the truth of what's happened to its First People. We need to own that we were invaded and atrocities occurred."
Responding to the "Save Australia Day" campaign, Murri elder and Socialist Alliance spokesperson on Aboriginal affairs Sam Watson told Channel 9's Today: "It stifles debate and it polarises people, because January 26 is a significant day. It is the day on which for many decades Aboriginal and Torres Strait Islander people have been mobilising across the nation to remind white Australia that to this very day there has never been a treaty or an agreement between the British crown and the Aboriginal nation.
"For a number of years senior people across our community have looked at June 3, which is the anniversary of the day in 1992 when the High Court handed down the Mabo decision. And the Mabo decision, as history shows, brought together both sets of laws and delivered very real outcomes for Aboriginal and Torres Strait Islander people.
"Or we could go back to the fact that Australia came into being as a nation on January 1, 1901. That would be a more appropriate day. Because January 26 just commemorates a day in which a small flotilla of British ships landed in Port Jackson, back in 1788, to found the colony of New South Wales.There was no thought about Australia Day back then."
Larrakia elder and Darwin activist June Mills told the Guardian after last Australia Day: "I cannot deny people that want to celebrate, but what are you actually celebrating? Because at the moment when I look at it as an elder from my community, you are celebrating 229 years of murdering our people, criminalising our people.
"If I was going to change the date, it would be to June 3, which is the day when terra nullius was struck down — that's a day worth celebrating. Because all the lies we've suffered from began with the lie of terra nullius — that this was nobody's land — which was a doozy."
[Peter Robson is a Socialist Alliance activist in Darwin.]
Take action on Invasion Day:
Adelaide
10:30am, Parliament House
www.facebook.com/events/160421727932518
Brisbane
10:30am, Queensland Parliament, march to Musgrave Park
https://www.facebook.com/events/1525870867508433
Canberra
12 noon, Garema Pl, City
www.facebook.com/events/341298233046877
Darwin
12 noon, Parliament House
www.facebook.com/events/321946951647889
Hobart
11:30am, 198 Elizabeth Street to Parliament Lawns
www.facebook.com/events/2103902473178663
Melbourne
11am, Parliament House
www.facebook.com/events/316014045576431
and
1pm, 2-18 Spring St, Melbourne,
www.facebook.com/events/140354309906525
or
12 noon, Belgrave Survival Day, Bothwick Park, cnr Benson St & Blair Rd
www.facebook.com/events/143435449716887
Perth
1pm, Forrest Place
www.facebook.com/events/518472918524250
Sydney
9:30am, Redfern Park marching to Yabun
www.facebook.com/events/163549537496217
or
10am, The Block, Cnr Caroline and Louis Sts, Redfern
www.facebook.com/events/391724361255983