We must #StopAdani if we're to save our climate future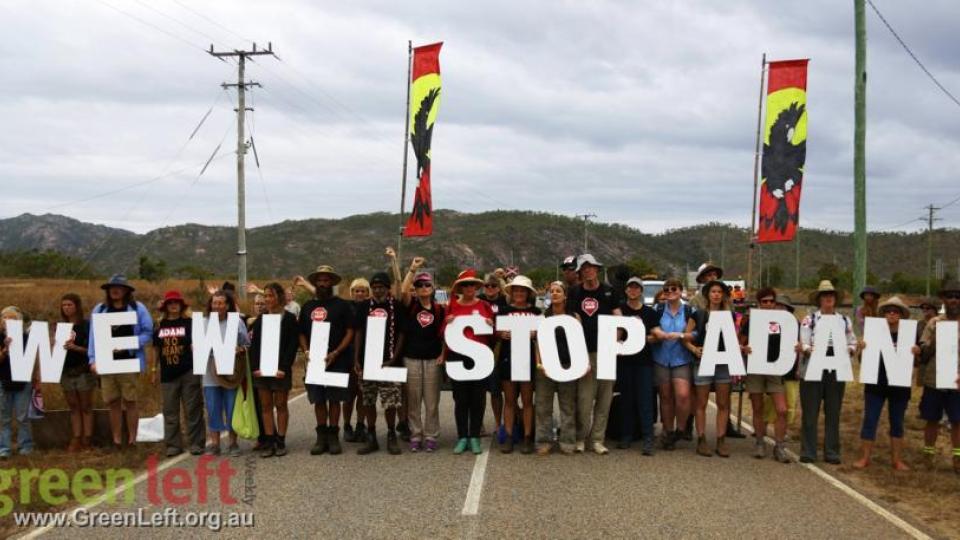 I had the privilege of spending five days with more than 100 activists from around the country taking front-line action to stop Adani's Carmichael coalmine in the Galilee Basin from being built. 
We camped just outside Bowen, about 1000 kilometres north of Brisbane, on the Whitsunday coast. A large proportion of the activists were women. There were also babies, kids, campus activists, experienced veterans of campaigns against coal and unconventional gas mining, forest blockaders and Knitting Nannas. 
Experienced and new activists ranged in age from mid-20s to mid-70s. Most were already involved in local #StopAdani campaign groups and some had been inspired by the recent #StopAdani Summits to take action for the first time.
Local elders and traditional owners from the Gia and Juru peoples welcomed us to Country and, together with local activists from Whitsunday coastal communities directly affected by the mine, provided support and leadership.
There was a strong sense of purpose in the camp. Activists understood that the stakes are high. We have to build the kind of campaign that can stop this mine from ever being built, if we're to protect the reef, our water, and land — including wetlands sacred to traditional owners.
The Galilee Basin has about 250,000 square kilometres of thermal coal. If developed, Australia's carbon emissions would more than double, all but guaranteeing runaway climate change. With stakes this high, the camp set about organising a range of actions designed to attract media interest and to inspire support and build the campaign for the battles ahead.
Throughout the week, people were prepared to protest, trespass, occupy and disrupt in peaceful acts of collective civil disobedience, many, like myself, risking arrest. These actions were well organised and inspiring.
There's still some work to be done to get locals onside and to expose the lie about a "jobs bonanza" that has been promised by Adani and the government's spin doctors. Communities are susceptible to the spin doctors, who are exploiting the economic insecurity of places like Bowen, which are seasonal economies, reliant on agriculture and tourism and still recovering from the damage caused by Cyclone Debbie.
If we are to win the argument around sustainable jobs we must fight for sustainable, alternative job creation projects. One such project is the $100-million solar photovoltaic farm in nearby Collinsville — formerly a coalmining town. Construction work has now started on the 42.5MW project, which is expected to produce enough energy to meet the needs of 15,000 homes in the region.
Listening to the government and opposition debate the need for a serious renewable energy target is as frustrating as listening to the "debate" on marriage equality — politicians on both sides are stuck in the dark ages, carrying around lumps of coal, pandering to mining interests, while the planet moves closer to climate disaster.
We can't rely on the fossil fools in parliament. It is going to take people power to stop Adani once and for all, and to move to a safe climate future.
That means we need to multiply our numbers and our efforts a hundred-fold if we are to fight the power of mining interests and thwart the combined efforts of the Queensland Labor government and the federal government to fund this mine.
The #StopAdani campaign has had some important victories already, including forcing the big four banks to step away from funding the project. This is a campaign that can and must be won.
In the words of the activists from Frontline Action on Coal: "We are a diverse group of people with a common goal: to end coal and move to a #cleanenergy economy.
"We are from all parts of Australia, and we are networked with #climatejustice movement all over the world.
"Peace and equality, social and economic justice, government for the billions not for the billionaires.
"We are old and young, from all ethnicities and genders. We work across many industrial sectors and we come from diverse cultural and religious traditions.
"Here we all are, together, united to #StopAdani. Join us."