Corporate tax cuts defended by lies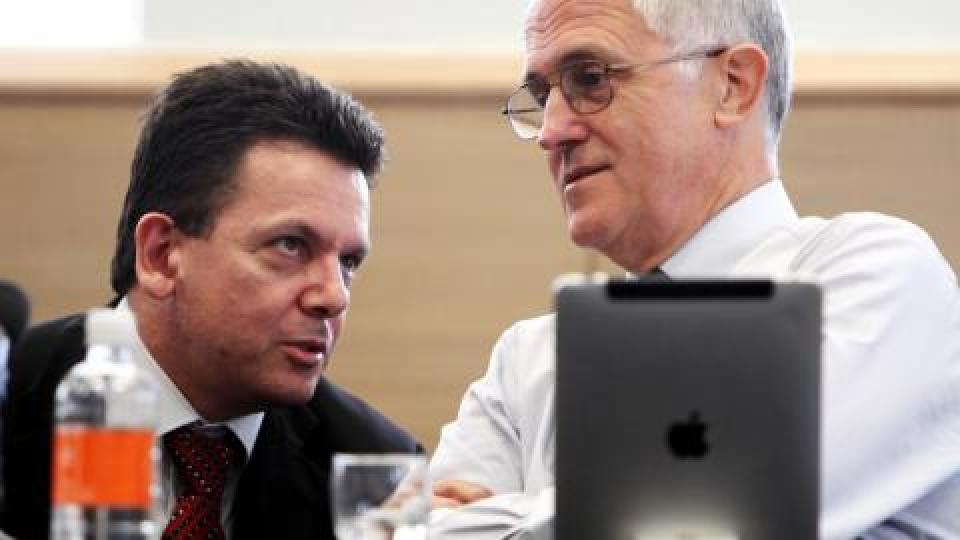 According to federal government ministers, Medicare is unsustainable. The aged pension is also unsustainable. The NDIS is unsustainable. Many other social services are unsustainable. However, billions of dollars of tax cuts to big Australian companies are perfectly sustainable.
In the short term, the government will be stealing $5.2 billion from the public purse and handing it over in the form of tax cuts to companies with an annual turnover of up to $50 million. In the medium term the cuts go further and will cost $24 billion.
There are no requirements on the companies receiving this corporate welfare to employ any extra workers or to make any new investments.
Yet again, the Malcolm Turnbull government is looking after corporate Australia while pissing on ordinary people. On this occasion he had the assistance of the Nick Xenophon Team who did a "dirty deal" to extract minor concessions to sweeten this highway robbery.
The Australia Institute's Richard Denniss wrote that there is no economic modelling to support this policy. "On an empirical level," he wrote, "the treasurer likely knows that were Treasury to model the economic impact of the new tax cuts for small and medium-sized businesses with turnovers of less than $50 million they would find that there aren't any."
Denniss makes this claim based on recent modelling by Treasury regarding proposed tax cuts for all businesses. Treasury found greater foreign investment flows into Australia were the main factor driving increases in GDP. Dennis said this was unlikely to come from cutting taxes on comparatively small businesses.
"It's pretty clear that if Treasury were to model the economic impact of last week's tax deal they would find little, if any benefit," he wrote. "Hence Mr Morrison's determination for Treasury to not examine the new plan."
It must be noted that the government is selling these tax cuts using dishonest arguments. Finance minister Matthias Cormann told the media: "Many businesses across Australia and their employees will benefit from the increased investment, the increased job security and the increased opportunities for more jobs and higher wages that will come from legislating this plan."
First, the claim there will be higher wages as a result of this company tax cut is an outright porkie. Any unionist who has negotiated a wage claim knows that a major company will never give away a single cent more than they have to regardless of how well the company is doing.
Second, the notion that job security or "more jobs" will come from corporate tax cuts is laughable. Corporate Australia has a long history of quite happily taking government subsidies in various forms — including direct handouts — while drastically cutting jobs at the same time. This applied in the steel industry, car manufacturing and other industries.
Finally, Cormann, more subtly but just as dishonestly, identifies the interests of company owners with their employees. The fact is that workers have fundamentally different interests to their employers. Any "benefits" received by some workers from this deal will be entirely accidental. But the billions of dollars that will be stolen from the budget — most likely taken by cutting government programs that actually benefit people — could undoubtedly have been spent many times over in ways that would benefit ordinary people.
Also supporting the tax cuts was the Business Council of Australia. There was no altruism in their support. Their members will be the primary beneficiaries.  
The BCA also used dishonest arguments: this measure is a "historic step towards rebooting Australia's international competitiveness and prosperity" it said in a statement.
Most Australians lose from the attempt to be internationally "competitive". When the rhetoric is stripped away, this always means an attempt to boost the profits of the local corporate elite. Ordinary people would be more "prosperous" if government policy was consistently aimed at redistributing wealth from the corporate elite to those who need it most.
The fairest way to do this would be to take the big banking, mining, energy and other corporate empires out of private hands and bring them into public ownership. In that way they could be run as public services improving everybody's lives.
Nick Xenophon may be congratulating himself on doing a deal, but it is a deal that is against the interests of ordinary people in this country. Funding solar thermal is definitely desirable. So why not spend $5.2 billion on solar thermal instead of handing it out for free to corporate Australia and pretending that $110 million is a major win?
The one-off payments to pensioners will no doubt be appreciated by those who receive it. However, it is a one-off payment against a recurring handout to business.
We need fundamental wealth redistribution and government policy that looks after the 99%. That will not come from the major parties and deals from Xenophon.
It can only come when we organise and fight for it.