If renewable energy is cheaper, why are we investing in fossil fuels?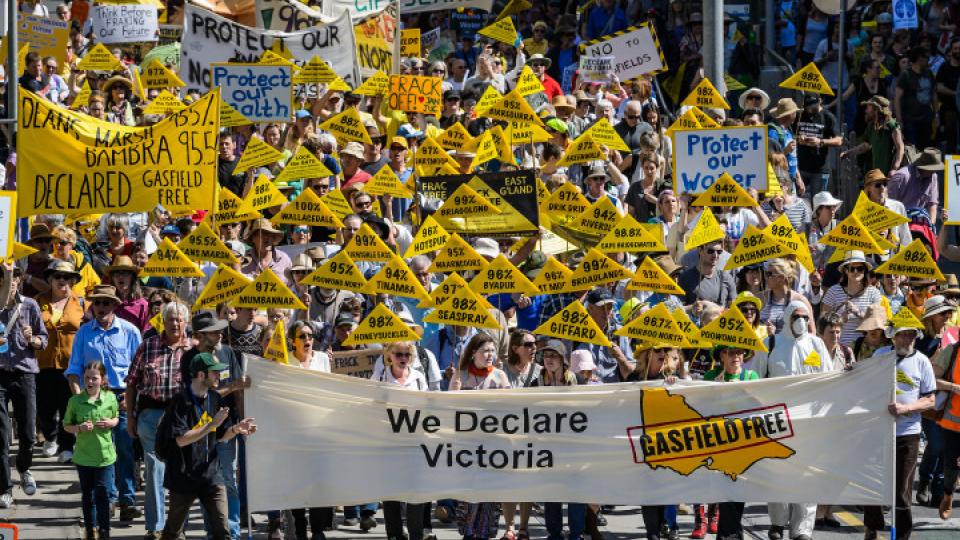 Generating electricity using renewable energy is now cheaper than using fossil fuels, but mining companies, banks and governments in Australia continue to invest significantly more in coal, oil and gas than wind and solar.
A study by Market Forces shows Australia's big four banks — Commonwealth, ANZ, Westpac and NAB — invested $10 billion in fossil fuels last year, 10 times more than they invested in renewable energy.
ANZ is the worst offender, with a 14:1 ratio of investment in favour of fossil fuels. Notably, it is bankrolling the Adani Carmichael coalmine in Queensland.
Governments and corporations often argue that fossil fuels cost less and renewables lead to higher electricity prices. This is false.
In the past five years the cost of solar has dropped by 80% and wind by one-third, according to a report by the International Energy Agency. This price drop is expected to continue and, unlike the finite resources of coal and gas, there is unlikely to be a sudden scarcity of wind or sun.
The Australian Industry Group has said that continuing with a policy of supporting coal will lead to higher energy prices. A quick comparison between Queensland, which has invested more in fossil fuels, and South Australia, with a stronger renewables policy, shows rising electricity prices in Queensland. 
It has now been proven that renewable create more jobs, even before taking into account the jobs lost to the destructive nature of fossil fuel projects in areas such as tourism, agriculture and conservation.
A report by 350.org shows that in Queensland alone, the latest renewable projects are leading to more than 2200 jobs with government investment at $71.4 million. In contrast, Adani, at which the government is throwing $1 billion, is expected to deliver fewer than 1500 jobs.
In the wake of the South Australian blackouts, the federal government criticised renewable energy for being unreliable and a risk to energy security compared with fossil fuels. In fact the opposite is true: renewable energy is more reliable than gas. AGL Energy admitted to a Senate enquiry on March 6 that gas, not renewables, was the cause of the blackouts. But it still managed to conclude that there needs to be more investment in gas.
In New South Wales during the February heatwaves, amid a rise in demand for power, numerous gas fired power stations had to shut down as they could not cope. Renewables took up the slack and prevented widespread blackouts.
People are no longer buying these unreliability lies. A study published in the Guardian this year revealed two-thirds of people support renewable energy and do not think it is a threat to energy security.
One reason given for the lack of investment in renewable energy by industry lobby groups is uncertain and changing government policy. They often refer to market mechanisms such as carbon taxes.
Government policy in this area is actually quite clear: you only have to look at the $1 billion they have given to Adani. Federal government policy is in league with the fossil fuel industry.
Governments are not pursuing coal because of international pressure. Renewable energy is expected to grow faster than fossil fuels over the new few years, with China leading the way. 
There is ample evidence that people across Australia want a transition to renewable energy. Thousands of people from diverse communities across Australia have come out to global people's climate marches. Communities have been taking action against climate-destructive projects across the country, notably the campaigns against unconventional gas fracking that have united communities.
The movement to divest from fossil fuels, now worth $7 trillion globally, is growing in Australia. More than 30 councils along with super funds and universities across the county have divested so far.
In the wake of federal funding for Adani, The Australia Institute commissioned a poll asking people if they preferred government investment in renewables or coal infrastructure: 75% supported renewables.
With renewables being cheaper than fossil fuels, better job creators, more reliable, becoming internationally adopted and more popular — even before we consider the urgent need to tackle climate change — surely Australia's banks should be investing in renewables.
Instead, they are investing billions in constructing major new fossil fuel projects, such as an oil base in Norway, the Adani coalmine, a gasfield in PNG and the Browse basin gas field in WA, to name just a few examples. 
Once these projects are built it will be even harder to roll them back, the energy produced will be more expensive than renewables and billions of dollars that could have gone to renewables will have been wasted.
Why do they do it? The simple reason is to make a profit. Under the free market, every market mechanism, such as carbon offsets, leads to new ways of making a profit. Australia exports more coal than it uses and exported coal will not feature on any of the market mechanisms to reduce emissions in Australia. 
The fossil fuel industry is also a mechanism for extremely wealthy corporations, with the help of their armies of lobbyists and media ownership, to funnel money from the public coffers to themselves via government subsidies. Even if we increase our renewable energy generation, as long as there is money to be made from fossil fuels they will be pursued. 
This leaves us only one choice if we are serious about taking action on climate change and swiftly moving to 100% renewables — take the banks and energy sector into public ownership. They have shown they will continue to invest and expand fossil fuel projects, no matter the cost to the planet.
In doing so we can have a more efficient energy grid, create jobs, make electricity a public utility, stop destroying communities and the environment and finally be taking serious action on climate change.
[Zeb Parkes is a climate and refugee activist and a member of Socialist Alliance.]