Duncan Storrar skewers govt, Murdoch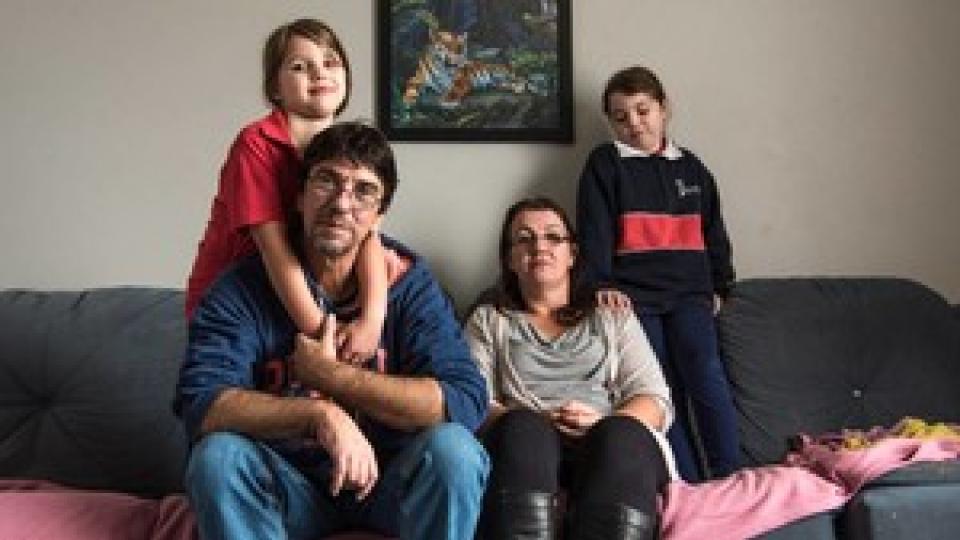 Duncan Storrar, the man who dared to ask a question about tax thresholds on ABC TV's Q & A program on May 9, has thanked Australians for their support and criticised the Murdoch press after he was villified in News Corp newspapers the following week.
A GoFundMe crowdfunding campaign in the following days raised more than $60,000 for Storrar, after he questioned the Coalition government's tax policy, introducing himself as someone with a "disability and a low education".
"You're gonna lift the tax-free threshold for rich people. If you lift my tax-free threshold, that changes my life. That means that I get to say to my little girls, 'daddy's not broke this weekend. We can go to the pictures'," he said.
"Rich people don't even notice their threshold lift. Why don't I get it? Why do they get it?"
Storrar told the ABC's Media Watch in a written statement on May 16 that the money raised would go into a trust fund for his daughters' education and some would be given to charity.
Storrar thanked the "wonderful people of Australia" for supporting him and slammed some of the reporting of his story. He said there were lessons to be learned from the attacks he had faced.
"If a person shows the powers [that] ... be [are] out of touch people [then] ... they will be dropped, probed and attacked with no thought to the mental wellbeing of their children," he said. "There have been serious consequences from the decisions that the News Corp press has taken in my so-called story."
He said he was attacked in the media despite warning journalists he had mental health concerns.
"Knowing this the right-wing press decided to write the stories they did without a care for me or my (now ex-partner's) mental health.
"As someone who is training to be a mental health advocate I ask, does News Corp have a mental health policy when it comes to dealing with people like me? Yes, they do, they have thrown this out to show the world their power."
Storrar said the question he put to the Q & A panel regarding tax cuts for lower income workers was still valid: "There are a whole class of people out there, yes we might have records, yes, we might not be perfect, but society has forgotten us. The politicians and the media use us whenever they want to show why they need to be elected but never do anything to help our plight. We are breaking down here and life hasn't been this hard since before [Labor Prime Minister Gough] Whitlam for the underclass."
In reply, Minister for Small Business and Assistant Treasurer Kelly O'Dwyer noted that it was middle income earners on up to $87,000 a year who gained the most from the increase in the top tax threshold up from $80,000.
But that increase also benefits top income earners — it's just that they don't notice it much!
Bracket creep pain
Australian Industry Group CEO Innes Willox queried if Storrar, as a minimum wage earner, was even paying tax. Storrar correctly replied: "I pay tax every time I go to the supermarket, every time I hop in my car."
The point is that so-called "bracket creep" affects low-income earners more than those on average or higher incomes. The current tax-free threshold of $18,200 was increased in 2012 by the Gillard Labor government, but has not been adjusted for inflation since.
Socialist Alliance favours tackling bracket creep for low-income earners, with a substantial rise in both the $18,000 tax-free threshold, and the next income threshold of $37,000, when the tax rate currently rises from 19c to 32.5c in the dollar. Both the tax-free threshold and tax brackets should be automatically adjusted with the cost of living to eliminate bracket creep.
Socialist Alliance calls for a substantial reform of the taxation system to ease the tax burden on poor people and to make the rich pay its fair share. This would include: the abolition of the GST; institutionalised measures to tackle "bracket creep"; an increase in the tax free threshold; and a substantial increase in the income tax rates for very high income earners (for example those earning over $150,000 per year).
Our policy is to abolish the GST entirely, so that Storrar and other low-income earners are not hit by this blatantly unfair tax on basic consumption, which affects the poor severely.
Socialist Alliance calls for an immediate increase in the company tax rate to 49% — its level up until the 1980s. Turnbull's plan is to cut company taxes from their already modest 30%, to 25% over 10 years.
Australia has a tax treaty with the US that says US companies paying tax here have to make up any tax difference at home. The US company tax rate is 35% per cent, while Australia's is now 30%. Using data from the US Internal Revenue Service, the Australia Institute found the planned company tax cut would transfer more than $11 billion from Australian to US tax coffers.
In addition, the government was finally forced to admit that this cut in company tax would cost the national budget $48 billion over 10 years. Meanwhile, reports have shown that up to 600 big corporations pay no tax at all in Australia!
That includes the Murdoch media empire, which received a tax refund of $777 million recently, and arranges to pay little or no tax on its Australian News Corp operations.
Tax breaks for the rich
In light of the revelations in the Panama Papers and other sources, Socialist Alliance supports serious legislative and Tax Office resources being allocated to tackling corporate tax evasion, both at home and overseas in collaboration with other countries — not the pathetic efforts proposed in the Coalition government's recent federal budget.
The abolition of tax breaks for the wealthy, including negative gearing of investment properties, capital gains tax concessions, and other perks are essential in any fair, progressive tax system of the future.
A progressive tax policy must also involve the abolition of the massive public subsidies to the fossil fuel industry, and other polluting and exploitative corporations.
Such a genuine progressive tax and social policy must also mean a massive expansion of community rights to an adequate income, unemployment and pension payments and public housing.
Duncan Storrar — who courageously stood up to the powers-that-be, including the Murdoch media monster — and all those on low and medium wages and incomes, deserves a fair go from the tax system, as well as from the wage, welfare, health and housing system.
Socialist Alliance is campaigning in this federal election campaign for the rights of all working people, whether fully or part employed, or currently unemployed, to a reasonable income, low taxation, and substantial support from the social welfare system.
Tax the rich, not the poor! For a tax system which supports the 99 per cent, not the 1 per cent!