Socialist Alliance 15th national conference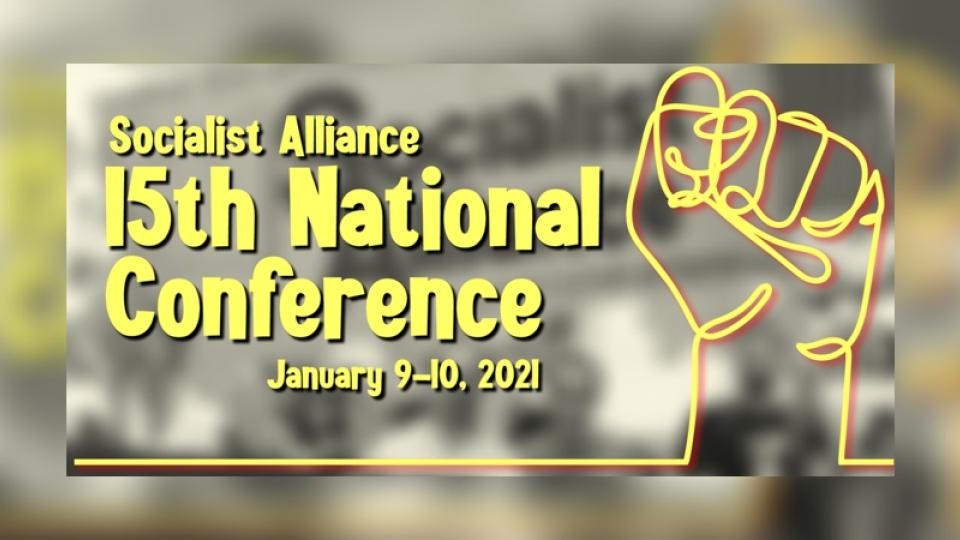 The Socialist Alliance national conference will be held January 9-10 online (with in person hook-in points in most cities).
The conference is for members and supporters and will focus on assessing political developments and planning future directions for the Alliance.
Highlights of the first day will be a presentation about US politics by Isaac Silver (member of the Democratic Socialists of America) and greetings from Saleh Maslem (member of the co-presidency council of the Democratic Union Party (PYD) in Rojava)
If attending, make sure you register online here.
Agenda items include:
Saturday 9 January

11am AEDT (8am WA) Conference open

11:15am (8:15am) Revolution in Rojava
* Greetings from Saleh Maslem, member of the co-presidency council of the Democratic Union Party (PYD)

11:30am (8:30am) International politics panel:
* International politics in 2020 & 2021 (30 mins) (Susan)
* Left response to Biden's corporate cabinet and Trump's coup attempt (20 mins) (Isaac Silver)
* Is the Latin American 'Pink Tide' advancing or retreating (10 mins) (Fred Fuentes)

2:45pm (11:45am) Australian politics and campaigns panel

Sunday 10 January

11am AEDT (8am WA) Organising for socialism: (Members only)
[In addition to online connections, the conference will be accessible at the following locations:]
Adelaide: Adelaide Activist Centre, Room 5, Level 1, 9a Hindley St, Adelaide
Brisbane: Albion Peace Centre, 102 McDonald Rd, Windsor
Geelong: Geelong Trades Hall, 127 Myers Street, Geelong
Melbourne: Melb Resistance Centre, 5/407 Swanston St, Melbourne
[NB: These locations are to be confirmed and others may be added to this list.]