All out for protests against "Team Abbott"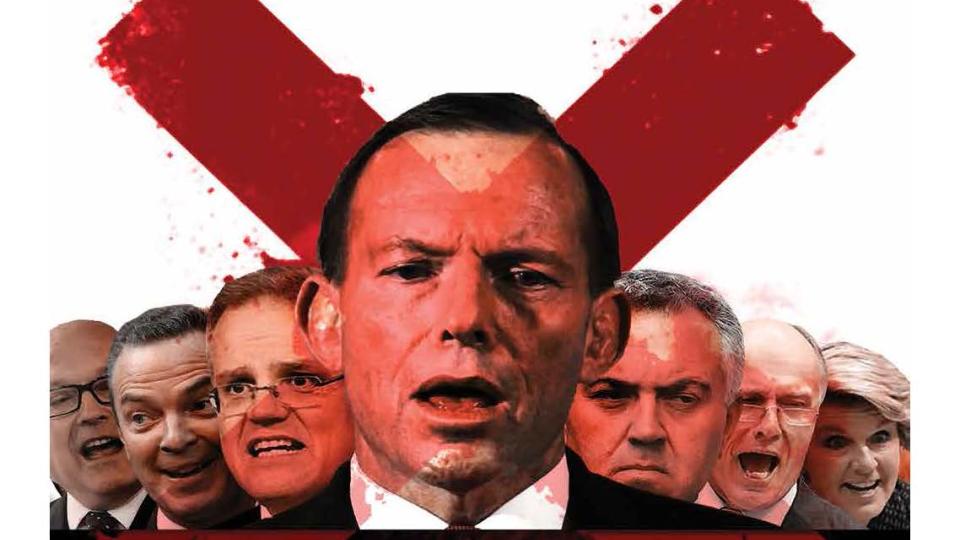 The Socialist Alliance is proudly supporting the protests against "Team Abbott" on this weekend that have been organised by March Australia. Over $40 billion in budget measures are currently held up in the senate with opposition parties indicating that they will not be supported.
The government is feeling the pressure and offering some token compromises in order to get their main agenda items through. In this context, community opposition remains critical to defend health care, education and welfare rights among other things.
For this reason, we are strongly urging our supporters to attend these demonstrations if you can (details below). It is also important that we build an ongoing opposition movement to the pro-corporate agenda which Abbott serves no matter which government is pushing it at any point in time.
One invaluable way of doing this is to take out a subscription to Green Left Weekly as an information source and as a meaningful act of solidarity in our efforts to build a better world.
Adelaide: 11:30am, Sun 31 August, Victoria Square to Parliament House March in March Adelaide 2014
Albury/Wodonga: 11am, Sat 30 August, Rally at QEII Park, Albury Albury Wodonga Region
Armidale: 11am, Sun 31 August, Rally in front of the old Court House March Armidale
Bathurst: 10:30am, Sun 31 August, Machattie Park March Australia Bathurst
Bega Valley: 12pm, Sat 30 August, gather at the War Memorial, march to Littleton Gardens March Australia Bega Valley
Brisbane: 11am, Sun 31 August, Queens Park March in March Brisbane 
Broken Hill: 10am, Sun 31 August, Town Square, Argent St March Australia Broken Hill 
Caboolture: 10am, Sat 30 August, The Hub, Caboolture (between King and Haskings streets) March Australia Caboolture 
Cairns: 10am, Sun 31 August, Munro Martin Park March Australia Cairns 
Canberra: 12 noon, Sun 31 August, Garema Place, Canberra City March in March - Canberra 2014 
Coffs Harbour: 11am, Sun 31 August, cnr Marina Drive and Jordan Esplanade, Jetty Foreshores March Australia Coffs Harbour 
Geelong: 12 noon, Sat 30 August, Johnstone Park March Australia - Geelong 
Geraldton: 2pm, Sun 31 August, Edith Cowan Square (Opposite the Court House) March in March Geraldton WA 2014 
Gosford: 10am, Sat 30 August, Carawah Reserve, Central Coast Highway, March to Gosford Waterfront March Australia Central Coast 
Goulburn: 10:30am, Sat 30 August, Belmore Park March Australia - Goulburn 
Grafton: 11am, Sun 31 August, Gather at the river end of Claude St, off Wooli Rd, Yamba March Australia-Grafton 
Hervey Bay: 1pm, Sun 31 August, Meet next to Enzo's March Australia - Fraser Coast 
Hobart: 11:30am, Sun 31 August, Gather Princes Park, Battery Point, march to Parliament House Lawns for a rally at 12 noon March Australia - Hobart 
Horsham: 12 noon, Sat 30 August, May Park, Dimboola Road March Australia Horsham 
Lismore: 12 noon, Sat 30 August, Spinks Park, Lismore (organised by Knitting Nannas Against Gas) March in March Lismore 2014 
Melbourne: 1pm, Sun 31 August, State Library of Victoria March Australia Melbourne 
Newcastle:10am, Sun 31 August, Pacific Park March in March - Newcastle 2014
Perth: 1pm, Sat 30 August, Russell Square, Northbridge March Australia - Perth 
Port Macquarie: 10:30am, Sat 30 August, Westport Park, Port Macquarie March in March Port Macquarie 
Sydney: 1pm, Sun 31 August, Hyde park March Australia-Sydney 
Taree: 1pm, Sat 30 August, Taree Park (Johnny Martin Oval), march to Fotheringham (Queen Elizabeth Park) March Australia Taree 
Toowoomba: 1pm, Sat 30 August, Frogs Hollow, Queens Park March in March Toowoomba 
Townsville: 10:30am, Sun 31 August, Stuart Street Headland, The Strand March Australia Townsville 
Wollongong: 11am, Sun 31 August, Thomas Dalton Park March In March Wollongong 2014  [Please notify the Socialist Alliance if there are any errors or updates in relation to the event information on this page.]