Victorian Socialists for Wills, Cooper and Calwell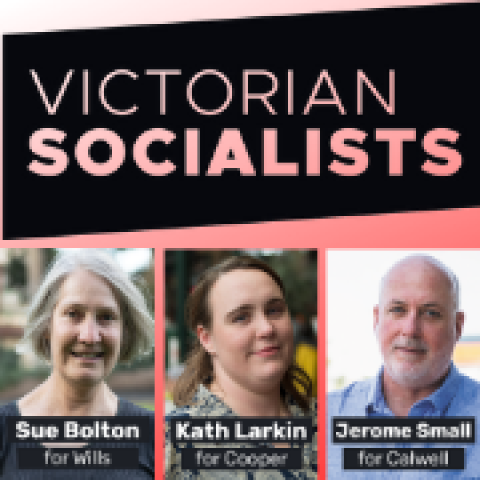 Sue Bolton (Wills) has been a socialist councillor on the Moreland City Council since 2012. She has a strong record of standing up for her community against greedy developers and to demand action on the toxic waste dumps that scar the northern suburbs. Sue initiated the campaign for more trains on the Upfield Line. She also has a proud record of standing with Aboriginal people. In 2017 she was central to the push to cancel celebrations of Australia Day (Invasion Day) in Moreland.
Follow Sue's campaign on Facebook.
Kath Larkin (Cooper) is a rank and file leader with the Rail, Tram and Bus Union. In 2015 she helped organise the first strike in rail in 18 years and from 2014-2017 she was the RTBU Women's Officer to give women a stronger voice in the industry. Today she is active with Unionists for Refugees. Kath has lived in the Cooper electorate for most of her life. She attended Northcote High and today lives in Preston.
Follow Kath's campaign on Facebook.
Jerome Small (Calwell) has been a construction worker for two decades, and a trade unionist activist for his whole working life. He is a long time anti-war and anti-racism campaigner. In the 1980s he led student walk-outs against the nuclear industry & US bases and in the late 1990s he was a leader of the protest movement against Pauline Hanson.
Follow Jerome's campaign on Facebook.
In Victoria, vote 1 Victorian Socialists:
Sue Bolton for the seat of Wills,
Kath Larkin for the seat of Cooper, and
Jerome Small for the seat of Calwell