Stop Israel's genocidal attack on Gaza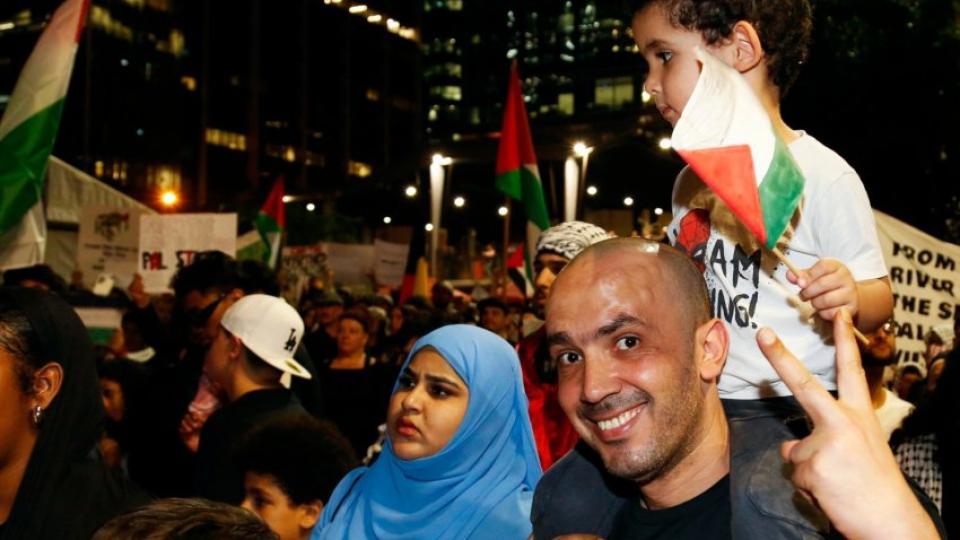 No-one with a conscience can watch Israel's bombardment of Gaza, as 2 million innocent Palestinian citizens seek to flee south within their tiny, open-air prison and not feel horrified.
Israel has occupied the West Bank (including East Jerusalem) and Gaza Strip for 56 years and imposed a permanent blockade of Gaza for 16.
It is now using Hamas' latest attack on nearby Israeli settlements as an excuse to unleash a massive, genocidal bombing campaign and another land grab.
There needs to be an immediate ceasefire and a just political resolution of this conflict.
This means addressing Palestinians' right to self-determination and ending Israel's occupation.
This is why Socialist Alliance stands in solidarity with the Palestinian people and their right to resist and defend themselves against ethnic cleansing, evictions, land grabbing, assaults and massacres.
Since the latest conflict began on October 7, almost every Western journalist has begun their interview of any Palestinian by asking the question: "Do you condemn the massacres of Israelis by Hamas?"
When the Palestinian responds by saying something along the lines of "all civilian deaths are tragic" the Western journalist has tried to hammer them into solely condemning Hamas.
Few Western journalists accept that this current blow-up comes after decades of Palestinian people's dispossession, genocide and untold suffering.
For Western politicians and their mass media mouthpieces, it seems that Palestinian lives do not matter as much as Israeli lives.
Israel's indiscriminate bombing of Gazan civilians and its demand that they leave their homes, when they have nowhere to go, is inhumane.
But Australian, United States and European politicians have been quick to condemn Hamas (and, by implication, all Palestinians) and offer unconditional political and military support to the Israeli government.
US President Joe Biden has repeated unverified and gruesome stories about beheadings of Israelis — a tactic aimed at building domestic support for Israel's even more deadly attacks on Palestinian civilians.
Why is the West ignoring the injustices perpetuated by the Israeli apartheid state?
Why is it ignoring the almost daily killings of Palestinians in the occupied West Bank — 185 this year alone prior to this latest outbreak?
Western governments also ignore Israel's jailing of 500-700 children, annually, simply for throwing stones at Israeli occupation forces. They ignore the demolition of Palestinian homes and the destruction of Palestinian farms. They ignore Israel's brazen violation of international laws.
They do this because Israel is a beachhead for imperialism's interests in the Middle East.
Without Israel to play the role of reliable regional cop, kicking the heads of any country from Egypt to Iran that doesn't play by its rules, imperialism doesn't have a local enforcer.
No matter how brutal its system of apartheid is, the needs of the Israeli state are given full support by the US and its imperialist allies.
British and US imperialism have been covering for and enabling Israel's domestic policies since the United Nations (UN) first divided Palestine into Jewish and Arab states in May 1948.
The UN's justification was that Britain had been promising the Jews a homeland since 1917 and the horrors of the World War II holocaust seemed to prove they deserved it.
But Palestine was not Britain's, or the UN's, to give.
This led to the 1948 war: the Arab states tried unsuccessfully to stop Zionist forces from killing 15,000 Palestinians, but 750,000 people became refugees and 78% of historic Palestine was stolen.
Palestinian resistance from that time onwards has been condemned as unjustified and unreasonable.
Palestinians have been vilified as terrorists, Muslim extremists and antisemites and now they are even being described as "pure evil" and synonymous with the Islamic State.
The West never intervened when Israel broke international law in the 1967 Six Day War, which created hundreds of thousands more refugees.
The West has stood back as the Israeli government has taken more and more Palestinian land, built endless walls and settlements, turned Gaza into an open-air prison and, recently, bombed the tiny refugee camp of Jenin, killing 140 Palestinians.
Israel's invasion of neighbouring countries, such as Lebanon in 1982, did not prompt Western condemnation.
Who can forget the horrific 3-day killing spree and rapes unleashed on Sabra and Shatila by the Lebanese Christian Phalangists armed by, and working with, the Israeli Defense Forces? Three thousand innocent Palestinian refugees and Lebanese civilians were massacred.
For there to be a just political settlement, we need to help build a powerful global solidarity movement with the Palestinian people and against Israeli apartheid.
Effective solidarity means building alliances with those who support justice for Palestine such as the union movement, churches, community groups and Palestinian refugees.
The Anthony Albanese Labor government should call on Israel to stop its genocidal war on Gaza and lift the blockade. It should impose and support a comprehensive arms embargo on Israel. It should oppose ongoing Israeli land grabbing and ethnic cleansing support. And, it should support the right of Palestinian refugees to resettle in their traditional homelands with full rights.
Most Palestinians no longer believe that a "two-state solution" is viable.  Palestine must become an integrated non-racialised, democratic state, where every citizen has equal rights.
What we do in Australia now matters.
This means attending every solidarity rally and defying attempts to criminalise pro-Palestinian protests.
Global solidarity helped end South African Apartheid and it can also help end Israeli Apartheid. The Palestinian people urgently need global solidarity to win their right to self-determination on their own against such a colossal international war machine.
[Sue Bull is a member of the Socialist Alliance national executive.]