Blak Sovereign Movement given a boost by Senator Lidia Thorpe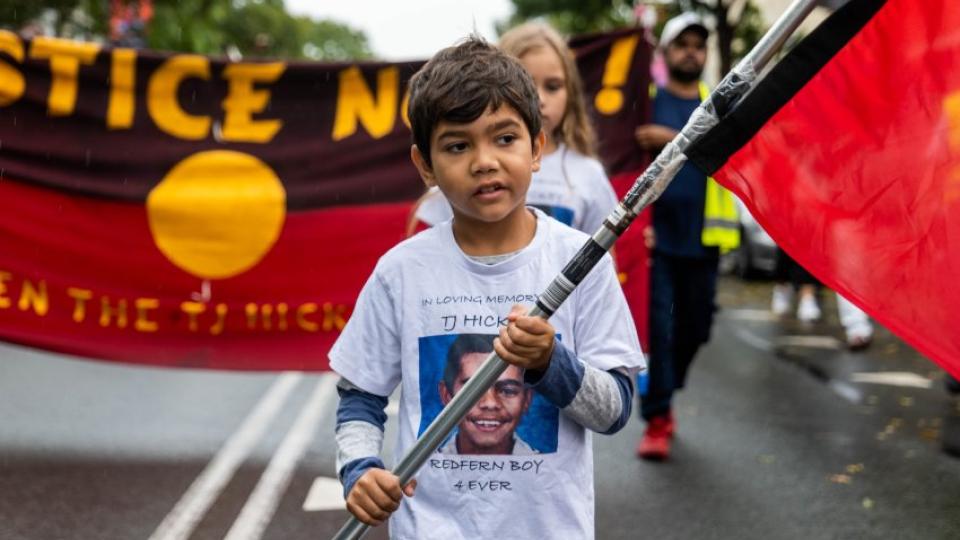 Djab Wurrung Gunnai Gunditjmara Victorian Senator Lidia Thorpe's resignation from the Australian Greens is an opening for a stronger First Nations movement that stands for sovereignty. She said her main motivation for leaving the Greens was "to grow and amplify the Blak Sovereign Movement across the nation".
Her resignation seemed to be motivated by disagreements over whether or not to support a "Yes" vote in the referendum to amend the Constitution to include a First Nations Voice to Parliament. She made a point of saying in her resignation statement that she had not decided her final position on the Voice.
"I have spent my entire life fighting for justice, to defend our Sovereignty to save Blak lives. That is my goal."
Importantly, Thorpe pointed to the primacy of developing activism outside parliament, while using the platform and resources of parliament to build the movement.
Thorpe has long based her work on grassroots First Nations community campaigns. She comes from a long line of strong matriarchs and activists. Edna Brown, Thorpe's great-grandmother, became a community organiser in Fitzroy after being forced off the Framlingham Aboriginal Reserve in 1932.
Alma Thorpe, her grandmother, was a well-known community organiser, who founded the first Aboriginal Health Service in Victoria in 1973 and was involved in the 1972 Aboriginal Tent Embassy protests. Marjorie Thorpe, Thorpe's mother, is another community organiser. Her uncle, Robbie Thorpe, was involved in the Black Power movement for Aboriginal self-determination and the Pay the Rent campaigns.
The Voice to Parliament is proposed to be an Aboriginal and Torres Strait Islander advisory committee. Its recommendations to government will not be binding: in other words, its advice can be implemented or ignored.
Such a small, proposed, reform has been devised as a compromise to attract support from more right-wing parliamentary parties. It is the sort of minimal change that the Anthony Albanese Labor government hopes will demobilise the First Nations movement, so its aspirations are managed through the Voice advisory committee.
This compromise might be needed, but much more than that is more sorely needed.
Thorpe is correct to point out that the government does not need a constitutional referendum on the Voice to take meaningful action. It could immediately resolve the First Nations' lack of housing, implement the recommendations of the Royal Commission into Aboriginal Deaths in Custody and the Bringing Them Home report.
First Nations people are calling for Treaty before Voice. A treaty is a legal agreement that commits the government to carrying out certain measures.
While not necessarily a model, the Treaty of Waitangi in New Zealand, signed in 1840, includes principles of reciprocity, active protection, partnership and equal treatment.
If Thorpe had not made her concerns about the Voice so public and the Invasion Day protests had not taken such a strong position on "Treaty before Voice" many people would not have realised how little Labor is offering.
By taking such a strong position for Treaty and talking about building a Blak Sovereign Movement, Thorpe is exposing that a Voice, on its own, is not enough. She is also using the opportunity to launch a campaign to win real rights for First Nations communities.
First Nations communities have various views on the Voice and the process being pushed by government. But Thorpe and the Invasion Day rallies have really opened up the public discussion, particularly about how a Treaty could help win real rights for First Nations peoples.
Thorpe and the Invasion Day rallies have done what countless grassroots activists have also done to win important rights for oppressed sectors. The experience of workers, women, LGBTIQ people, migrants, environmentalists and many others shows that to win real rights, the campaign has to focus on what is needed and it has to refuse to be satisfied with piecemeal reforms.
Grassroots movements cannot base campaigns on what the government of the day is prepared to offer: they have to mobilise support from outside parliament to win the changes they see as significant.
This is Thorpe's approach: she is simply using her parliamentary position to amplify those voices. All radical MPs should be using parliament in this way.
There are important tactical discussions to be had about the Voice referendum and the right-wing's efforts to whip up a racist consciousness among working-class people.
But, regardless of whether you think you need to vote for the minimal Voice or not, we all need to support the Blak Sovereign Movement in fighting for Treaty.
Thorpe should be congratulated for putting a Treaty with First Nations people on the political agenda and progressives need to support that campaign. Now, she and others need to have an opportunity to outline how a Treaty process would work and what a Treaty or Treaties might involve. We need to fight alongside those activists to help the Blak Sovereign Movement do that.
[A public meeting, hosted by Socialist Alliance and Green Left, titled Sovereignty, Treaty & First Nations Justice will be hosted on February 20 at Drill Hall, Multicultural Hub in Melbourne. It will also be live-streamed. Jacob Andrewartha is a national co-convener of Socialist Alliance and Sue Bolton is a member of its national executive.]