Help keep Socialist Alliance on the ballot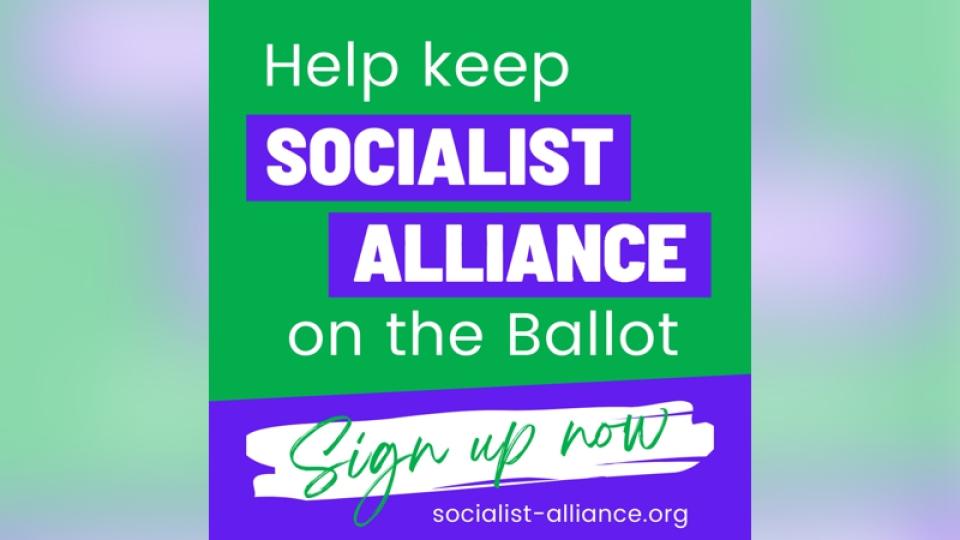 The major parties have moved to make it harder for progressive small parties to contest elections.
This is an attempt to quash the growing public frustration that these same parties are in the pockets of powerful corporate interests.
Two major parties have long dominated parliamentary politics, assisted by electoral laws which privilege them.
But as traditional party loyalties break down and more people are looking to smaller parties for an alternative, the federal Coalition (with Labor's support) have moved to further entrench their parliamentary dominance.
The Electoral Legislation Amendment (Party Registration Integrity) Bill requires parties without any MPs to submit 1500 names to the Australian Electoral Commission (AEC) to become, or remain, registered. Until now, parties could register federally by submitting 500 names.
Socialist Alliance has been registered federally since 2007 and has contested every election since then.
Its bone fides are well established. SA has local government representatives in Fremantle in Western Australia (Sam Wainwright), Moreland in Victoria (Sue Bolton) and Cairns in Queensland (Rob Pyne). It is registered in New South Wales and WA and was registered in Victoria until registration was voluntarily given up to support the formation of Victorian Socialists.
But now SA has to re-register with the Australian Electoral Commission by December 2 with 1500 names.
For small right-wing parties backed by billionaires, such as the United Australia Party, the registration process is no barrier.
SA is asking for your urgent help to re-register before December so we can field candidates across the country in the Senate and House of Representatives.
You can join for FREE by entering your details in the form below. Our policy platform is here.
We will be able to defeat this anti-democratic attack but we need your help!
There is a free membership option and if you want to take up a paid membership option, that will be possible after submitting the form below. If you have an issue with submitting the form, please make sure you have filled in items marked with the asterisk symbol (*).
You can also download a PDF version of this form and post it to Socialist Alliance, PO Box 114, Broadway NSW 2007. If you require assistance please email our membership office or call (02) 8070 9331.
Please also ask any family, friends and workmates who might be willing to help us out. It really would make a big difference if you can make a start by taking a few moments to fill in this form today.