Scrap Australia Day, acknowledge the past, fight for the future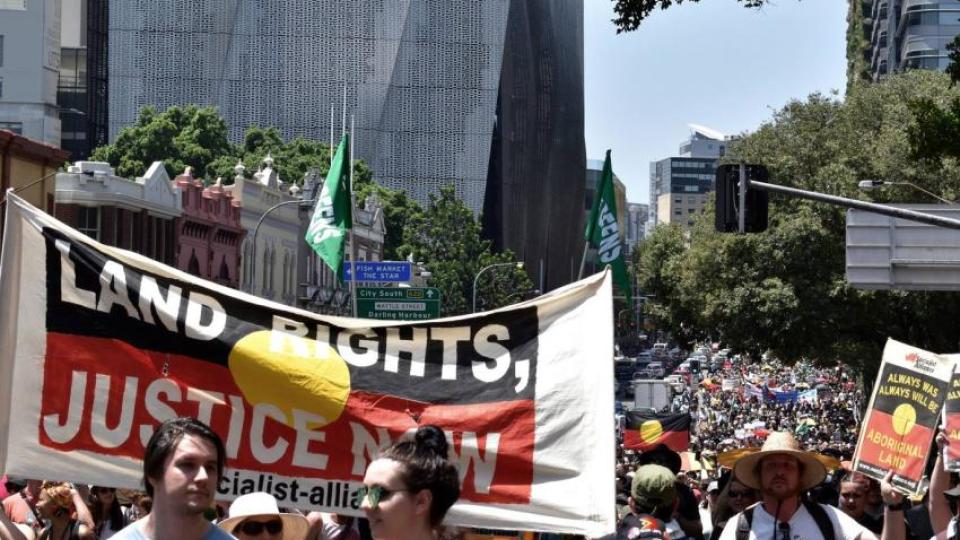 Celebrating January 26 is a state-sanctioned exercise that rubs salt into the wounds of Indigenous Australia. It proclaims, "You lost, we won. Know your place."
But the desire for an honest conversation about modern Australia's origins in the violent and ongoing dispossession of Indigenous people is not going away.
Across the country Invasion Day marches were both bigger than ever, and took place in many more places. More local governments have dropped their January 26 activities and finally the ABC allowed Triple J to shift its Hottest 100.
The mood for change is gathering momentum — and it's not going to stop.
This has inevitably provoked a counter-reaction as the deniers of, and beneficiaries from, genocide frantically seek to turn back the truth, with the federal Coalition government leading the charge.
This has taken various forms, none of which will succeed. They include Prime Minister Scott Morrison's truly tired attempt to pump up the image of Captain James Cook, instructions to local councils that they will lose the ability to host citizenship ceremonies on any day of the year if they don't do one on January 26 and the proposal by WA Liberal Senator Dean Smith to enshrine Australia Day into law.
True to form Labor is acting like a hand break on progress and leading from the rear. It is hard work being indecisive and standing for nothing. How to simultaneously avoid being wedged by the Liberals for a lack of patriotism and also not be left behind by a section of its own support base?
While Labor leader Bill Shorten assures us that Australia Day will remain on January 26 for reasons he can't really explain, his deputy Tanya Plibersek acknowledges why the day is so painful for Indigenous people.
Will it be like the struggle for equal marriage rights during the Kevin Rudd and Julia Gillard years where Labor blocked change? After a grassroots campaign which started small and grew massive had done the hard work and decisively shifted public opinion in favour of change over a decade, Labor flipped its position and pushed its way to the front, posing for the camera and taking the credit.
One of the most deceitful arguments used to deflect the call to scrap the January 26 celebration is the claim that it's simply feel-good symbolism designed to pander to white folk as opposed to "practical reconciliation".
First, this ignores the clearly expressed view of the majority of Indigenous people across the country — not that it will stop the Murdoch press from interviewing only Warren Mundine and Jacinta Price on the topic for the umpteenth time.
Secondly, the politicians who preach "practical reconciliation" are the same ones that oppose real land rights, have not implemented the recommendations of the Royal Commission into Aboriginal Deaths in Custody, suspended the Racial Discrimination Act to carry out the NT intervention, support custodial sentences for impoverished fine defaulters, cut bilingual education programs and expect Indigenous communities to trade-off exploitation of their land by mining companies for basic services and amenities.
When they say "practical reconciliation", what they really mean is assimilation.
The struggle around Australia Day is sometimes couched as being part of the "culture wars".
Certainly there is a visceral cultural dimension. But the furious attachment by a part of white Australia to January 26 cannot be reduced to conservative nostalgia for the British Empire, or the fact that some white folk are genuinely shocked and offended to be told that Australia has not always been "the best country on Earth", although these ahistorical racist delusions are certainly part of the mix.
A serious acknowledgement of our history can only build support among fair-minded people for reconciliation based on justice.
This poses a serious threat to the interests of Australian capitalism, especially the big mining corporations. An Australia where Aboriginal people can veto mining on their land is their worst nightmare.
This brings us to the demand to "Change the Date". This is no simple thing, or at least it shouldn't be, because it poses some questions: which alternative date, and then what? Exactly what are we celebrating? Isn't blind Aussie patriotism a racist scourge no matter the date?
National days of other countries often mark great advances for humanity: the fall of Apartheid, independence from a colonial occupier, defeat of an invading army or the overthrow of a tyrannical monarch.
Perhaps we should focus on making social change that's really worth celebrating.
Like an Australian republic based on a treaty (or treaties) with Indigenous people.
And a constitution that recognises that sovereignty was never ceded and provides for real and inalienable land rights.
That would be a good place to start.
[Sam Wainwright is a member of the National Executive of Socialist Alliance and a councillor in Fremantle WA.]