US refugee deal is inhumane politicking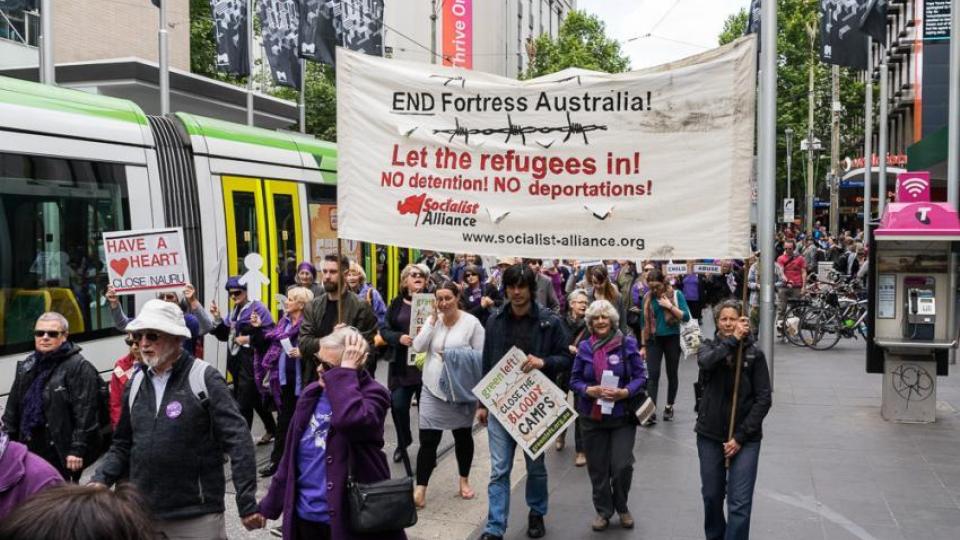 The offshore detention hellholes of Nauru and Manus Island are becoming increasingly unviable as more damning reports are published, court cases in Papua New Guinea continue, private service providers under the pressure of boycott campaigns decline to reapply for contracts and protests grow in Australia.
Prime Minister Malcolm Turnbull's latest plan — third country resettlement in the United States — is a reaction to this pressure, while also maintaining the policy of boat turnbacks, border security rhetoric and denying asylum seekers the right to be resettled in Australia.
Giving refugees a chance to be resettled in a country with a UNHCR refugee resettlement program, such as the US, with full citizenship rights should be welcomed as a better outcome than resettlement in an impoverished nation like Cambodia, indefinite detention, or deportation to danger.
But many of the details remain unknown and those that have been revealed raise questions about whether any refugees will ever get permanent resettlement in the US. 
The policy is tantamount to people trafficking and reeks of political expediency.
Devil in the detail
The deal announced on November 13 is to give refugees in Australia's detention system the chance to apply to be resettled in the US. It will be a one-off deal and will not apply to future asylum seekers who come to Australia seeking safety and protection.
Many details of the refugee resettlement deal are still unknown, such as the timeframe for resettlement.
Turnbull has refused to answer questions on the number of people who will be resettled, saying it will be the US government's decision. But some refugees in Manus Island detention centre have already been told by immigration officials that not everyone will be resettled in the US.
Under the deal, refugees will have to apply to be settled in the US. They will then go through US screening and security checks — in the same way as refugees from Syria or anywhere else. The refugees will be included in the current US UNHCR refugee intake and selection will be administered by the UNHCR.
The UNHCR has not been involved in drawing up the deal.
People in the offshore detention centres have been given a small slip of paper with the web address for the US State Department's general refugee application page. It is the only information they have been given so far about the process.
Immigration experts in the US say it will take months to process the refugee claims under current process. By that time Donald Trump will be president and will be able to veto the deal.
Trump's position on the deal is unknown, although he said in the election campaign he would deport all Muslims, and many refugees on Nauru and Manus Island are Muslim.
Asylum seekers and refugees who were transferred to Australia from Nauru for medical reasons — such as those at the heart of the High Court case in February that spurred the Let Them Stay campaign — would need to return to Nauru to apply for US resettlement. This includes women who have suffered sexual assault on Nauru and those in community detention, such as baby Asha, who doctors and the community stopped being deported from the Lady Cilento Children's Hospital in March.
If their applications fail or the deal is called off — a high probability with Trump coming to power — they and everyone else in offshore detention will be given the option of voluntary deportation to the country they fled from or a 20-year visa on Nauru.
Refugees settled in Nauru have faced violence and sexual abuse, a corrupt justice system and police force and a lack of access to adequate medical care.
If some refugees are resettled in the US, it will split up friendship circles and support networks. Some on Manus Island and Nauru have partners and children who have been resettled in Australia and will not be reunited with them. 
The deal may represent a false hope for people in detention, with many questions around if, who and how many people be will be resettled in the US. It would be far easier, cheaper and more humane for the government to bring them here, process their claims in the community and give people permanent residency.
Refugee visa ban
The motivation for this deal should be met with suspicion and its broader scope opposed.
Earlier this year New Zealand offered to resettle refugees from Nauru and Manus Island. Turnbull refused the offer, claiming it would give people a back door entrance to Australia. Why is the US deal favoured by the government when New Zealand's offer was rejected?
Turnbull has said any third county resettlement deal can only go ahead if the refugee visa ban is passed.
This could be a ploy to pressure crossbench Senators into supporting the refugee visa ban that places a lifetime ban on refugees ever entering Australia.
In 2014, then-immigration minister Scott Morrison used children in detention as bargaining chips to pass legislation. He told crossbench Senators he needed this legislation to be passed to release children from detention.
The legislation included the reintroduction of temporary protection visas, made boat turnbacks legal and gave the minister for immigration the power to make decisions on individual asylum seekers' cases without court oversight.
Morrison "encouraged" children in the Christmas Island detention centre to call then-Senator Ricky Muir and beg him to let them out. The legislation was passed by one vote, Muir's vote being the deciding one.
But Morrison always had the ability to release children from detention, regardless of the legislation, and years later there are still children in detention, many of whom are suffering physical and sexual abuse on Nauru.
Pressure is mounting on crossbench Senators to vote down the refugee visa ban. A groundswell of opposition is building and reports on the ground say they are being inundated with phone calls telling them to vote no.
Rallies are planned in Melbourne and Sydney in the lead up to the November 22 release of a report by the Senate inquiry into the legislation.
Already Senator Stirling Griff from the Nick Xenophon Team has said the majority of NXT will vote against the legislation. They are treating it as a conscience vote.
Any moves to tie passing the refugee visa ban with resettlement in the US must be rejected. There is no legal or logistical reason why people cannot be resettled in the US without the legislation passing. It also further entrenches Australia's policy of boat turnbacks and denying people the right to seek asylum.
First world fortress
Stopping the boats by boat turnbacks is at the heart of Australia's current policy. Its announcement was tinged with military symbolism, statements that it was the largest maritime surveillance operation ever and the tired rhetoric of political point scoring on border security and stopping people smugglers.
It means go and die somewhere else.
Their choice is reduced to being forcibly returned to the countries and regimes they fled — delivered into the hands of their torturers — or by being forced to wait in countries such as Malaysia or Indonesia, where even if they are assessed as a UNHCR refugee they live without citizenship rights including access to healthcare, work, the legal system and education.
Some people have waited for more than ten years, living in constant fear of being rounded up and deported at any time, without any legal protection.
It illustrates the inhumanity and political expediency behind the US deal and how it is a continuation of the policy of spending billions on the "armed lifeboat" approach to the global refugee crisis.
A UNHCR report in 2014 said there are 19.5 million refugees and 60 million people displaced by conflict. Climate change is expected to force 150 million people to leave their homes by 2050. The majority of refugees are living in refugee camps in countries such as Lebanon, which has 1.2 million refugees, and a total population of 4.4 million.
Resettling people from countries that clearly do not have the capacity to care for them should be the priority of developed countries and the international UNHCR resettlement program.
It is not the "solution" for resettling the couple of thousand people in Australia's offshore detention centres, or to deal with those who arrive by boat to Australia.
On any rational economic — let alone humane — level, Australia should be the country taking in refugees, not sending them to another country. Particularly as Australia is complicit in creating the global refugee crisis through supporting repressive regimes, such as in Sri Lanka, participating in wars in the Middle East and being one of the worst climate vandals in the world.
It is another case of Australia shirking its international responsibilities towards refugees.
There is no certainty that anyone will be resettled under the US deal, especially with Trump coming into office. The deal is more politicking by a government whose refugee policy is coming under increasing pressure from the community. It is not a humane approach or solution.
This year there has been a seismic shift in the broadening of the refugee movement. This new proposal is another case of the government feeling the pressure.
The campaign in Australia to welcome refugees, end boat turn backs, shut down the detention centres and bring the refugees from Manus Island and Nauru here must continue to grow.