Socialist Councillor: "Reject Abbott's lies: Australia can do more to respond to the refugee crisis"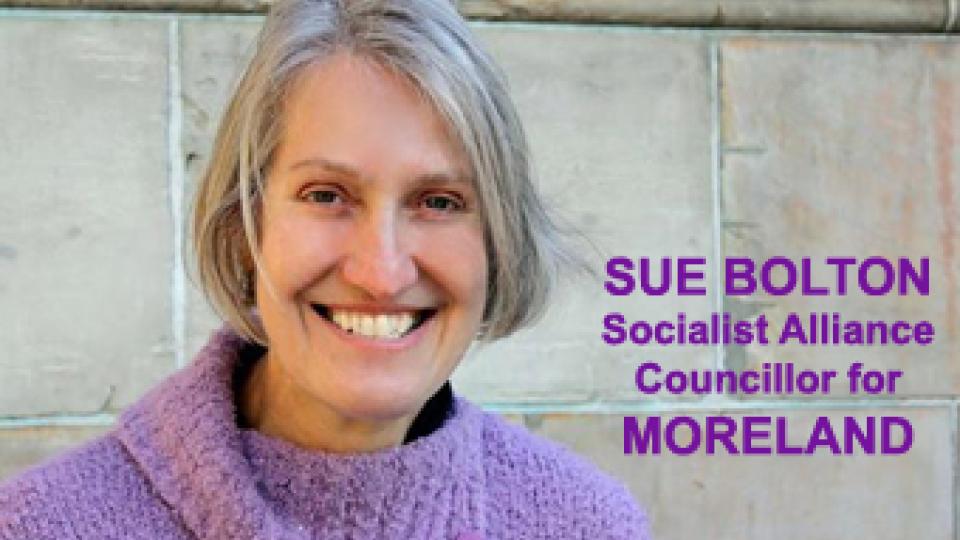 "Tony Abbott's bizarre proclamation that Australia is leading the world on a per capita basis in welcoming refugees is a lie", says Sue Bolton, Socialist Alliance Councillor. "As Paul Power from the Refugee Council of Australia has explained, the truth is that the Abbott government immediately cut Australia's total refugee intake by 30%, after its election in 2013. Abbott's meagre proposals to increase the intake in the years 2016-2018 won't return Australia to the 2013 intake level. "In contrast to Abbott's claim that Australia ranks highly for refugee intake on a per capita basis, Australia actually ranks 28th in the world in 2014 on a per capita basis and 46th relative to total GDP, based on its 2014 intake."
(Source)
. Bolton says that Abbott and his ministers are repeating this lie to avoid their responsibilities in the midst of a worldwide humanitarian crisis for which their policies are partly to blame. "The Australian government are proposing to send fighter jets to bomb Syria – this will only exacerbate the situation for the hundreds of thousands of Syrians and Kurds who are fleeing this war." "Our air force has been bombing targets in Iraq – at the cost of thousands of civilian lives, and we have been engaged in wars of occupation alongside the United States in Iraq and Afghanistan. These are the regions that the majority of refugees are fleeing from to safety – yet the government are shirking their responsibility to protect these people and relying on a lie to do so." On the question of what can be done to address the crisis, Bolton pulls no punches. "Abbott's proposal that any increase in European refugee intake to cope with this disaster must come from our current refugee intake is inhumane and unjust," Bolton added. "But the ALP's proposal for a 10,000 emergency intake is grossly inadequate. While the Greens' proposal of a 20,000 emergency intake is well-meaning, it too is completely inadequate to meet the scale of this crisis." Bolton says that the answer is for Australia to immediately offer help to alleviate the suffering of people fleeing conflict. "Australia is a wealthy country and we can do more. In the aftermath of the Second World War, over 170,000 displaced persons came to live in Australia. Over 80,000 Vietnamese people made Australia their home in the decade following the Vietnam War. Australia has opened its doors over many decades to refugees fleeing repression and war, including from South America and China. Clearly we can do much more to help." "Rather than wasting billions locking up defenceless, innocent people in offshore prisons, we should close the camps on Nauru, Manus and all other refugee detention centres, lift the cap on our refugee intake immediately and organise mass airlifts of Syrian, Kurdish and other refugees to bring them to safety in Australia. These refugees can be housed in the community, and provided with the protection and support they need." FOR INTERVIEWS: Phone Sue Bolton on 0413 377 978.