Socialist Alliance youth wing formed following merger with Resistance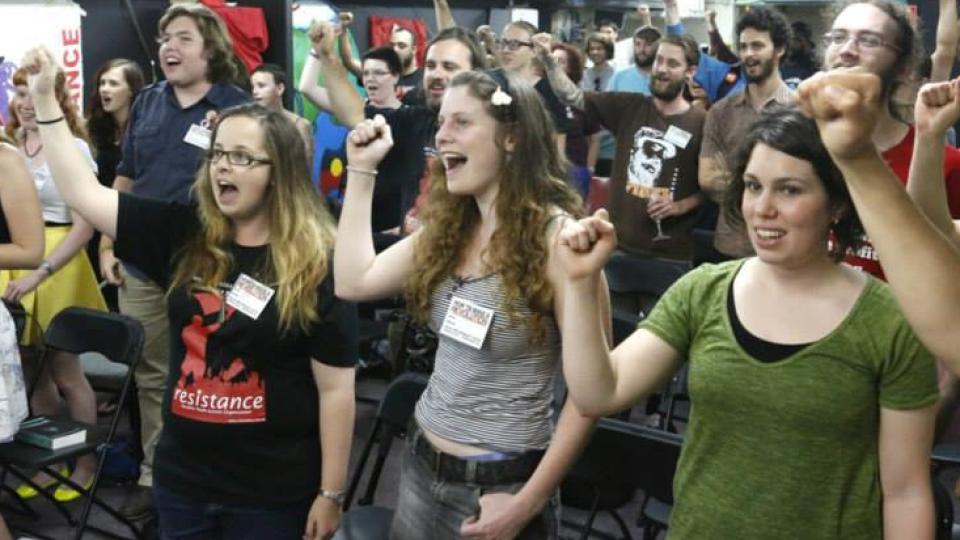 Socialist Alliance statement February 19, 2014< Over the weekend of February 15-16, the socialist youth organisation Resistance merged into the Socialist Alliance of which it was previously an affiliate. Members of Socialist Alliance under 26 are now part of a new youth wing called "Resistance: Young Socialist Alliance". A transitional leadership of the new youth wing of Socialist Alliance was elected by at a special conference of Resistance which decided on the merger. New youth leadership elections will be held at the upcoming 10th national conference of Socialist Alliance to be held over June 7-9, 2014. Sarah Hathway, a member of the new transitional youth leadership reported to a National Council meeting of Socialist Alliance which confirmed the merger. She explained that Resistance: Young Socialist Alliance would be a space within the Socialist Alliance for young members to provide leadership in areas such as high school, university and TAFE campuses and, in the process, to develop political confidence and collective experience. "The former Resistance has made the decision to merge in to Socialist Alliance and re-brand itself 'Resistance: Young Socialist Alliance' in the context of where youth political activity is at right now in Australia," Hathway said. "We believe this move will strengthen our organisation over all and provide a solid framework to recruit and integrate youth to radical politics moving forward. There is great potential to develop young leadership within the party and I'm excited for the future of Socialist Alliance and Resistance: Young Socialist Alliance." Hathway added that the immediate key tasks of the new youth wing are:
To oversee the transition of Resistance into Socialist Alliance including formulating proposals for the SA national conference in June;
To plan and organise a youth educational conference for December 2014 and annually from then on, following the successful "How To Make A Revolution" conference in Brisbane December last year;
Other major tasks include influencing alliance policy around youth related issues and the party's approach to youth recruitment, integration and education.
Sean Brocklehurst, another member of the transitional leadership of Resistance, Young Socialist Alliance, added: "This merger was necessary to bring our organisational structures into line with what was happening on the ground. Many of our young members were doing youth or campus work within Socialist Alliance, without having an independent Resistance branch. It made sense to change our structures to reflect this reality. "In most cases it was not a matter of getting rid of Resistance branches, but instead providing our young members with new flexibility to organise youth spaces within Socialist Alliance. With university starting this will give us real political clarity about what political project we are recruiting young people to." END