Solidarity with Indian students resisting hate mobs, fighting for a democratic campus.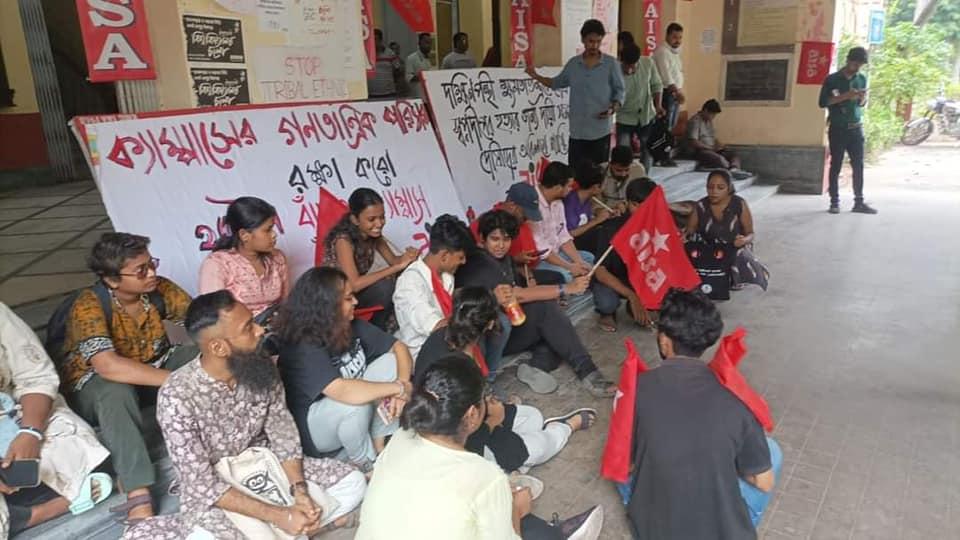 Socialist Alliance condemns the recent brutal attack on students by the Akhil Bharatiya Vidya Parishad (ABVP) hate mobs — the youth wing of the Rashtriya Swayamsevak Sangh (RSS) and the West Bengal police.
This included attacks on a trans woman activist, Urmi who was struck with metal helmets, fists and boots on her head multiple times. The violent mobs chanted transphobic epithets at Urmi and have continued to harass her online.
Urmi showed tremendous courage standing up to Bharatiya Janata Party (BJP) representative Suvendu Adhikari, leader of the right-wing opposition in West Bengal.
Students from the All India Students' Association (AISA) at Jadavpur University (JU) have protested and organised an indefinite sit-in to campaign for justice for 18-year-old student Swapnadeep Kundu, who died on August 10 after experiencing intensive ragging at the university's hostel accommodation.
ABVP/RSS mobs have been holding counter rallies and attempting to break into the university campus.
The BJP upholds the violence of the RSS and advocates Hindutva hate: an anti-minority, anti-woman and Islamophobic Hindu-supremacist ideology.
Hindutva hate has led to an increase in verbal and physical assault against Muslims, women, the LGBTIQ community, indigenous groups and other minorities.
India's trans community face many struggles including discrimination in education and employment, difficulty accessing affordable and quality healthcare, like gender-affirmation surgery — which is expensive.
RSS ideology draws on the Nazi playbook: it openly calls for the death of Muslims. RSS chief Mohan Bhagwat says women should just be "housewives" and husbands should be the "breadwinners". Vinayak Damodar Savarkar, who developed the Hindu nationalist political ideology of Hindutva advocated rape as an act of nationalism.
Indian Prime Minister Narendra Modi and home minister Amit Shah are lifelong members of the RSS.
RSS has several front organisations that have carried out lynchings of Muslims. They are responsible for hate crimes spreading across India. The RSS/BJP is behind the hate campaign in Manipur where more than 60,000 members of the Kuki-Zo tribe have been forced to flee and more than 130 lives have been lost. Rape has been used as a weapon as part of a genocidal campaign.
This violence has also spread to Australia: recently a man was bashed with baseball bats in Naarm/Melbourne, allegedly because of social media posts supporting Sikh rights in India.
Hindu extremist organisations in Australia, with links to the RSS, are registered charities and receive substantial grants. The federal government is complicit by refusing to condemn the Indian government for these attacks and giving Modi a hero's welcome when he visited in May.
BJP/RSS-aligned groups are trying to infiltrate major political parties and institutions in Australia, under the guise of "multiculturalism", to promote hate speech.
Socialist Alliance stands in solidarity with all oppressed people across India. It is important to stand up the BJP/RSS's relentless attacks on dissent, minorities and the working class.
We also call on the Labor government to condemn the Modi government's support for racist, Islamophobic, anti-woman and anti-LGBTIQ attacks.
[This statement was adopted by the Socialist Alliance national executive on August 22]