Ecosocialism 2023 - A World Beyond Capitalism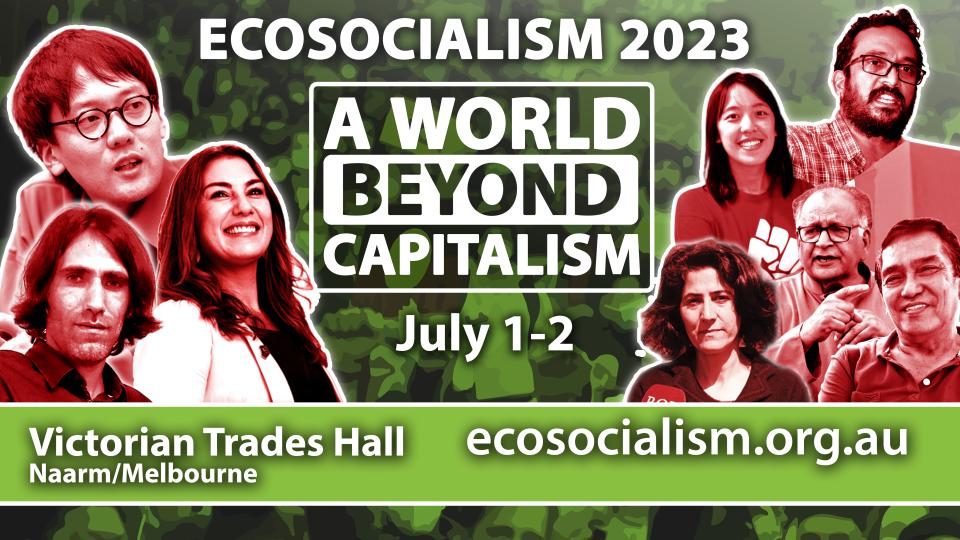 Socialist Alliance is sponsoring the upcoming Ecosocialism 2023 – A World Beyond Capitalism conference hosted by Green Left.
Date: Saturday July 1 – Sunday July 2, 9am-6pm (sessions start at 10am each day)
Location: Victorian Trades Hall, 54 Victoria Street, Carlton, Victoria, 3053.
We are in the midst of a climate emergency and there is no way out without radically changing the way society is organised.
Ecosocialism 2023 will bring together ecosocialists from around the world, particularly from the Asia-Pacific region, examining the intersection between the ecological, economic and political crises of this time and draw together activists from various progressive social movements to discuss how we campaign for a world beyond capitalism.
Featuring plenaries on opposing militarism in the asia-pacific, the fight for democracy in India, the idea of degrowth communism, and building the case for revolutionary change in the time of the climate emergency.
Agenda for the conference: https://ecosocialism.org.au/agenda with more sessions to be announced.
Book your tickets at: https://www.trybooking.com/CGSPF
Ticket prices
Weekend - $140/$80/$50/$20 (for under 18s)
Single-day - $80/$40/$25/$10 (for under 18s)
FEATURED SPEAKERS
Kohei Saito (via videolink)
Japanese Marxist academic, author of Capital in the Anthropocene has built on the pioneering work on Karl Marx's early ecological insights by other Marxist scholars, such as John Bellamy Foster and argues that the world needs to break from capitalism and its pursuit of unlimited growth and profits if it is going to have any chance of returning to a more ecologically sustainable path.
Farooq Tariq
President of the Haqooq Khalq Party and a leading activist in the climate justice movement in Pakistan.
Clifton D'Rozario 
Elected leader of the Communist Party of India (Marxist-Leninist) Liberation with a history of involvement in trade union campaigns to unionise and fight for the conditions of Dalit sanitation workers in his home state of Karnataka.
Nilufur Koc (via videolink)
Member of the Executive Council and spokesperson for the Commission on Foreign Relations of the Kurdistan National Congress (KNK). Her current primary political focus is the improvement of national dialogue amongst political parties and civil society organisations in Kurdistan, and she spent most of the period from 2013 to 2018 in southern Kurdistan (Kurdistan-Iraq) and Rojava/North East Syria.
Cheung Huei Ting
Central Committee Member of the Socialist Party of Malaysia (PSM) and the Coordinator for the Environmental and Climate Crisis Bureau for PSM.
Sonny Melencio
Veteran socialist activist and the chairperson of the Partido Lakas ng Masa in the Philippines and author of Full Quarter Storms.
Behrouz Boochani (via videolink)
Kurdish-Iranian activist, author, and film producer. Author of No Friend but the Mountains and Freedom, Only Freedom.
See the full list of speakers at: https://ecosocialism.org.au/speakers with more to be announced.