Overcoming the multiple crises of capitalism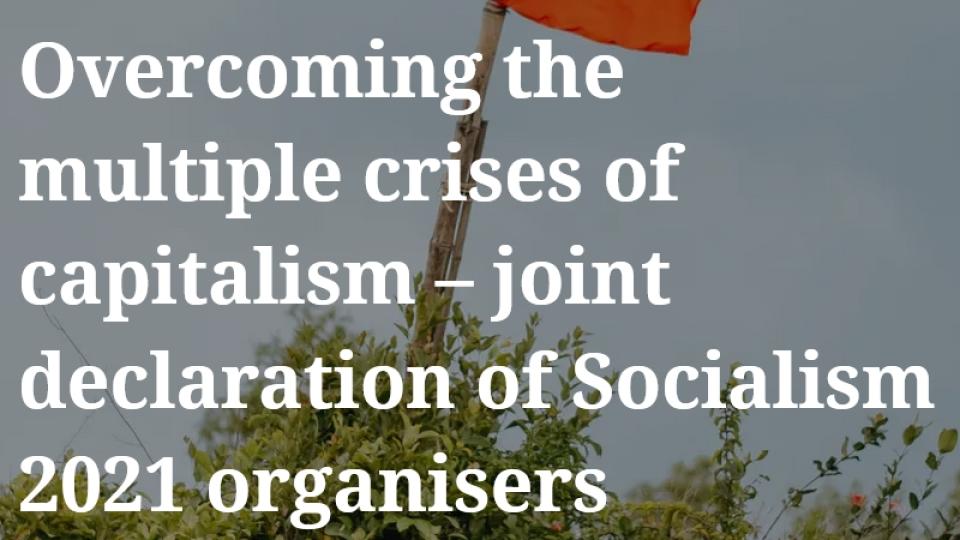 The crises of capitalism are growing more acute and more extreme with each passing day.
The recent Glasgow Climate Summit (COP26) confirmed (yet again) that even when a liveable climate – and therefore the survival of our species – is at stake, the capitalist rulers have no meaningful answers for the needs of the people.
The capitalist elite prioritise corporate profits over a liveable climate, over health care in a global pandemic and over basic livelihoods in the midst of a global inequality crisis.
The organisers of the Socialism 2021 conference believe it is imperative that ordinary people reject the ruling class agenda and forge a movement that can resist the capitalist elite, both ideologically and practically.
Ultimately we need to replace their oppressive, profit-driven system with an alternative based on popular power and meeting human needs.
We are encouraged by the solidarity among left wing forces across the region. That solidarity is demonstrated with the organising of this conference and other projects.
We look forward to building a stronger left collaboration based on:
socialism
Socialism is the practical alternative to capitalism.
redistribute the wealth
Billionaires have grown rich during the pandemic. That wealth should be reappropriated and used for the benefit of the people.
healthcare for all
The global vaccine apartheid is a glaring example of the injustice of profits-first capitalism. Every person in every country deserves free, good quality health care.
for genuine people's democracy, against state repression
We express our solidarity with genuine people's democracy struggles from below in Thailand, Myanmar, Hong Kong, Sudan and throughout the world.
for gender equality
Oppression of women is one of the central pillars of capitalist society. We support not only full legal equality but genuine emancipation for women. We also support people's right to determine their gender identity and expression.
defend workers' rights
Everyone has the right to secure, well paid jobs and a safe working environment. Governments should guarantee full employment and workers should have full rights to organise in unions and to defend our rights at work.
for global climate justice
Global heating is the biggest challenge facing humanity and the capitalist rulers have proven incapable of meeting this challenge. National governments should take unilateral action to ensure no new fossil fuel projects are developed and existing projects are phased out. Wealthy countries should pay their climate debt to the Global South including zero carbon technology and financing.
against a new "cold war"
We are against US-led imperialist aggression directed towards China and we call for demilitarisation of the Southeast Asian Sea (South China Sea).
end the criminal sanctions on Venezuela and Cuba
End imperialist intervention in Latin America.
solidarity with self determination struggles
We extend our solidarity to oppressed people everywhere including in Papua, Palestine, Kashmir and Rojava.
justice for farmers and peasants
A comprehensive program to enhance food security, in order to ensure the access to healthy food for the people and to protect the livelihood of small local farmers, in all countries. We salute the victory of Indian farmers in defeating Modi's attacks.
The capitalist elites cannot solve the problems of the people. The alternative is socialism based on grassroots organising and popular democracy. We pledge our solidarity to advance the struggles to achieve this goal.
Parti Sosialis Malaysia (PSM)
Kesatuan Perjuangan Rakyat (KPR), Indonesia
Partai Rakyat Pekerja (PRP), Indonesia
Socialist Workers Thailand
Socialist Alliance, Australia
Partido Lakas ng Masa (PLM), Philippines
[This joint declaration is also available in Malay, Indonesian, Thai and Chinese. It was first published at Think Left.]