Condemn the attempts to ban the Peoples' Democratic Party of Turkey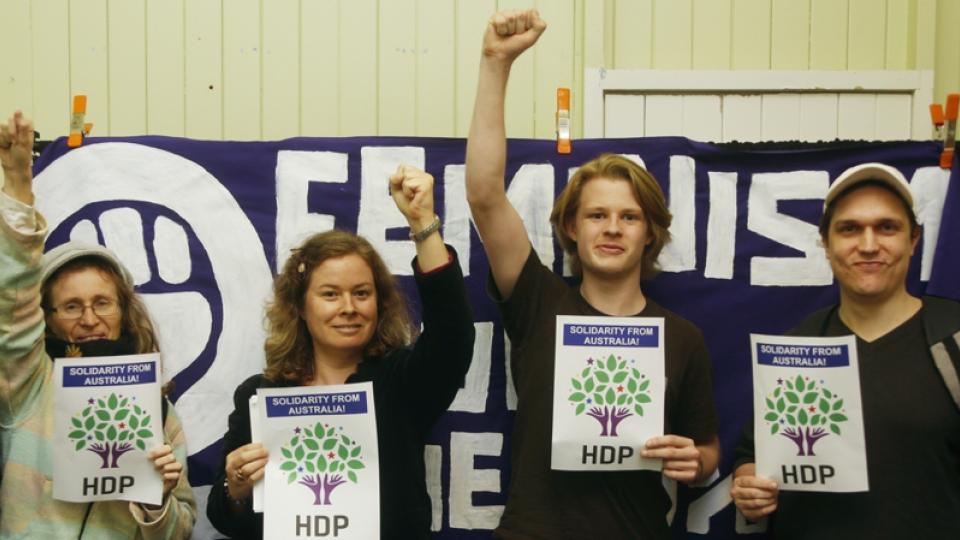 Socialist Alliance Australia has long expressed our solidarity with the Peoples' Democratic Party (HDP) in Turkey and we stand again to condemn the latest attempts by the authoritarian Erdoğan regime to ban the party.
The HDP represents an important voice for justice, democracy and freedom in Turkey and needs to be heard not stifled. The long running campaign of repression by the Turkish regime is an affront to democracy and needs to be resisted everywhere.
Turkish authorities using dubious excuses have arrested and imprisoned numerous elected mayors and parliamentarians and party leaders. The HDP has strong support in the Kurdish majority areas of Turkey and the government's repression is an attack on the democratic rights of the Kurdish minority.
The latest attempts to ban the HDP — a party which millions of people have voted for and has significant representation in the national parliament — is an unlawful, undemocratic action which violates civil and political rights of the Turkish people.
For four years, the former HDP leader Selahattin Demirtaş has been held in prison even though the European Court of Human Rights has ruled that he should be released. This unjust detention is also faced by many opposition members, members of parliament, mayors and journalists.
We call on the Turkish authorities to immediately halt the ban proceedings, stop the repression against the HDP and to release all HDP elected representatives from prison.
Further, we call on the Australian government to immediately make a public statement calling for release of HDP representatives from detention and of opposition to the Turkish government's attempts to ban the HDP.
[This statement was released by the Socialist Alliance national convenors on March 19, 2021. Read more here.]