Stand with Evo Morales and the Movement Towards Socialism! Resist the US-backed coup!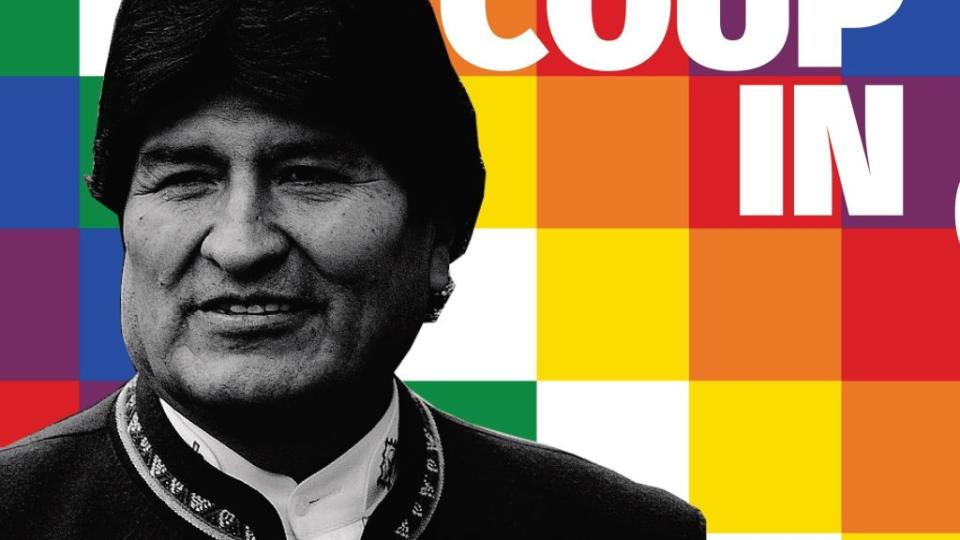 Socialist Alliance has joined with other Asian region left and progressive organisations to oppose the United States-backed coup in Bolivia.
* * *
Stand with Evo Morales and the Movement Towards Socialism!
Resist the US-backed coup!
We stand with Evo Morales and Bolivia's Movement Towards Socialism (Movimiento al Socialismo, MAS) and condemn in the strongest possible terms the United States-backed coup against Bolivia's democratically elected president, the government, the progressive social movements, trade unions and indigenous peoples.
Morales was forced to resign on November 10 after senior army and police chiefs called on him to do so, following weeks of US-backed right-wing unrest and violence against his October 20 election victory.
"I decided to resign from my position so that Carlos Mesa and Luis Camacho stop abusing and harming thousands of brothers ... I have the obligation to seek peace and it hurts a lot that we face Bolivians," said Morales, in a press statement.
Following this, MAS has issued a statement asking the people to "Resist, so that tomorrow we can fight again."
Two weeks ago, Morales triumphed over his rival Carlos Mesa, of the Citizen Community party (Comunidad Ciudadana) by a narrow 10-point margin in the presidential election. Morales obtained 47.08% of the vote and Mesa, 36.51%.
Under Bolivian electoral law, to win the presidency outright, a candidate must achieve at least 50% of the vote, or a 10-point lead over the closest rival. After a pause in counting, Morales appeared to gain a 10-point lead over Mesa, where previously his lead was less than 10%. This was not wholly surprising, however, because most of the uncounted votes were from rural areas that in the past had come out strongly for the MAS.
Opposition groups accused the president of fraud but no independently-verified evidence has yet been produced to support this. The Center for Economic and Policy Research (CEPR) released a report on November 8, which found no evidence that irregularities or fraud affected the official result that gave Morales a first-round victory.
The pattern of coups against Latin America's left governments is familiar. In Brazil, we saw elected president Dilma Rousseff of the Workers Party removed from office in a constitutional coup. In Venezuela the opposition have ignored election results they don't like and the US-led coup attempt drags on with an economic blockade that amounts to a "collective punishment" against the Venezuelan people and has been responsible for at least 40,000 deaths since 2017.
Bolivia under Morales has lifted millions out of poverty. The government of Evo Morales has successfully implemented an anti-neoliberal program that has resulted in Bolivia becoming one of the most successful economies in Latin America.
The government has provided indigenous people with real power and leadership in politics. Its Mother Earth law, drawing on indigenous traditions, is a practical policy promoting sustainable use of natural resources and legal bars on the pollution of the air and water.
The coup against Evo Morales is not only a coup against working and indigenous people, but also a dangerous assault on a sustainable environmental future for the world.
LGBT rights were extended under Morales' Gender Identity Law that allowed trans-citizens to change their gender on official documents. 
The US-backed opposition aims to drive back and annihilate these gains.
Reports indicate that the fascist elements in the opposition are now coming to the fore. Figures such as Fernando Camacho, leader of the "civic committee" of Santa Cruz, the most right-wing region of the country, with a history of racism against the country's indigenous majority, have emerged as the new leadership of the right-wing protest movement.
Camacho's civic committees have been carrying out violence, mostly against indigenous women during the recent protests. 
Patricia Arce, the elected socialist mayor of Vinto (a town in the Cochabamba department), was kidnapped, beaten, covered in red paint and had her hair cut off, then was paraded through the streets barefoot by opposition protesters, before being rescued by police. 
Her words, whilst still being held captive, were caught on film and serve as an example of the bravery of the working class and indigenous Bolivians who have resisted the coup thus far. She said, "I'm not afraid of you, I tell the truth. This is a free country and I'm not going to be silenced. If you want to kill me then kill me … I'll give my life for this process of change".
The resistance to the coup, led by indigenous communities and trade unions, has also stepped up and is proving itself capable of keeping the far right at bay. The Federation of Neighborhood Councils in El Alto announced a permanent mobilisation for peace and democracy and a 48-hour deadline for right-wing leaders to leave La Paz.
The coup against the Morales government is the result of a high-stakes struggle taking place in Bolivia between progressive and socialist oriented forces and the US-backed right-wing, even fascist, reaction.
We must resist attempts to confuse these battle lines. We must stand with Evo, MAS and the progressive forces.
November 11, 2019
Signed by:
Partido Lakas ng Masa (PLM), Philippines
PartiSosialis Malaysia (PSM)
Socialist Alliance, Australia
Sedane Labour Resource Centre (LIPS), Indonesia
Asia Monitor Resource Centre
Sanlakas, Philippines
Bukluran ng Manggagawang Pilipino (BMP), Philippines
Philippines Venezuela Solidarity Network (Phil-Ven-Sol)
Socialist Aotearoa (NZ)
Socialist Party of Bangladesh (SPB)
Partai Rakyat Demokratik (PRD), Indonesia
Konfederasi Pergerakan Rakyat (KPRI), Indonesia
Working People's Party (PRP), Indonesia
Alab Katipunan, Philippines
Unite Union, New Zealand
Nepal-Venezuela Solidarity Network
Pakistan Kissan Rabita Committee
Communist Party of India (Marxist-Leninist) Liberation
Climate & Capitalism
PAMUO Labor Resource Center, Inc (PLRC), Mindanao, Philippines
Aniban ng mga Manggagawasa Agrikultura (AMA), Philippines
Laban ng Masa, Philippines
HAK Association, Timor-Leste
K'dadalak Sulimutuk Institute (KSI), Timor-Leste
Movimentu Kamponezes Timor-Leste (MOKATIL), Timor-Leste
Front Trabalhador Maubere (FORAM), Timor-Leste
Movimentu Popular Reforma Agraria (MPRA), Timor-Leste
Uniaun Agrikultores Ermera (UNAER), Timor-Leste
Komite Popular, Timor-Leste
* * *
To add your organisation to this list, contact:
Partido Lakas ng Masa (PLM), or Socialist Alliance.
See also
Bolivia: the politics of the coup attempt against Evo Morales
New blow for US imperialism as Bolivia re-elects Evo Morales
World leaders, organisations condemn coup against Evo Morales in Bolivia