No deportation. Free Saeed from Villawood Detention Centre!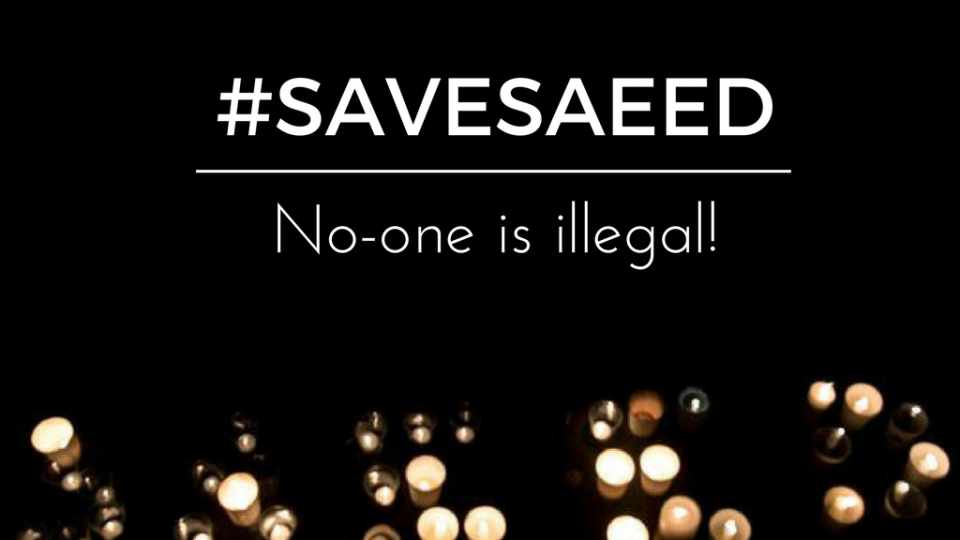 Refugee activists have maintained watch at Villawood Detention Centre to stop the deportation of Saeed (not his real name), a 60-year-old Iraqi man, since March 22.
Through the hot days and cooler nights activists have been at each of Villawood's three entrances, checked every leaving vehicle to see if Saeed is being deported and issued regular calls to action and updates on Facebook livestream in support of Saeed.
At a vigil on March 29, a statement from Saeed was read out: "Thank you to everyone who is protesting to help me stay in Australia. Immigration has treated me very badly and makes me worried and depressed. I cannot go back to my country, it is dangerous for me. I am very happy to know that people are supporting me. Thank you."
Saeed is from a persecuted religious minority in Iraq. He came to Australia in 2012 on a boat and has spent the last four years in detention. His brother, who came on the same boat and had an almost identical application has been granted asylum.
Saeed lost his initial application for asylum in Australia due to a technicality and was not told he could appeal. He does not speak English and when he attempted to submit an appeal years later, he was told it was too late.
Saeed's lawyer Alison Battisson said: "Saeed's case is another example of an asylum seeker getting lost in an unfamiliar legal system. Australia's system for hearing and reviewing protection claims is so complex that many find it impossible to navigate. All we ask is that the minister hear Saeed's full story."
Saeed has said through his lawyer: "My family would be in great danger as well as myself if I am returned. Please don't deport me; I am a human being too."
National campaign
The campaign to stop Saeed being deported, which is turning into a national focal point, began in the rain in Melbourne outside Melbourne Immigration Transit Accommodation (MITA) at Broadmeadows on March 21, when he was first slated to be deported.
Refugee activists made a large sign out of lights that said "Don't deport to danger" and hung it from the walls of the detention centre as they maintained their vigil at MITA's entrances.  
Called on social media by Close the Camps Action Collective and Refugee Action Collective Victoria, the action lasted for 22 hours, until Saeed was rushed to hospital.  
Saeed has been on hunger strike for more than three weeks now and his health is precarious. Doctors have declared him too unwell to fly.
In hospital, Saeed was force fed with a tube and deemed fit to travel. He was returned to MITA and plans were put in place to deport him. Activists returned to MITA.
Saeed was blocked from seeing his lawyer, bundled into a van and driven through the night to Villawood Detention Centre in NSW.
Only then he regained access to his lawyer, after more than 12 hours.
Villawood
Upon learning that he was in Villawood, the Sydney Refugee Action Coalition called an action outside the detention centre for March 24. About 70 people gathered outside the main entrance and checked cars as they were leaving.
The police presence grew and they eventually attacked the activists, pushing them off the road so vehicles could drive out. Four arrests were made.
Saeed was meant to be deported that night, but the protests prevented it. Refugee activists have maintained a consistent presence every night since.
On March 26, activists at Villawood held a candlelight vigil in support of Saeed. About 40 people came within a few hour's notice. They spelled "Saeed" in candles and committed to stay at Villawood to stop his deportation. One women held up a "7" candle to reflect the number of days activists have stopped his deportation.
Appeal to Qantas
An online petition was set up calling on Qantas not to deport Saeed. More than 20,000 people have signed it and many more have been calling Qantas and writing on their Facebook pages that they will never fly with Qantas if they are complicit in deporting Saeed. 
On March 27, Mums for Refugees and students occupied Immigration Minister Peter Dutton's office in Brisbane, demanding he not deport Saeed.
Father Rod Bower wrote on his famous Gosford church sign, "Mr Dutton you have the power to save Saeed's life" and used Twitter to get people down to Villawood.
There was a national day of action on March 29, with solidarity protests in Brisbane, Adelaide and Melbourne, where 30 people occupied the Department of Immigration and Border Protection. One banner read "Deport the government". Young children held a picnic inside.
Numerous campus and community groups are taking part in photo shoots with signs saying #saveSaeed and #freeSaeed.
In Sydney, 100 people came to a concert and vigil outside Villawood, co-hosted by Love Makes a Way and Mums for Refugees. Live music, the lighting of candles and speeches were made about how important people's presence at Villawood is to the morale of Saeed and others inside, as well as refugee campaigners.
Currently activists are monitoring Saeed's situation inside Villawood, watching the detention centre and being prepared to rush to the airport and call on passengers to stand up in the plane to stop it from flying.
Making a difference
The feeling at Villawood is that constant vigilance is making a difference in stopping Saeed's deportation. It has already delayed it for more than a week.
Deportations are a part of the detention system and to stop deportations you have to end the detention system.
Anti-deportation actions are a crucial part of the strategy to defeat mandatory detention as the actions bring hope to people inside and make a difference in the here and now. This is a powerful way of building a campaign.
We saw the power of this unleashed last year in the campaign to save Baby Asha, when activists maintained a constant presence outside the hospital in support of the doctors and nurses refusing to discharge the refugee baby. To this day, Baby Asha has still not been deported to Nauru.
This provided a focal point for the campaign which involved communities across Australia organising #LetThemStay actions.
The campaign to free Saeed is involving activists in a new way, including coordinating organising people to watch the gates, build networks with other groups, organise vigils and create social media content.
People are connecting with refugees and their stories in a practical way by taking part in the anti-deportation actions at the detention centre.
[Zebedee Parkes is an activist with the Sydney Refugee Action Coalition.]