Inspiring talks and workshops at upcoming socialist conference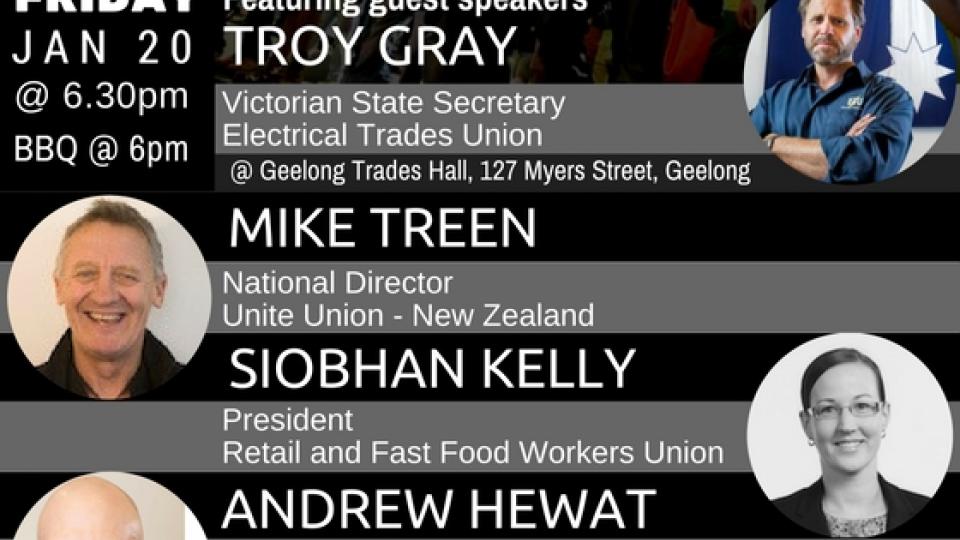 The January 2017 Socialist Alliance National conference will feature some inspiring talks, panels and workshop sessions.
The full conference agenda, including delegated sessions can be found here.
Here are some of the highlights (agenda highlights current as at January 5):
Friday January 20
9am Conference opening and welcome to country
9.30am Rainbow revolution: A Marxist analysis of LGBTI oppression. With Mia Sanders and Liam Cohrs (NB: timeslot has changed)
11.15am Global crisis: Global solidarity. A panel of speakers on the state of international politics and the need for solidarity and united action.
2.30pm Peoples power: Organising and mobilising communities. Featuring Fremantle socialist Councillor Sam Wainwright, Liah Lazarou (South Australia Anti Poverty Network activist) and Helen Masterman-Smith (North Albury Community Action Centre).
4.15pm Organising on the job - being an effective and political delegate, with Zeta Henderson (ANMF activist) and Tim Gooden (CFMEU activist). (NB: timeslot has changed)
6pm BBQ and Special Event: Rebuilding the militant trade union movement today. Featuring a panel of militant union leaders, including Troy Gray (ETU-Vic), Mike Treen (Unite NZ/Aotearoa), Siobhan Kelly (Retail & Fast Food Workers Union) and Andrew Hewart (Victorian Allied Health Professionals Association). Hosted by Colin Vernon (Geelong Trades Hall ) and Jacquie Kriz (GTHC and ANMF-Vic activist).
Saturday January 21
1pm The people versus fossil fuels. Featuring Gemma Weedall (Adelaide-based climate activist) and Kathy Fairfax (Green Left Weekly Editor and Stop CSG Sydney activist).
1pm The significance of the Venezuelan and Latin American revolutions.
2.45pm The struggle for women's liberation today. With Margarita Windisch.
4.30pm Saving SCA: Students resist the Edufactory. With Bronte Scott (Fine Arts student and Save SCA activist) and Rachel Evans (Queer Officer, Sydney Uni Postgrad Association)
4.30pm The united front: Building the movements for social change.
6.30pm 'South of the Border': Solidarity, song, struggle. A special evening event, with proceeds to Green Left Weekly, Australia's foremost radical paper and website.
Sunday January 22
1pm First Nations campaigns for justice and sovereignty. Featuring Uncle Ken Canning and other speakers.
1pm Socialist organising for fundamental change: An introduction to the Socialist Alliance.
2.45pm Racism, refugees and the revival of Hansonism. Featuring anti racist and refugee rights activists.
2.45pm Rural crisis and resistance. Featuring Elena Garcia (Qld organic farmer and activist) and Alan Broughton (Victorian organic farmer and practitioner).
* * *
Conference venue: Geelong Trades Hall.
See the full conference agenda, including delegated sessions here.
NB: This agenda is up to date as at the 13th December and is subject to change. Please visit www.socialist-alliance.org for any changes to times and speaker updates.
The conference is open to members and invited guests.
Interested in attending? Get in touch with the conference organisers at national_office@socialist-alliance.org or contact your local branch of Socialist Alliance. To locate your nearest branch, visit: https://socialist-alliance.org/contact