10th National Conference of the Socialist Alliance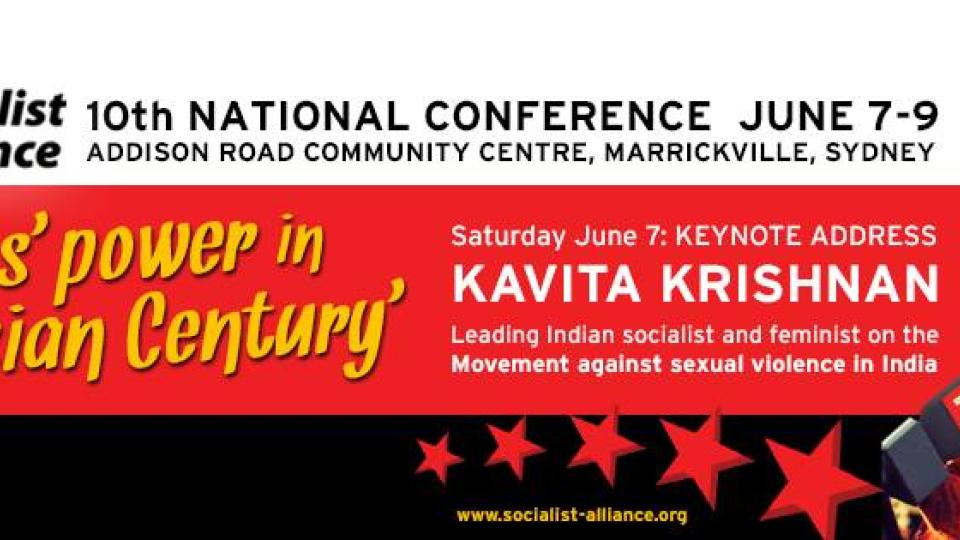 CONTENTS About the conference Conference program Updated as at 30th May About the international guests Registration (fees, bookings, child care) Transport to the venue Accommodation options Greetings to the conferenceNEW!
The 10th National Conference of the Socialist Alliance will be held over the Queens Birthday long weekend (June 7-9) in Sydney at the Addison Road Community Centre.
Kicking off the event on Saturday June 7, will be a public one-day conference, entitled People's Power in the 'Asian Century', featuring leading Indian socialist and feminist, Kavita Krishnan, plus international guests from the Asia-Pacific region, including Farooq Tariq from the Awami Workers Party (AWP) in Pakistan, Sonny Melencio from the Party of the Labouring Masses (PLM) in the Philippines, S.Arutchelvan "Arul" from the Parti Sosialis Malaysia (PSM) and Manarishi Dhital from the Unified Communist Party of Nepal (Maoist) (UCPN-M). STOP PRESS: We have now confirmed the participation of Thai pro-democracy activist and commentator, Giles Ungpakorn, via video link. Other public events will be held during the weekend, including a Latin America-Asia Pacific solidarity event, talks and Q&A sessions with the international guests.
Conference organiser, Peter Boyle explains: "The 10th national conference of Socialist Alliance is taking place at a time extreme inequality, intensified conflict and ecological crisis on a global scale. Even in Australia, one of the 'richest suburbs' in the world, the political temperature is rising with the 100,000-strong March In March signaling a broad people's resistance to the attacks from the Abbott Liberal-National government.
"This conference will be discussing strategies and tactics to advance people's power in this country and around the world," Boyle added.
Sunday and Monday June 8 and 9 will feature discussion and decision-making sessions for Socialist Alliance delegates (with sessions open to all Socialist Alliance members and invited guests) on a range of policies and proposals, as well as workshops, Q&A sessions with our international guests and social events. The conference will be fully catered and child care is available by prior arrangement.
Download a copy of the conference program updated as at 30th May here. NB: Program is subject to change.
Kavita Krishnan is a central leader of the Communist Party of India (Marxist-Leninist) and editor of Liberation, the party's central publication. A former leader of the All India Students Association (AISA), Krishnan is joint secretary of the All India Progressive Women's Association (AIPWA), which is active among women workers and agricultural labourers, and has led struggles for the dignity and rights of Dalit women, and against state repression. The AISA and AIPWA played a significant role in the struggle against sexual violence that followed an internationally-publicised gang rape of a student in Delhi.
Krishnan has become a well-known international spokesperson for the movement. A speech Krishnan gave to protesters outside a local MP's office in Delhi in December, 2012 went viral. In her speech Krishnan proclaimed that "women have every right to be adventurous" and that regardless of whether a woman "is indoors or outside, whether it is day or night, for whatever reason, however, she may be dressed — women have a right to freedom. And that freedom without fear is what we need to protect, to guard and respect".
Recent interviews with Krishnan can be read here and here on Links: Journal for Socialist Renewal.
Krishnan has been interviewed by international media outlets, including The Guardian and Al Jazeera. Watch a 2013 interview by Pip Hinman with Kavita Krishnan about the movement against gender violence on Green Left TV here.
S.Arutchelvan "Arul" is the general secretary of the PSM. The PSM recently initiated the Left Coalition with Parti Rakyat Malaysia, Solidariti Anak Muda Malaysia and other activists and individuals. The coalition is an anti-capitalist, anti-imperialist, anti-feudal movement, based on class struggle, and taking up the struggle for women's rights, for the environment and against the privatisation of public services.
Read more about the Left Coalition here.
Sonny Melencio is chairperson of the PLM and a former council member of the BMP (Solidarity of Filipino Workers). At its recent national convention, the PLM launched a discussion about bayanihan socialism, which draws on lessons from the Latin American experience, linking the egalitarian principles of socialism with national and Indigenous historical experiences and traditions, as a means to popularise the ideas of socialism to a mass audience in the Philippines. Read more about the discussion on bayanihan socialism here.
Shamikh Badra is the youth and students coordinator for the Palestinian People Party (PPP) in the Palestinian Gaza Strip.
Giles Ungpakorn is a political commentator and dissident. In February 2009, he left Thailand for exile in Britain after being charged with lese majeste ("insulting the monarch") for writing a book criticising the 2006 military coup. He is a member of the socialist group Left Turn Thailand. Read two recent articles by GIles Ungpakorn on the 2014 military coup, published in Green Left Weekly here and here.
Whole conference Waged $60 Unwaged $30 Solidarity $100 Single sessions Waged $10 Unwaged $5 Solidarity $20
For more information, email the conference organisers at National Office.
Register for the conference
For Socialist Alliance members and guests attending the whole conference: http://www.trybooking.com/81475
For those attending the People's Power in the 'Asian Century' conference and other public sessions throughout the weekend: http://www.trybooking.com/81367
Child care
Conference participants wishing to access child care must register early, as places cannot be guaranteed on the day. To register for child care, please email the conference organisers at National Office with the number and ages of children requiring care. The conference organisers will then contact you for further information. There will be a small co-payment for each child, but costs will be kept as low as possible.
Venue: Addison Road Community Centre. 142 Addison Road, Marrickville NSW 2204.
From Sydney Airport By train/bus Trains – T2 Airport Line to Sydney Central Station Change to Platform 19, for the Inner West line - alight at Newtown Station Take Bus 428 from Newtown Station (Stop 204211 - outside the station) Alight at the stop outside Addison Rd Community Centre, Addison Rd (near England Ave - Stop 220476)
From City/Central Station to the venue By train/bus Train (services from Platform 19) for the Inner West line - alight at Newtown Station Take Bus 428 from Newtown Station (Stop 204211 - outside the station) Alight at the stop outside Addison Rd Community Centre, 142 Addison Rd (near England Ave - Stop 220476)
By train/walk
Train (services from Platform 19) for the Inner West line - alight at Stanmore Station and walk to the venue (20 mins).
By bus
Bus 428, departing from Railway Square, George St - Stand C, Haymarket (Stop 200063) - Via Broadway - Via City Road - Via Newtown (King St, Newtown Station and Enmore Road) Alight at the stop outside Addison Rd Community Centre, 142 Addison Rd (near England Ave - Stop 220476)
By bus/walk
Bus 423, 426, or M30
From Central Station - Railway Square, George St - Stand C, Haymarket (Stop 200063) - Via Broadway - Via City Road - Via Newtown (King St, Newtown Station and Enmore Road)
Alight at Enmore Rd near Enmore Park, Marrickville (Stop 220442) - Walk 15min along Addison Road to the venue (142 Addison Rd, Marrickville)
For timetables and maps, check Transport NSW info site
www.131500.com.au or call 131500
*note: Most Sydney buses run as Prepaid Services from 7am-7pm, and some (M30) are always Prepaid, so you will need to buy tickets before boarding, sold at Train Stations, Newsagents and some convenience stores.
NB: Please make your bookings early, as 7-9th June is a long weekend and vacancies will get more expensive and further away from the city as the dates approach.
Suggested accommodation options close to the venue:
1. Cambridge Lodge Guest House 109 Cambridge St, Stanmore 2048 Single room $82 Double /twin $92 Dorm $35 Tel: (02) 9564 6822 www.cambridgelodge.com.au 15min walk to venue
2. Australian Sunrise Lodge 485 King St, Newtown 2042 Single room $84 Double /twin $104 - $124 Triple $154 Tel: (02) 9550 4999 www.australiansunriselodge.com Catch Bus 428 from Newtown to the venue
3. The Abbey on King Backpackers 379 King St, Newtown 2042 Single room $50 Dorm $22 Double /twin $60 Triple $100 Tel: (02) 2 95192099 www.theabbeyonking.com.au Catch Bus 428 from Newtown to the conference venue
4. Billabong Gardens Hostel 5-11 Egan Street, Newtown 2042 Dorm $27 Single room $59 Double /twin $79 - $99 Triple $99 - $120 Multi from $120 Tel: 1800 806 419 www.billabonggardens.com.au Bus 428 from Newtown to the conference venue
5. Jays Guest House and Apartments Various locations around Newtown Rooms / studios from $120 Tel: (02) 79030153 www.jays-apartments.com Catch Bus 428 from Newtown to the conference venue
6. Cooper Lodge Hotel 20 City Road, Chippendale Dorm $35 Single room $65 Double /twin $80 - $110 Triple $100 Tel: (02) 92818895 www.cooperlodge.com.au Bus 428 from City Road to the conference venue
7. Railway Square YHA Hostel 8-10 Lee St, Central Station Dorm $35 Double /twin $99 - 110 4 bed room $160 Tel: (02) 9281 9666 www.yha.com.au Bus 428 from Railway Square to the conference venue
8. Sydney Central YHA Hostel 11 Rawson Place, Central Station Dorm $40 Double /twin $116 - $135 4 bed room $190 Tel: (02) 9218 9000 www.yha.com.au Bus 428 from Railway Sq to the conference venue
9. For other accommodation options (Hotel rooms, private rooms, homestays) you may want to try: www.wotif.com.au or www.airbnb.com.au. Back to top
Greetings to the 10th Conference of Socialist Alliance:
From Manarishi Dhital, Editor, Janadesh Weekly (Nepal) Greetings from Nepal to the 10th National Conference of the Socialist Alliance, Australia To all the people waging struggle for socialism living in Australia and all over the world, first of all I would like to extend heartfelt greetings and a red salute on behalf of peasants and workers, and wage-earning classes from Nepal. I would also like to extend a warm red salute to all the comrades participating in the conference, including Kavita Krishnan from India, Sonny Melencio from the Philippines, Arul from Malaysia, Shamikh Bhadra from Palestine and all the comrades from South America.
We would like to express our solidarity with the struggles waged by our Australian comrades against capitalism and to establish socialism. Here in Nepal, with the victory of the People's War led by the then Communist Party of Nepal (Maoist) and People's Movement led by the then Seven Party Alliance, the feudal, autocratic monarchy was relegated to the dustbin of history and Nepal was declared a Federal Democratic Republic through the Constituent Assembly. The People's War was a continuation of the 250-year struggle by the Nepalese people against the monarchy, and especially since 1950. With this chapter of struggle complete, now a new chapter of struggle for socialism is opened.
It is said that more than 60 percent of the Nepalese population is of left-leaning. But due to the different left parties (with more or less same political and economic programs), the left and socialist movement as a whole is not as strong as it should have been. Despite the demand of history for unification among leftist forces, the Nepalese left is going through a new wave of division among themselves. But we hope that this struggle will lead us to a new kind of unity on a new basis.
The campaign waged by Socialist Alliance and its fraternal organizations in support of the socialist movement in South America has become a great inspiration for us here in Nepal. We have formed the Nepal-Venezuela Solidarity Network to express solidarity for the movement. Through that, Nepalese leftists are learning about and greatly appreciating the role of the late Hugo Chavez.
Last but not the least, the slogan of the 10th conference — 'People's Power in Asian Century' — is a great inspiration for us who are from this part of the world. In fact, the 21st century is going to be an Asian century. People from Asia are already on the path of struggle for socialism and justice. The victory of revolutionaries and the ultimate defeat of reactionaries is inevitable.
Thank you.
Manarishi Dhital
Editor, Janadesh Weekly
Convener, Nepal Venezuela Solidarity Network
From: Ian Angus, editor of Climate and Capitalism (Canada) Comrades – Please accept my warmest comradely greetings to your Tenth National Conference. In the 21st Century, humanity faces a stark and unavoidable choice: ecosocialism or barbarism. Capitalism has driven us to a crisis point in the relationship between humanity and the rest of nature – if it continues, major ecological collapse isn't just possible but probable, and that will have devastating effects on all of humanity.
There is no cause more important, no better way to spend our lives, than in the fight to end this monstrous system of destruction, decay and death.
The Socialist Alliance and Green Left Weekly are shining examples to ecosocialists around the world. Every day you demonstrate your deep commitment to being, as Lenin urged, tribunes of the people, reacting to every manifestation of tyranny and oppression, no matter where it appears, no matter who it affects.
Comrades, I am proud to stand with you in our common struggle for human liberation. United, the people will win!
From: Sortu, Basque Country
Sortu greetings to the 10th Conference of the Australian Socialist Alliance On behalf of the the Basque pro independence party SORTU we would like to extend our warmest greetings to the Australian Socialist Alliance.
We want to express our deep solidarity with the Australian progressive forces that confront the neoliberal policies on the ground at a time of the most extreme inequalities intensified conflict and ecological crisis on a global sphere. Because even in Australia we see the rising of inequality. We also want to highlight the deep internationalist perspective of the Australian progressive forces. Solidarity shown not only to close struggles like the East Timor one or the fights for justice and equality in Malaysia or Indonesia but also was faraway struggles like the Basque or Irish ones. You represent the best of the historical left solidarity with anticolonial and anti imperialist struggles.
Sortu, the Basque political party who struggle for the self determination of our country, the Basque Country, based on justice and social equality, also considers international solidarity as part of its political roots. Our anticolonial and antiimperalist character makes us in solidarity with all the peoples who fight for freedom, equality and social justice.
It is time to strength a broad alliance of the left and patriotic forces to confront the current unjust order. The progressive forces face many challenges. But neither we nor you are alone in these struggles. We would like to thank you for your contributions to our common struggle and wish you luck at your conference.
Solidarity in struggle!!
Basque Country, 5th of June 2014
International Department of SORTU
From: Dale McKinley, Johannesburg
Comrades of the Socialist Alliance 10th National Conference. Now more than ever, the idea and practice of "People's Power' must surely be the foundational guide for the global struggles to both resist an increasingly desperate and destructive capitalist system as well as advance an alternative that is of, and by, the people themselves. It is the building and harnessing of that kind of power which has always been the greatest enemy of the endless greed, exploitation and sheer inhumanity of capitalism. Despite the huge organizational and political challenges in doing so, there is no other choice comrades. The people themselves are showing the way and socialists everywhere must be right there with them to help forge a united power that has the potential to transform our lives, our countries and our world. FORWARD EVER, BACKWARD NEVER!
Dale McKinley
From: Scottish Socialist Party
'The Scottish Socialist Party sends comradely greetings to the Socialist Alliance and wishes you every success with your National Conference. Your conference occurs at an important time in Australian politics and we follow events with great interest. In Scotland we are also in the midst of momentous times with the referendum on Scottish independence on September 18th. At the moment the vote looks as if will be very tight although all the momentum in recent weeks have been with the YES campaign. The Scottish Socialist Party has been an integral part of that campaign with its distinctive case for an Independent Socialist Scotland. Our campaign has helped to transform the wider campaign and has in turn transformed the party which has doubled in size in the last year. Perhaps the next time we send greetings to your conference it will be as the principal movement for socialism in and independent Scotland.'
Bill Bonner, for the SSP
From: Social Action for Change, Cambodia
Dear friends and comrades at the Socialist Alliance,
Greetings from Social Action for Change, Phnom Penh, Cambodia.
We learned that you are holding the 10th National Conference to discuss among your members on the current system crisis, the destruction of capitalism.
We have met you in October 2010 in Melbourne at the Climate Change, Social Change conference and joined some of your actions in Sydnety. We are only the small group of feminist activists working at the grassroots level supporting Cambodian women and our people's struggle in the garment, sex work, land, natural resources and informal economic sector. We are hoping to create an equal and equitable society through our collective power. Thanks Peter Boyle for his ongoing supports when we need his assistance on campaign strategy and exposing our issues to the media, especially through Green Left Weekly. He extended his arms to us tireless. We do not do the party work! We do people's power work! But as we have learned from Peter Boyle this "we work on the principle of the Three Musketeers: One for all and all for one." We see that we share some common values to battle against the capitalist structure that steals our resources and enslave us all, especially the marginalised and vulnerable working class.
We wish you all the best and greatest achievements in your work with a strong unity!
In solidarity,
Social Action for Change
From: Barry Sheppard, US Socialist and GLW Columnist
Greetings to the Socialist Alliance National Conference!
I note that you will discuss the international political situation, and Australian politics in that context. Your internationalism is commendable and much appreciated.
I trust your conference will advance your work.
Warmest comradely greetings across the Pacific from San Francisco!
Barry Sheppard
From Murray Smith, for the National Bureau of déi Lenk (Luxembourg)
Dear Comrades,
We send you our warmest greetings on the occasion of your 10th conference. We wish you a successful conference and every success in you campaigning work and in building the Socialist Alliance.
Murray Smith,
For the National Bureau of déi Lenk, Luxembourg