A salute to Bernie Rosen (1924-2013)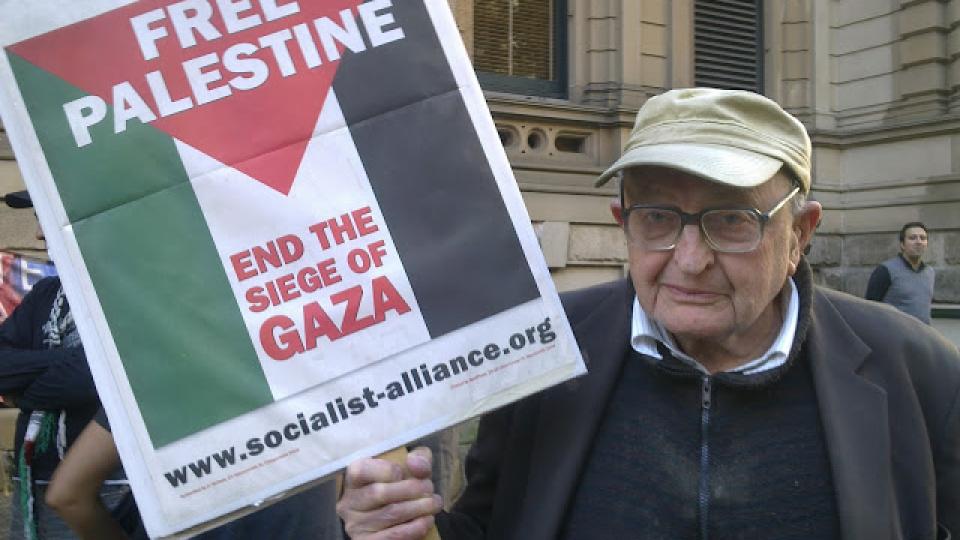 Speech for the funeral of Bernie Rosen by Peter Boyle, national co-convenor Socialist Alliance.
Bernie Rosen really was a man for the people.
He battled for the rights of the exploited and oppressed ever since he was a teenager before WWII and then right to the very end of his life last week.
I am deeply touched and honoured that Bernie requested in his Will that Raul Bassi and myself, two of his comrades in the Socialist Alliance, say a few words at his funeral.
I have a collection of letters from Bernie, each in his increasingly spindly handwriting and each packed in a little envelope. Every letter is an encouragement to his comrades to carry on the struggle and advice on how we should do so.
In particular, Bernie kept reminding us about the importance of patient work in our local communities and about the importance of addressing the urgent bread and butter issues facing the ordinary folk: health, education, housing and so on.
Bernie was also a staunch internationalist. He was one of many comrades of Jewish background who became a passionate defender of the rights of the occupied, oppressed and exiled Palestinian people.
You could say that Bernie really "heard the people sing", as the famous song from Les Miserables:
It is the music of a people who will not be slaves again.
When the beating of your heart echoes the beating of the drums,
there is a life about to start when tomorrow comes.
Bernie never lost his faith in that "new life about to start when tomorrow comes".
In the socialist movement we meet many women and men who have given many years of commitment and activity to the struggle for justice and liberation.
Some give a couple of years, some give five, some give 10 and some give more.
All are appreciated for putting their hands to the wheel and we know only too well that the battle against the rule of the rich and powerful exhausts many spirits and breaks many bodies.
However a few comrades give an entire lifetime of commitment – as Bernie did.
Such comrades deserve great respect and have a treasured place in our hearts and in our collective memory.
Bernie's road to commitment began when, as a high school student, he listened to political speeches in Sydney's Domain. His interest in politics had been sparked earlier by a school teacher, Bob Small, who was a returned serviceman from World War I.
"He used to organise debates on a Friday afternoon. In addition to that, he used to tell us about the horrors of war", Bernie said in an interview he did with another comrade in the Socialist Alliance, Sam Wainwright, now a socialist councillor in Fremantle City in WA.
Bernie joined the Communist Party when he was in the army in 1943. He pursued his commitment to justice and liberation even while he was stationed overseas in Rabaul and Bougainville.
Bernie battled on as a CPA member throughout the Cold War years, only leaving the party in 1970 in despair at chronic internal differences.
Disunity and division can way heavily on the spirit. But Bernie bounced back.
He later joined up with a new generation of comrades determined to regroup and reunite the left and later became one of the early members of the Socialist Alliance that was formed in 2001. His letters to the editor often featured in Green Left Weekly.
The road to uniting the left has never been a straight and easy one. I wish Bernie could have stayed around long enough to see more progress along this road.
I am confident more progress will come before long. And while Bernie won't be around to see this progress, his comrades will hear his voice, will hear him sing.
Will you join in our crusade?
Who will be strong and stand with me?
Beyond the barricade, is there a world you long to see?
Then join in the fight that will give you the right to be free.
Comrade Bernie Rosen, we salute you!